Leading the pack despite lower yields
The theme for this year's rally has been investors chasing high dividend yielding, slow growth stocks. Given the current theme, it is curious that Comcast Corp. (NASDAQ:CMCSA) has been leading a pack of media, entertainment, and communications companies in an impressive bull run over the last 12 months. Rivals Time Warner Cable (TWC), AT&T (NYSE:T), Verizon (NYSE:VZ), and Dish Network (NASDAQ:DISH) all offer higher dividend yields than Comcast's. Verizon's dividend yield at 4.47%, is more than double Comcast's paltry 1.84%, yet it is still up more than 50% over the last twelve months. Over the same period, Verizon is barely beating the S&P 500.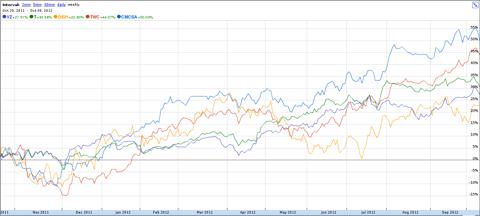 Comcast might be one of the most hated companies in America, but investors are loving it.
Slashing salaries on the way to #1
Comcast has been shaking things up at NBC. NBCUniversal CEO and Comcast VP Stephen Burke must be tired of watching ABC (NYSE:DIS), CBS (NYSE:CBS) and Fox (NASDAQ:NWS) post respectable operating margins while the broadcast television division of Comcast barely scrapes 11% out of revenues from NBC and Telemundo.
NBC's talent is taking the most visible cuts. Jay Leno's salary was cut in half from $30 to $15 million. Stars and staff at non profitable shows will either be taking pay cuts, or just getting cut. Despite Alec Baldwin's offer to accept a pay cut and critical acclaim, 30 Rock will not be returning next year.
While NBC trims the fat, it is also successfully rearranging its fall lineup. During the fall season kick off last week NBC's ratings came in first with some new shows. It slipped to 2nd the following week, but it has come a long way from last place.
Remembering Jeff Zucker
In 2007 Jeff Zucker replaced Bob Wright as President and CEO of NBC Universal and, in the eyes of many, proceeded to destroy it. All eyes now will be trained on Burke with hopes that he won't repeat Zucker's mistakes. So far, it seems that he is concentrating on cutting shows that aren't profitable, or forcing them to take cuts in pay until they are. With the new fall lineup reaching first place, it appears that Burke has more sense than Zucker did regarding prime time programming. Still, if Burke tries moving Leno to prime time, all bets are off.
Betting big on live events
Burke's wielding a fiscal axe for regular programming, while simultaneously making huge bids for live broadcast rights. Streaming services like Netflix (NASDAQ:NFLX), Hulu, Apple (NASDAQ:AAPL) and Google (NASDAQ:GOOG) TV are taking a bite out of advertising revenues from sitcoms and dramas. NBC is hungry for programming that a television audience will faithfully sit through advertisements to watch. This is why a large part of NBC's plan to increase operating margins includes throwing money at live programming. NBC is reported to have spent over $8 billion to renew its rights to Sunday Night Football and about $4.4 billion in a bid for the Olympics.
Thank you FCC
The big cable providers like Time Warner and Comcast are about to get a competitive edge. Due to a recent decision by the FCC, cable providers may withhold their non-sports programming from competitors like DirecTV (DTV) and Dish Network. Comcast may be able to steal back some of the market share it has been losing and in the process move from fourth to first on the most hated company list.
In the numbers
As you can see, next to revenue bleeding filmed entertainment, broadcast television is Comcast's worst performing division. If Burke is successful at dragging NBC out of fourth place and improving NBC's operating profit margin, Comcast still has some room to grow.
| | | | |
| --- | --- | --- | --- |
| 3 Months ended June 30, 2012 | Revenue (in millions) | Operating Income (in millions) | Operating Profit Margin |
| Broadcast Television | 1,540 | 175 | 11.4% |
| Cable Networks | 2,252 | 605 | 26.9% |
| Filmed Entertainment | 1,231 | (87) | -7.0% |
| Theme Parks | 539 | 172 | 31.9% |
Comcast's operating profit margins by division
Please take the figures below with a grain of salt. All 4 companies report their revenues by division differently. For example NBC's figures also include Telemundo, ABC's include ESPN and so on. The important point to take away from the table below is that NBC is not functioning as efficiently as it could be. Turning it around could be a significant boost to Comcast's bottom line.
| | | | |
| --- | --- | --- | --- |
| 3 Months ended June 30, 2012 | Revenue (in millions) | Operating Income (in millions) | Operating Profit Margin |
| NBC (Comcast) | 1,540 | 175 | 11.4% |
| ABC (Disney) | 4,469 | 723 | 16.2% |
| CBS | 3,476 | 769 | 22.1% |
| Fox (News Corp.) | 8,370 | 1,185 | 14.2% |
NBC's Operating Profit Margin compared to ABC, CBS and Fox
Summary
Comcast still has growth potential despite it's incredible run up. Cable subscribers might stop exiting in droves when they can't get NBC's non-sports content on less expensive satellite services. The NBCUniversal division is showing initiative that will most likely improve Comcast's bottom line in over the next several quarters. When it reports 3rd quarter earnings, closely for a strategy that deals with NBCUniversal's struggling film division and proof that the Xfinity launch is as "awesome" as it needs to be.
Disclosure: I have no positions in any stocks mentioned, and no plans to initiate any positions within the next 72 hours. I wrote this article myself, and it expresses my own opinions. I am not receiving compensation for it (other than from Seeking Alpha). I have no business relationship with any company whose stock is mentioned in this article.