Open interest in Apple (NASDAQ:AAPL) options reached an all-time high earlier this week with 3.7 million options outstanding.
Here you can see total open interest in Apple options going back to early 2011.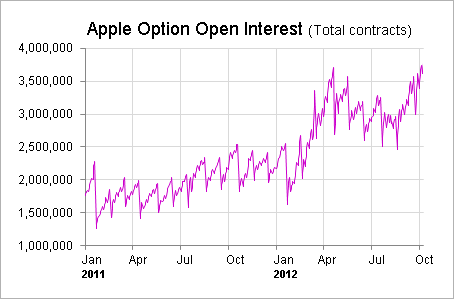 The reason the line has that zig-zag pattern is that open interest disappears when an option expires, both on a monthly and a weekly basis, then reappears as new series are added.
3.7 million contracts? That's a lot of options.
Here's what that looks like broken down by call and put options, with about 2.1 million calls and 1.6 million puts open as of Tuesday (which really reflects the open interest as of the close on Monday).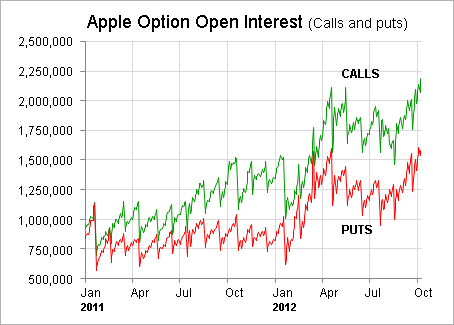 Each option represents 100 potential shares of stock, so while it's tempting to view the open interest as being just like 370 million shares of stock, many of these options are nearly worthless - at least right now.
Indeed, it's quite a different option chain with Apple now in the 630s as opposed to back in mid-September when the stock had closed above $700. There are a lot fewer calls that are in the money this week and a lot more puts that are in the money.
Just for fun, I took a look at the intrinsic value of all the options open on two specific dates - this past Tuesday with AAPL at $635.85 and on September 21 with AAPL closing at $700.09.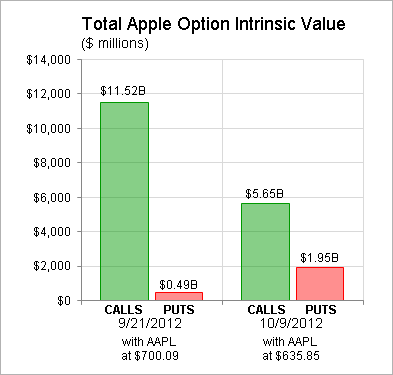 There was $11.5 billion in intrinsic value embedded the calls back on September 21, but that's been cut in half to around $5.6 billion. The intrinsic value of the puts went up nearly 4-fold, from around half a billion dollars back on September 21 to almost $2 billion as of Tuesday.
To clarify, intrinsic value represents the exercise value, not the total value of the option.
In other words, with Apple at $635.85, a 630 call has an intrinsic value of $5.35 (or $535 per contract) even though the options themselves may trade for more. And an out of the money option has no intrinsic value at all. Or put another way, intrinsic value represents the non-time value of the options.
So while the open interest in terms of contracts is higher than ever, the current intrinsic value embedded in the options is a lot lower.
What does it mean? As an Apple long, I'm mildly alarmed in the short-run because we also saw a spike in option open interest back in April when Apple moved down about 17% between early April and mid May.
So yes, I think it could be a volatile ride over the next few weeks, but over the long run, I'm not concerned.
Besides, throughout 2012 option open interest was, for the most part, higher than at any time during 2011. And for 2012, Apple is still up 57% from the beginning of the year (as of Tuesday).
I sleep very well owning Apple stock. And if I do lose any sleep over it, it probably won't have much to do with the options chain.
Disclosure: I am long AAPL. I wrote this article myself, and it expresses my own opinions. I am not receiving compensation for it (other than from Seeking Alpha). I have no business relationship with any company whose stock is mentioned in this article.