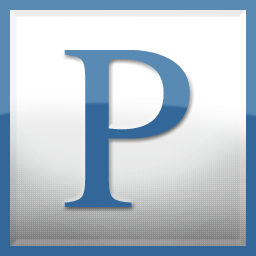 Pandora (NYSE:P), as almost everyone who enjoys music knows, is an Internet radio service that employs human interpretation to capture, through human scoring, the essence of any piece of music. The process is often referred to as the Music Genome Project. This genetic musical profile is incorporated into a sophisticated algorithm that captures, and can then deliver with amazing accuracy, very similar music by all other artists including, but certainty not limited to, the original artist. No one who has ever tried Pandora comes away unimpressed. Simply pick your favorite artist and you will enjoy the musical selections made by the Pandora algorithm for as many hours or days as you may care to listen. Don't believe me: take a few minutes and try it right now. But be warned, it's so easy, engaging and enjoyable that you may forget to come back.
The technology and business are fantastic, even though the competition has a tremendous and unfair advantage. Any radio stations broadcasting copyrighted material over the airwaves such as terrestrial stations, satellite stations or over the Internet are required by law to pay royalties to the artists who composed and performed the music, as well as the publisher or record labels who produced and distribute this music.
Anyone not involved in this business environment would assume that all of the players are paying and playing by the same rules and rates. Not only is Pandora not paying the same rates, but the disparity between each of these music distribution channels is unprecedented in any other business or legislative model. I find it baffling that a restraint of trade lawsuit has not been lodged.
Here is an announcement from Tim Westergren, the founder of Pandora, in an email to me requesting support for new legislation, (H.R. 6480: Internet Radio Fairness Act of 2012), that has recently been introduced in the business friendly House of Representatives, to level the playing field. Pun intended.
This bipartisan bill will correct the incredible inequity in how different digital radio formats are treated under the law when it comes to setting royalties. The difference is quite extraordinary. In 2011,Pandora paid over 50% of our revenues in performance royalties, while Sirius XM Radio (NASDAQ:SIRI) paid less than 10%.
In Jim Cramer's "Lightning Round" on September 5th, 2012, he proclaimed that he was not interested in a long position in Pandora, primarily because of the "lack of earnings momentum."
If this law passes and Pandora's primary cost to do business is reduced from 50% to 10%, the company's earnings and certainly earnings momentum will take an unprecedented jump. As counterintuitive as the next statement may sound, their stock may not, primarily because it might not exist on the NASDAQ exchange any longer.
Pandora may be a better component to a currently profitable media conglomerate's stable of holdings than as a stand-alone, independent Internet radio streaming service. Many articles have followed this train of thought while detailing each individual company's specific rationale. A Google search of "Pandora as an acquisition target" will provide you with a month of reading material. Clear Channel Communications (OTCBB:CCMO), Amazon (NASDAQ:AMZN) and Google (NASDAQ:GOOG), have all been proposed candidate in several articles including two from Business Week and Forbes. Clear Channel, a media corporation that is a major holder of radio stations as well as a force in advertising, could well be interested because of the demographic shift to mobile use with advertisers following. David Guarino has recently written a compelling Seeking Alpha article on the likelihood and rationale for any number of companies swallowing whole, this tasty morsel.
There are several reasons for this, but the two most important are the large and growing, very loyal following that Pandora is cultivating. Pandora's September metrics reported by the Wall Street Journal underscore this. Currently listener hours for Pandora during the month of July 2012 were 1.15 billion, an increase of 67% from 687 million during the same period last year. Their share of total U.S. radio listening for Pandora in September 2012 was 6.53%, an increase from 4.03% at the same time last year. Active listeners were 58.3 million at the end of September 2012, an increase of 49% from 39.0 million during the same time period last year.
With an amazing growth rate projected to reach 120 million listener's enjoying this service within another year and their cost to do business potentially dropping from 50% to 10%, many tech giants like Apple (NASDAQ:AAPL), Google, Facebook (NASDAQ:FB), Amazon would be foolish to not take a close and critical look at this very cheap opportunity even before this proposed change in legislation.
(click to enlarge) Source Pandora and eMarketer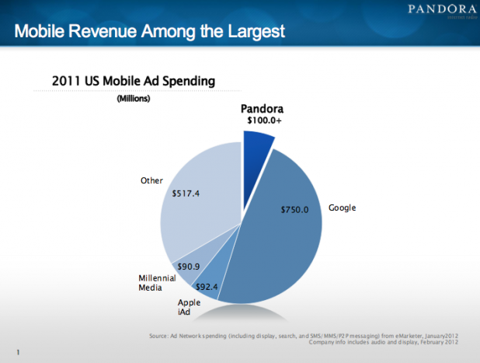 Click to enlarge
Unlike Facebook , Pandora is not having any trouble converting mobile platforms into a powerful revenue-generating stream of cash. They recently outperformed Apple's iAD platform, generating $120 million in revenue for 2011. As the chart above dramatically demonstrates Pandora's mobile growth is off to a very strong start and should contribute to a substantial earning boost as it's customer base continues to mushroom a projected 214% in the next 24 months.
Given the paradigm shift this legislation represents, Pandora's large and growing customer base combined with it's current share price of $9.81 and a total market cap of $1.685 billion, Pandora represents a dramatically undervalued and irresistible opportunity. Here you can find Rocco Pendola's interpretation of a recent Morgan Stanley's research report that pegs P's future price at $20.00. None of the articles mentioned in this article makes any mention of this new legislative boost to Pandora's prospects. The worst-case scenario is the threat of this legislation will prod the holders of the music publication rights to finally negotiate in good faith, fair and equitable royalty rates for everyone in this business sector. That announcement alone could double Pandora's share price, if they are not taken over, long before we read that news.
Recent insider sales have hurt the stock price and may be presenting a short-term opportunity.
If you would like to learn more about the Internet Radio Fairness Act, click here.
Disclosure: I have no positions in any stocks mentioned, but may initiate a long position in P over the next 72 hours. I wrote this article myself, and it expresses my own opinions. I am not receiving compensation for it (other than from Seeking Alpha). I have no business relationship with any company whose stock is mentioned in this article.