With Microsoft's (NASDAQ:MSFT) new ad campaign for Bing, and the amount of money they spend on their search engine, you would think that the company was reeling in huge revenues from it. Instead, Bing has been a multi-billion dollar bleed for Microsoft. So is Microsoft attempting to arrogantly force the issue by throwing good money after bad?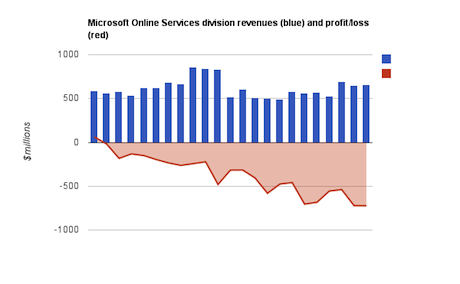 Graph from searchenginewatch.com
Microsoft is losing money in search, and Google (NASDAQ:GOOG) still dominates not only the U.S. search engine market, but even more so the global one. According to Forbes, Microsoft Bing's market share is increasing, but the main dominator (by over 60% of market share) is still Google. Although Bing gained marketshare, Yahoo (NASDAQ:YHOO) lost at the expense of both Bing and Google. Why is this significant? Because Yahoo is powered by Bing, which means this is more marketshare from Microsoft going to Google.
At a financial analyst meeting in Anaheim, according to CNN Money, Microsoft President of Online Services Qi Lu said that Bing would "change the game fundamentally" by leveraging Microsoft's numerous products and networking partnerships. Instead of trying to beat Google at their own game, Microsoft is trying to change the game's rules and innovate the concept of the search engine. It looks like it might work out in the long run.
Some key partnerships have helped integrate aspects into Bing that are helping to innovate their search engine. Facebook (NASDAQ:FB) is becoming more and more integrated into Bing, and Microsoft has the potential to send Google+ (Google's social networking concept) into obscurity. With a Facebook/Bing partnership, connecting users from Facebook to Bing seamlessly, Microsoft has basically converted FaceBook users into their own version of Google+. As an example, when Facebook users search on Bing, the search results are shown alongside a panel that tells the user which friends "like" what they are searching for automatically.
Microsoft also has a partnership with Twitter that integrates data from the popular social networking site into Bing. Most recently, Microsoft also announced a new partnership in data integration with Klout. Microsoft also has superior mapping, due to a deal with Nokia (NYSE:NOK), rebranding Bing maps as Nokia Maps. This is significant also, because companies like Amazon (NASDAQ:AMZN) and Apple (NASDAQ:AAPL) are ditching Google maps.
According to Nokia CEO Stephen Elop:
"Part of the relationship we established with Microsoft is that we are clearly placing a bet on the Windows Phone platform. [In return] they are placing a bet on our location-based platform: mapping, navigation and so forth...In the time ahead, what you will see is, across all the Microsoft properties including Bing maps, more and more work will be done by Nokia."
Blackberry (RIMM) uses Bing and Nokia maps. The most recent adopter of Bing as a default for search and maps (rejecting Google) is Amazon for their new Kindle. Nokia has superior mapping, and having them handle the navigation and location mapping services for Bing (as well as 3-D maps and streetview) was a smart move.
Bing might go from zero to hero before you know it. Google is slowly being shunned by the likes of Apple and Amazon, and soon Bing might own the mobile marketshare for search. Microsoft has also set up Bing with Facebook, Twitter, and Klout; making their search engine "social" as well as scholarly. Google has Google+, which is nowhere near as popular as Facebook or Twitter. Bing also has arguably better mapping.
The trick for Bing will be converting people from Google, who has such a wide moat when it comes to search. Bing may drown just trying to swim across this moat to get to Google. Bing certainly has the pieces, however, to become a dominator in the marketshare for search. If Google continues to sit on its hands and introduce unsuccessful products like Google+, Microsoft might slowly steal away the number one spot, especially if they have partners like Facebook strategically helping them do it. More and more companies seem to be casting stones of rejection toward Google.
The chances of Bing beating out Google in the world of search is unfathomable today, but the tortoise wins the race against the hare. No matter what, Google will have huge market share in mobile search by default due to their Android operating system.
Counting out Bing wouldn't be smart, however, especially since Microsoft has massive amounts of cash to inject into the Bing zombie until it starts to bear fruit. If Microsoft can steal the realm of search from Google, it will be adding yet another component that will boost the strength of the ecosystem they have been building. If Bing pays off big time in the long run, everyone will forget that the leach of a search engine that is currently sucking money out of Microsoft was ever a loser.
Disclosure: I am long MSFT, NOK. I wrote this article myself, and it expresses my own opinions. I am not receiving compensation for it (other than from Seeking Alpha). I have no business relationship with any company whose stock is mentioned in this article.