Shares of Supervalu (NYSE:SVU) have declined nearly 50% since the beginning of June when we last discussed this food distributor and retailer (see graph). The past few months have been eventful for Supervalu with the company replacing its senior management, suspending the dividend, and deciding to close or sell 60 underperforming grocery stores. These changes, together with its cost cutting and other operational initiatives, should place Supervalu on a long-term path of profitability. We believe that the decline in the share is most likely over. This article will discuss some of the new developments at Supervalu in the past three months which, in addition to a relatively low valuation on a number of metrics, should contribute to a relatively strong stock performance for the rest of 2012 and into 2013.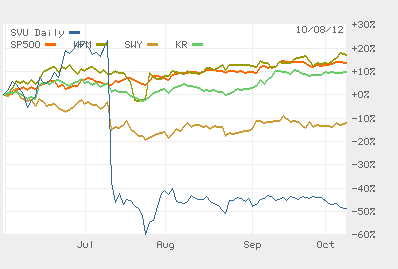 Executive Changes and Operational Improvements
During the past few months, Supervalu made a number of changes. First, it fired its CEO and replaced him with the chairman of the board, Wayne Sales. Following this, Supervalu hired a new president for its Shoppers division in the Baltimore / Washington D.C. area, replaced the Farm Fresh president, and hired a new CIO, Kathy Persian, after Wayne Shurts left Supervalu after less than three years at the company. In addition, Supervalu made other executive changes aimed at smoothing the company's cost reduction and profitability efforts. This is a significant change and it highlights the urgency with which Supervalu is acting.
In addition to management changes the company expanded its consumer marketing efforts. As reported by Computerworld, the company recently created a large data analytics lab to deal with the increased complexity of customer retention efforts in the food retailing industry. This will allow the company to maintain customer loyalty by analyzing large amounts of data and making the necessary adjustments proactively. This will not only improve customer satisfaction but also store efficiency. The next step for the lab, according to Wesley Story, VP of consumer insights, is to be able to predict consumers behavior based on the data the company has accumulated about them.
Dividend Suspension And Refinancing
While the company was able to maintain its dividend, as mentioned earlier, it recently suspended its quarterly dividend of $0.088. This move will save the company about $75 million, which it will use to repay its high interest debt and for general corporate purposes. Following the dividend suspension, Supervalu closed on a new five-year $1.65 billion asset-based revolving credit facility backed by receivables and a new six-year $850 million term loan backed by real estate. The new credit facility and term loan will replace debt that had more restrictive covenants. Overall, Supervalu expects to pay down about $400 million of debt annually. The dividend suspension and refinancing, while not necessary, provide Supervalu with additional financial flexibility in implementing its profitability and cost savings plan.
Stores Sale
On September 5, 2012, Supervalu issued a press release that it will close and if possible sell about 60 stores (38 retail, which are mostly Albertson's in California and 22 Save-A-Lot stores). This decision does not come as a surprise, as Supervalu has emphasized cost reductions and closing underperforming stores. This comes after the company already reduced 2,200 to 2,500 positions in its Albertsons stores in California and Nevada in June of 2012. Most of the stores are expected to close before December 1, 2012, which is the end of the company's third quarter. Due to the store closings, Supervalu expects to generate additional $35 million in cash over the next 12 months and record a net non-cash charge of $70 to $80 million. At a tax rate of 25%, this represents additional tax savings of $17 to $20 million. Further, Supervalu estimates this will save about $80 to $90 million over three years or about $0.37 per share.
Expanded Product Offerings
Despite undergoing executive and operational changes, Supervalu continued to promote new products and services during these times of change. The company is growing its bakeries by offering fresh wedding cakes in addition to full bridal services such as floral and catering. Many consumers who are economically constrained still want to have great weddings and this is where Supervalu stores such as Albertsons, Acme, and Farm Fresh come into play. In addition, the company recently started offering its own single serve coffee (Java Delight UnCup) for Keurig coffee-makers and is also providing flu-shots at its pharmacies. All this brings in new value-added revenue streams and also contributes for a more complete customer satisfaction.
Valuation
Supervalu has 214 million shares outstanding and a market capitalization of about $430 million. Estimates call for earnings of $0.69 per share for the fiscal year ending in February of 2013, giving the shares a price to earnings (NYSE:PE) ratio of about 3. This is favorable compared to PE ratios of 9 and 8.3 for Kroger (NYSE:KR) and Safeway (NYSE:SWY), respectively. Supervalu trades at 3.9 on a trailing enterprise value (NYSE:EV) to earnings before interest, tax, depreciation, and amortization (EBITDA) ratio compared to 5.2 and 4.6 for Kroger and Safeway, respectively. EV to EBITDA ratio is also favorable and could be a better measurement as the company is undergoing a reorganization and possible sale. EV and EBITDA provide investors with a better snapshot in such situations.
Conclusion
Supervalu shares continue to slide despite recent positive developments at the company discussed above. It continues to focus on improving retail profitability and curbing costs together with strategic initiatives such as refinancing, closing underperforming stores, and exploring a sale of the company. Recently, the company changed its reporting segments and now it has a retail, Save-A-Lot, and independent business segments. This provides more reporting clarity and could be also indicative of the company's intention to sell or spin-off one or more of these segments. In any case, Supervalu stock could rise significantly if the company executes these changes successfully.
Disclosure: I have no positions in any stocks mentioned, and no plans to initiate any positions within the next 72 hours. I wrote this article myself, and it expresses my own opinions. I am not receiving compensation for it (other than from Seeking Alpha). I have no business relationship with any company whose stock is mentioned in this article.