Choppy, low-volume, and outright bizarre trading is not unknown to shares of Lpath (LPTN.OB) but things are starting to look brighter. Last week, the company - who many see as the industry leader in bioactive lipid-targeted therapeutics since only they have demonstrated the ability to generate therapeutic antibodies against bioactive lipids that cause diseases like wet AMD, pain, and cancer - announced a 1-for-7 reverse split of the company's issued and outstanding Class A common stock. There was initially a sell-off as we see during these reverse-split situations. It's likely that a number of investors who had been holding the stock woke up and saw that the stock had shot up in price, only to discover that the seven-fold price increase was a mirage. The last two sessions have seen a nice move to the upside, despite messy overall market conditions.
Lpath's flagship product, iSONEP, is a new potential wet AMD treatment that targets Sphingosine 1 Phosphate, which I found to be a radically different approach relative to the standard blood vessel growth (angiogenic) inhibitors. Laser surgery is also an option for wet AMD patients, but it carries inherent risks that make it less and less popular with time.
Assuming that iSONEP stops blood vessel growth just as well as the competing AMD drugs, it looks like a winner when you factor in its potential to fix detachment of the retinal pigment epithelium (RPE) in wet AMD patients. RPE detachment is a related symptom of wet AMD, and has a variety of unpleasant symptoms that interfere with vision (such as blurry vision, micropsia, and scotomas).
iSONEP has become especially important for Lpath's future due to the partnership program with Pfizer (PFE) that started in 2010, which actually gave Pfizer total worldwide marketing rights to the drug. Although it already sold away most of the market potential of its biggest project, Lpath has every incentive to continue. The company can still get half a billion in cash from milestone payments, and will receive double-digit royalties on iSONEP sales. This explains why investors were so dismayed in late January, when the FDA suspended both the PEDigree trial (in phase I) and Nexus trial (in phase II).
Lpath took longer than expected to get the FDA to remove its clinical hold, but LPTN finally got relieved on August 27th - and saw a subsequent 12% drop in share price. Quite a strange reaction to the good news. On October 3rd, Lpath announced that it had initiated dosing in the Nexus trial back in September, and saw some amazing results in some of the patients. Again, the market showed very little enthusiasm.
Those who follow biotech science closely know that bioactive lipids are seen as the next generation of drug development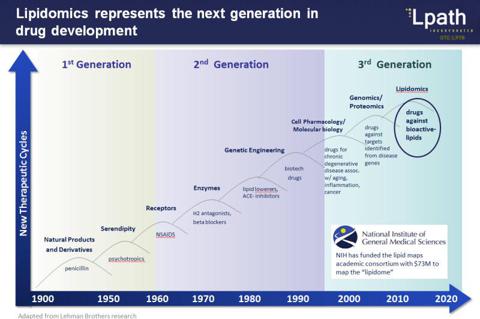 Acting as tiny messengers, bioactive lipids play important roles in cellular function (e.g. cell division, cell death, cell migration) and their dysregulation can therefore contribute to disease. Bioactive lipids, for example, can:
Cause pain
Promote inflammation
Protect cells from dying (with cancerous cells, this can be a bad thing)
Lipidomics is the study of what roles these lipids play and how they contribute to disease.
One can treat disease by neutralizing certain lipids (the ones that become dysregulated and thereby contribute to disease). The only known method to neutralize a bioactive lipid is to generate an antibody that binds to it
Antibodies are designed to bind to "foreign" things in the body; these things are typically fairly large, however, lipids are neither foreign nor large. In fact, they are quite tiny.
As such, everyone that tried to generate this type of antibody failed until Lpath unlocked the code (patent protected).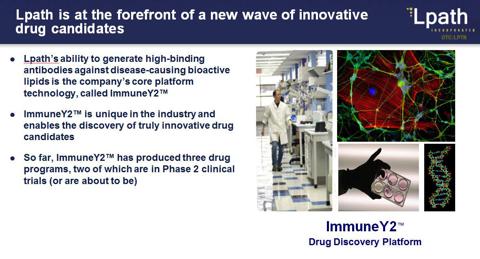 Those focused on fundamentals may have shrugged off Lpath's renewed progress, but smart money is betting on the future of this firm. One can see that reflected in the number of institutional investors who own stock and believe in the science here. Another strong validation of their technology comes from the Pfizer partnership seeking the commercialization of their ocular drug, iSONEP™-- a deal valued at more than $500M.
We wouldn't ignore strong phase II results and might consider placing bets now since prices may not stay at these levels for long.
Disclosure: I have no positions in any stocks mentioned, and no plans to initiate any positions within the next 72 hours. I wrote this article myself, and it expresses my own opinions. I am not receiving compensation for it. I have no business relationship with any company whose stock is mentioned in this article.