Kraft Foods Group (KRFT) offers an attractive dividend yield of 4.3%, and its EPS figure is expected to grow in the range of mid-to-high single digits. We like the company's business model, but recommend a hold position on the stock because the company has lower margins than its competitors, and its forward P/E of 17.5x reflects a premium for the stock. Mondelez International (NASDAQ:MDLZ), one half of the former Kraft Food Inc., offers a better investment opportunity than Kraft Foods Group. Mondelez has a lower PEG of 1.35 and a higher earnings growth rate, in the range of low-to-mid double digits, as compared to Kraft. We have a neutral rating on Kraft Foods Group and a buy on Mondelez.
Kraft Foods Group Inc. was formerly a part of Kraft Food Inc. Kraft Food spun off its business into two; Mondelez International and Kraft Foods Group. Kraft Food Group is focused on the North American grocery business. Common stock holders of the old Kraft Food got their shares converted into Mondelez International on a one-for-one basis, while three old Kraft shares were replaced with one new KRFT share. KRFT is expected to experience slow growth and higher margins as compared to Mondelez International.
Kraft is a well established company that offers food and beverages. The company's portfolio includes strong and popular brands such as Jell-O, Kool Aid, Oscar Mayer and Planters. It has annual revenues of around $19 billion. The company offers several products in which it is the market leader. Almost 80% of the total revenue of Kraft Food Group comes from a category in which the company has the first or second position in the market. Ten brands contributed $500 million worth of sales to the company. The chart below shows the breakup of the company's portfolio.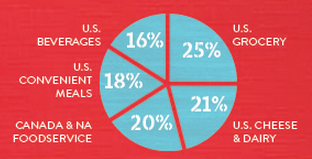 Source: kraftfoodsgroup.com
The company is committed to improve on its operations and efficiency. It has plans to create a less layered organizational structure, and to improve upon the skills and creativity of its employees. It will be allocating its resources to widen its product portfolio, sales and its distribution system. It has plans to accelerate the growth of its brands under a plan named turbocharge , which aims to deliver the right products at the right price.
It is focused on controlling its costs to expand its margins and improve on its bottom line. The cost cutting initiatives include measures like wage scale and reduction of corporate office size. One half of the savings under the cost control efforts will be shared with shareholders, and the remaining half will be reinvested in the business. It has plans to expand its presence in the market, and to increase its market power.
Kraft Foods is expected to have a steady and reliable top line growth of 1%-3% in the long run, in line with the North American food and beverage market. Operating income is expected to grow with a mid single digit growth rate and the bottom line is expected to grow in the range of mid-to-high single digit growth rate. Free cash flows are targeted to be at least 85% of net income. Kraft Foods Group offers an attractive and above average dividend yield of 4.3%, based on the current stock price of $46.6. It is expected to have a payout ratio of approximately 70%. If the company is able to achieve its long-term free cash flow target of 85% of net income, this will mean that the company will maintain its dividends in future.
| | | | | |
| --- | --- | --- | --- | --- |
| | KRFT | Kellogg Company (NYSE:K) | General Mills, Inc. (NYSE:GIS) | Hillshire Brands Company (NYSE:HSH) |
| Dividend Yield | 4.3 % | 3.4 % | 3.2 % | 1.9 % |
| Payout Ratio | 70 % | 52 % | 50 % | 66 % |
Source: Yahoo finance and Qineqt's estimates.
In the year 2013, the company expects organic revenue growth momentum to be in line with the market. Savings and productivity improvements are expected to result in earnings of $2.6 per share on a GAAP basis. The earnings estimates of $2.6 per share for 2013 include restructuring costs of 26 cents per share. Free cash flows are expected to be 70% of net income, next year.
The company has no emerging market exposure, and almost 90% of its total revenues are derived from the U.S. This is positive for the company's top and bottom lines, as they would not be adversely affected by currency headwinds. On the other hand, Mondelez International's earnings are expected to be reduced by almost 9% due to the strengthening of the dollar.
Kraft Food's portfolio contains 21% U.S. Cheese and Dairy, and it has a 28% market share in the U.S. cheese market. Kraft's main competitors in the U.S. cheese market are private labeled cheese producers. In recent years, private labeled cheese producers took away a market share from Kraft, but now Kraft is regaining its lost share.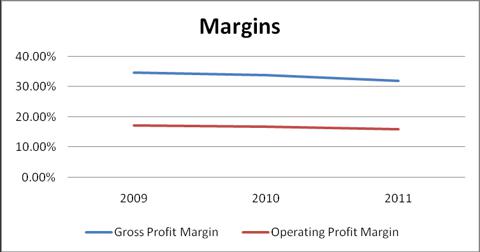 Source: Qineqt's estimates and ir.Kraftfoodsgroup.com
Over the last couple of years, commodity prices have increased, which led to a reduction in gross and operating margins. The company is working on increasing its market power so that it can pass on the commodity price increase to consumers. In future, gross and operating margins are expected to be 31% and 16%, respectively. If commodity prices rise and the company fails to pass the rise on to the consumers, this could squeeze margins.
| | | | | | |
| --- | --- | --- | --- | --- | --- |
| | KRFT | K | GIS | HSH | Mondelez international (MDLZ) |
| Forward P/E | 17.5 x | 14.5x | 14x | 15.5 x | 17.5x |
| Growth Rate - 5 years | 8% | 6.6% | 7% | 20% | 13% |
| PEG. | 2.2 | 2.4 | 2.1 | 0.86 | 1.35 |
| Gross Profit Margin (NYSE:TTM) | 32% | 41% | 37% | 28% | - |
Source: Yahoo finance and Qineqt's estimates.
Kraft's forward P/E of 17.5x seems to be at a premium when compared to its competitors. Its gross profit margin of 32% is below its competitors. Its PEG of 2.2 is in line with the average PEG of Kellogg and GIS. Although Mondelez International is not a direct competitor of Kraft, it offers a better investment opportunity as compared to Kraft. Mondelez has significant emerging market exposure and will offer higher earnings growth in future. Mondelez's PEG of 1.35 reflects that it offers cheaper growth compared to Kraft. Please read our previous article on Mondelez.
Disclosure: I have no positions in any stocks mentioned, and no plans to initiate any positions within the next 72 hours.
Business relationship disclosure: The article has been written by Qineqt's Staples Analyst. Qineqt is not receiving compensation for it (other than from Seeking Alpha). Qineqt has no business relationship with any company whose stock is mentioned in this article.