Over the past decade shares of Microsoft (NASDAQ:MSFT) have been range bound, trading around the mid-high $20 mark. Unless you purchased shares in the middle of the financial crisis, your returns have most likely consisted of quarterly dividend payments. Taking a look through the company's financial statements tells an entirely different story. If I covered up the company name and showed you the numbers, you would be shocked to see such a dismal stock chart. Over the next few paragraphs, we will attempt to determine if Microsoft is simply a "value trap" or has the potential to break out of this long term trading range.

Click to enlargeSource: Bloomberg
Revenue
It's doubtful that anyone will be impressed by my knowledge of slowing PC sales as rival Apple (NASDAQ:AAPL) disperses product across the marketplace. For further proof, take a look at Intel's (NASDAQ:INTC) earnings releases over the past few quarters and you can observe management continually lowering expectations for PC growth. This appears to be the number one concern investors have for Microsoft. The company's failure to innovate new products has given investors heartburn, and as more and more consumers use smartphones and tablets to surf the web and check email, the future of Windows OS appears bleak. With revenue growing at an annualized rate of just 4.06% over the past five years, most investors would turn elsewhere for a better story.
The chart below shows a breakdown of the six main divisions from which Microsoft derives revenue: Business Division (orange bar), Server and Tools Division (light blue bar), Windows and Windows Live Division (purple bar), Entertainment and Devices Division (blue bar), Online Services Division (green bar) and Other (yellow bar).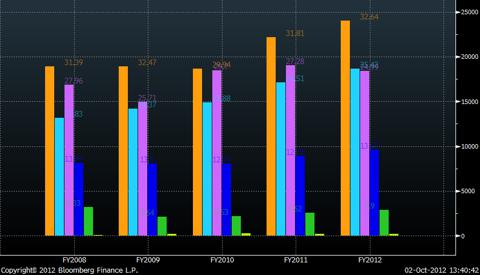 Click to enlargeSource: Bloomberg
Growth
The recent image of Microsoft and PCs in general is one of the uptight business executive, not the cool and hip Apple generation. I think this adds to the fear of Microsoft losing market share to Apple over time. However, Microsoft is rebranding their image and attempting to reach out to the younger tech savvy generation. One example of this is through the Microsoft Store, which has been virtual for the past few years, but now opening in physical locations. If you have not experienced one of these stores yet, take a look at this quick video showcasing some of the features. Look familiar? Microsoft has essentially mimicked the experience you receive upon entering an Apple store, from high top wooden tables, to personalized service professionals (they even dress like Apple employees), you may forget you are buying a PC.
Another promising division of Microsoft is Servers and Tools. This division accounted for a quarter of revenue in fiscal year 2012 and grew 11% year over year. As more and more corporations move to the cloud, Microsoft is a seamless transition. Most employees are trained on Outlook and Microsoft Office products, so creating an enterprise program complete with data storage (provided by Microsoft), and company specific features is a great way to increase productivity and efficiency.
Other possible revenue drivers include but are not limited to:
Through video games, consoles, Kinect and Xbox Live subscriptions, Xbox is still a revenue driver. Although I am not an avid video game player, I cannot ignore the gaming community that utilizes Xbox on a daily (if not hourly) basis.
The new windows phones, which are made by HTC, Nokia (NYSE:NOK), and Samsung.
Skype has the ability to connect people regardless of the devices they utilize (tablet, smartphone, laptop, PC, television, and home phone). With over 40 million users online during peak times, Skype will continue to attract new customers.
Cash Flow
I mentioned the impressive financial statements of Microsoft and would like to focus on cash flow. Most investors tend to look at the income statement, however, this is often the easiest to manipulate and subject to wild swings (i.e. Microsoft took a $6.2 billion goodwill impairment charge at the end of fiscal Q4 2012). The chart below shows cash flow from operations (green bars) and free cash flow (red bars). You can see over the past ten years both metrics have more than doubled. With no change in Microsoft's stock price over the past ten years, you are essentially buying shares at 2002 prices for 2012 cash flow!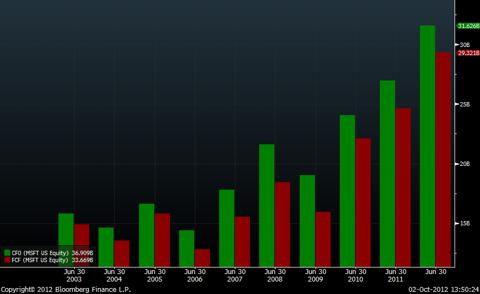 Click to enlarge
Source: Bloomberg
With $63 billion in cash and short term investments on the balance sheet, and growing cash flow generation, Microsoft will be forced to deploy capital. One option which is currently being utilized is share buybacks. Since 2005, the diluted share count has fallen from roughly 11 billion to 8.5 billion. Of the $40 billion share repurchase program management implemented in 2008, $12.2 billion remains. Another option is acquisitions. I mentioned the company's failure to innovate, one way to overcome this obstacle is to purchase competitors or new startup companies. There is no shame in this strategy as Google (NASDAQ:GOOG) has also fallen victim to the "lack of innovation problem." The final way to deploy this excess capital is through dividends.
Dividends
Microsoft has been a dividend paying company for quite some time. The dividend rate has increased over the past few years and now offers an attractive 3.10% yield. The chart below depicts the past ten years dividend payment (orange line right hand scale) and yield (white line left hand scale). Keep in mind that a few weeks ago Microsoft increased their dividend by 15% to $0.92 per share.

Click to enlargeSource: Bloomberg
The company is not struggling to deliver these growing dividend payments. Their payout ratio is just 40% of earnings, slightly lower than that of the S&P 500. With both Moody's and Standard and Poor's awarding Microsoft with the highest credit ratings possible, I think it is safe to assume the dividend will remain stable at the very minimum for the foreseeable future.
Valuation
Shares of Microsoft currently trade at some of the lowest multiples in the company's history. Price-to-Earnings (green line), Price-to-Free Cash Flow (orange line), and Price-to-Book (blue line) are approaching all time lows. I reiterate my earlier point, you are paying 2002 prices for 2012 earnings, free cash flow, and book value.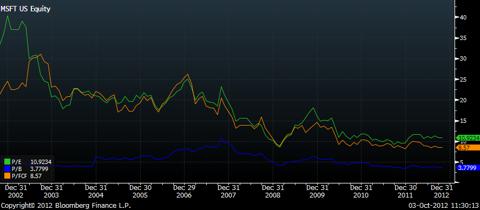 Click to enlargeSource: Bloomberg
Although it is shocking to see Microsoft trade at just 11x earnings, I can understand why the market is assigning such a low multiple to the company. Microsoft is no longer the dominant technology company it once was, they have moved into the maturation phase of their business lifecycle. Investors need to see some growth before rewarding the stock with higher multiples. So is it even worth purchasing shares at today's price, or will we see the "value trap" play out and watch this stock trade sideways for another decade?
To answer this question, I would turn to the dividend and shift your attention to the phrase "get paid to wait." Microsoft is trading at such low multiples that I think that downside risk in this stock is limited. Assuming we achieve sub-par growth over the next few years, you will be collecting a 3% dividend yield, which is likely to increase annually.
Let's assume the market continues to price shares of Microsoft with a 3.1% dividend yield, assuming the company grows its dividend at 5% annually (very conservative estimate), shares would trade at roughly $39 five years from now. This would imply an annualized return of roughly 8.12%.
In another scenario, assuming the company continues to raise its annual dividend by 5%, but the market feels Microsoft should trade with a 4% dividend yield (i.e. no share price appreciation) at the end of five years, you will have no capital appreciation, but will have collected a 3-4% dividend yield annually for the past five years. Although this return is not very attractive to an equity investor, given the Federal Reserve's recent comments on keeping interest rates low until 2015, it is certainly attractive towards an income investor.
Conclusion
Given the scenarios listed above, we have a possible range of returns for Microsoft that lie between 3-8% annually. These return assumptions imply very slow revenue growth. If the company is able to come up with the next hot product, or find a way to grow existing operations, these returns could be magnified significantly as the market will reevaluate Microsoft's growth story.
If you want a fast paced growth story, check out companies like Google or eBay (NASDAQ:EBAY). However, if you are looking to gain equity exposure through a high quality blue chip company, Microsoft offers a high dividend yield with upside potential, and in my opinion, is not a value trap.
*All data is reported directly from Microsoft SEC Filings and Press Releases
Disclosure: I have no positions in any stocks mentioned, and no plans to initiate any positions within the next 72 hours. I wrote this article myself, and it expresses my own opinions. I am not receiving compensation for it (other than from Seeking Alpha). I have no business relationship with any company whose stock is mentioned in this article.