Fund of Fund ETFs Can Be Fun For Investors Who Want to Take It Easy
ETF managers have taken a cue from hedge funds and mutual funds and created ETFs that specifically hold shares of other ETFs. It's like a one-stop-shop for investors.
The proliferation of ETFs has given way to some creative ETF ideas and strategies, and they keep getting even more creative. PowerShares introduced three funds of funds in May, one of which was PowerShares Autonomic Balanced Growth NFA Global Asset Portfolio (NYSEARCA:PAO). The expense ratio is at 0.25% and the ETF has gathered $8 million in assets.
The two other ETFs that take this strategy are:
PowerShares Autonomic Balanced NFA Global Asset Portfolio (NYSEARCA:PCA)
PowerShares Autonomic Growth NFA Global Asset Portfolio (NYSEARCA:PTO)
All three funds have 30 holdings and charge 0.25% for the expense ratio and underlying fees are applicable due to assets, explains Zoe Van Schyndel for The Motley Fool.
The funds are a mix of equity and fixed-income and can underperform the general market. The diversification can serve well in a portfolio and can serve as a core holding. The one-stop approach is simple and effective, especially as a big time-saver for the investor who just wants to set it and forget it. One caveat is that the cost can be relatively high, because of the fees for the fund, plus the fees in the underlying funds.
Should ETFs Steel Themselves for Continued Commodities Demand?
ETFs for Australia and steel could benefit from BHP Billiton's (NYSE:BHP) banner year of record profits.
The world's largest mining company said that its net profit for the year ending June 30 rose 14.7% to $15.39 billion, reports the Associated Press. It was what analysts had been expecting, and was helped along by both increased production and higher prices for oil, copper, iron ore, coal and manganese.
BHP Billiton is in the midst of a hostile takeover bid of Rio Tinto (RTP), since it believes that a global slowdown shouldn't affect demand for these commodities, reports Stacey Vanek-Smith for Marketplace.
There are questions about BHP's $130 billion all-share bid, though. Some analysts think both companies are doing well enough on their own and don't need to merge. Others feel that Rio could hold out for an even better offer. If the merger were to go through, the two companies would control one-third of the iron ore market.
Market Vectors Steel (NYSEARCA:SLX): down 9.1% year-to-date; Rio Tinto is 12.5%
iShares MSCI Australia (NYSEARCA:EWA): down 20% year-to-date; BHP is 16.8%; Rio Tinto is 4.4%
NETS S&P/ASX 200 Index Fund (AUS): down 15.9% since April 10 inception; BHP is 14%; Rio Tinto is 3.6%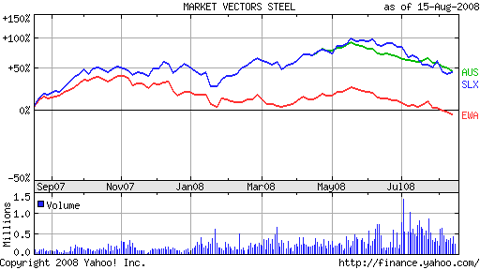 Oil and Gas ETFs Will Likely Continue to Fluctuate
Oil and oil-related ETFs, like Jimmy Stewart in "Vertigo," look up. Then they look down. They look up. Then they look down.
What's going on? Yesterday, the situation was no different. The price of a barrel crept back up to $115 on the threat of Tropical Storm Fay, reports Stevenson Jacobs for the Associated Press. But then the threat eased, and oil went back down below $113.
A slightly weakened dollar is so far keeping prices from falling even lower.
Gas is continuing its downward trek, too, falling for its 32nd consecutive day. The average price for a gallon is now $3.741, reports Kenneth Musante for CNN Money. Prices are still 35% higher from a year ago.
Stacey Vanek-Smith for Marketplace gives some perspective on why oil continues to fluctuate so much and what can be done about it. One issue that's been raised is that of drilling domestically. But Mark Bernstein, director of the energy institute at the University of Southern California, says that it won't help.
We hit our peak oil production 30 years ago, and not much more is likely to be found, he says. And perhaps instead of tapping into what's left now, it might be worth considering saving it as insurance for later.
Bernstein also sees more fluctuation in our future, because there isn't much consumers can do in the short-term to affect prices that would really work in the long-term. What it's going to take is a major, and lasting, behavioral change.