As a value investor, I am on the lookout for strong companies that are currently under-priced in the market, but at the same time exhibit good long-term business prospects and minimum downside risk.
As part of this strategy, I'm looking for global companies with strong brands and excellent prospects to benefit from continued growth in emerging markets.
In this article, I will outline why I feel that Siemens AG (SI) is a perfect global company that fits my strategy, and why I believe it is a good long-term buy and hold candidate.
To make my thesis, I will focus on several criteria which I feel are important in evaluating potential investments. For detailed information on my philosophy, please view my user profile or go to my website.
Company Background
For those who don't know the company, Siemens is a German based global conglomerate which operates in the industry, energy, healthcare, infrastructure and cities sectors worldwide. Its closest competitor and comparison company is General Electric (NYSE:GE). Other formidable competitors include: ABB Ltd. (NYSE:ABB) and Philips (NYSE:PHG). The company was founded in 1847, and has grown to be a global powerhouse with a market cap of $90 billion and yearly revenues exceeding $100 billion.
Business Prospects
In the past few years, Siemens has struggled along with the global economy. Combine this with the sovereign debt crisis in Europe, and it's easy to see why the German based Siemens has been largely out of favor with investors. Indeed, in the most recent quarterly report at the end of July 2012, the company indicated there would continue to be near-term softness in the market, particularly in Europe. Below you can see how new orders and revenue compared to 1 year ago: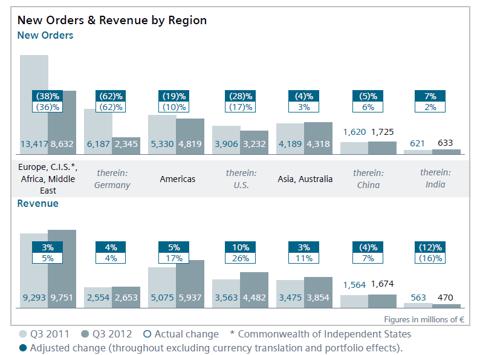 Looking at this chart, we can see that revenues increased across the board. The total increase was 10%. However, the real story is that New Orders dropped significantly in Europe and to a lesser extent in the U.S. The company cited, however, that the large drop was partially due to the fact that last year there was a 3.7 billion euro one-time order for new trains in Germany, and there were no such orders of this magnitude in Q3 2012.
The good news was that other than the industrial short-cycle business, the other sectors all held up quite well, with consistent or better profit margins than 2011. Actual EPS and net profit jumped significantly, because in 2011 there was a one-time charge of 682 million euros relating to an arbitrage decision. The following graph shows the sector profit breakdown: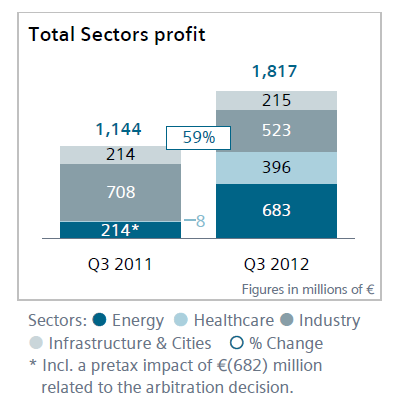 So despite the current headwinds and softness in new bookings, the company is holding up well in terms of profit margins and earnings.
In terms of judging the true business prospects of Siemens, I believe investors should look out a few years beyond the near-term headwinds. A 2011 report by Ernst & Young, a global consultancy, stated that worldwide infrastructure spending will total more than $50 trillion in the next 25 years. In particular, there continues to be huge needs for infrastructure improvements in Brazil, India, and China, to name a few examples. With revenues in emerging markets already accounting for 25% of the total, and 27% of new orders, Siemens is poised to continue to grow its share in these countries.
Other areas of strong growth include the energy sector. As I discussed in another recent article on SA, the world's energy demands for both fossil fuels and renewables will continue to increase rapidly in the coming years. This report from the International Energy Agency (IEA) says demands for renewable will accelerate in the coming 5 years.
In summary, these trends all have the potential to benefit Siemens, which is a core player in all of these industries. I still see very favorable long-term prospects for the company.
Shareholder Friendly
I believe it is important to assess how well a company's management has shareholder interests in mind, as this always can have a large impact on the return you will receive for your investment over time. In the case of Siemens, the company has been paying a consistent dividend. The yield is around 3%, with a payout ratio of 48%. There is ample room to grow the dividend, and I've seen no evidence to suggest management doesn't have shareholders' best interests in mind.
Moat
In 2011, I read an article in Kiplinger's which labeled Siemens as one of the world's 10 best stocks. In this article, I think the competitive moat is summed up quite elegantly -
"When you combine superb German engineering with ruthless, American-style cost cutting, you create a formidable competitor. That's the story of venerable Siemens, a lumbering giant no more. Siemens is going through the greatest transformation since the beginning of the company 163 years ago"
The article goes on to discuss how Siemens is growing rapidly in Asia and other emerging markets, becoming a much leaner organization and focusing on higher margin businesses where they have a number 1 or 2 position. This focused strategy, combined with their long standing reputation for quality brings with it strong competitive advantages.
Conservatively Financed
With this criteria, I look at whether there are any risks to the financial health of the company. Siemens has a debt/equity ratio of 0.63. This is one of the bigger attractions to the company over GE, which has considerably higher debt levels (debt/equity over 3.0).
Predictable Earnings
I like to look at how predictable and dependable a company's earnings have been in the past. Generally, I do not like to invest in wildly cyclical businesses.
Siemens has seen some fluctuation in earnings over the past 10 years. Sales have been relatively flat -- they were $90 billion in 2003, and $95 billion in 2011. However, what I really like here is that over the past 4 years the company is certainly becoming more lean, and EBIT has increased steadily from a low of $3.73 billion in 2008 to $11.99 billion in 2011. Sales were actually down by $5 billion over this period. So higher margins bode well for the longer time earnings trend.
Margin of Safety
To calculate whether the current price constitutes a sufficient margin of safety against what I feel is the intrinsic value of the company, I have performed a simple DCF, using one my favorite DCF calculators. I compare the potential return of an investment to that of US treasuries, the ultimate "risk free" return. Since long-term treasury rates are at all time lows, (1.74% for the 10 year at time of writing) I use as a minimum a discount rate of 6% in order to be more conservative.
Current Earnings: $10.05/share
10 year average growth of Earnings: 10%
Growth after 10 years: 0%
Discount rate: 6%
How confident are we in our earnings estimate? : 50% confident
These inputs give me an intrinsic value of $182.34/share.
With a current market price of only $102.35/share, there would appear to be a large margin of safety in the shares. This is more than a 40% safety margin. I believe that 10% is quite reasonable growth, looking at the past few years, especially as some analysts covering the stock have long term growth rates at more than 20%.
Other traditional valuation metrics are also very attractive:
P/E of 12
Price/Sales 0.91
Price/Cash Flow 7.98
PEG only 0.33
EV/EBITDA 8.0
If you compare these values to GE, it is no contest which company is the better value:
P/E of 13.25
Price/Sales 1.67
Price/Cash Flow 10.05
PEG 1.24
EV/EBITDA 21.38
Conclusion
Overall, I believe Siemens has a very strong moat around its business and is well positioned to take advantage of continued emerging market growth in infrastructure, as well as global growth in alternative energies. The company is a fine addition to any value oriented portfolio. The stock has underperformed over the past few years, mostly due to the sovereign debt crisis in Europe. As recently as May 2011, the company was trading at $146/share. Not much has changed in the long-term prospects of the business, only short term worries. I believe therefore if you have a little patience, you should be well rewarded with Siemens in your portfolio.
Disclosure: I am long SI. I wrote this article myself, and it expresses my own opinions. I am not receiving compensation for it (other than from Seeking Alpha). I have no business relationship with any company whose stock is mentioned in this article.