A week ago, I recommended an options trade that would have given us an annualized profit of 27% on Intel (NASDAQ:INTC).
This time around, I recommend we implement the same strategy on shares of Microsoft (NASDAQ:MSFT).
The Opportunity
Shares of the global software giant have been declining recently. This decline is partly attributed to an overall downtrend in tech stocks, and partly attributed to certain concerns regarding the ability of the company to pursue its strategic goals. The monthly chart below tells us the story.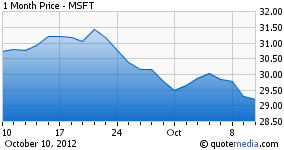 I believe that at current price of $29.28, Microsoft represents one of the best purchases in the universe of stocks for the following reasons:
Microsoft is the 800-pound gorilla in the room. It is by far the largest and most dominant seller of operating systems. Its competitive moat is enormous. The best illustration for this is the company's 38% profit margin. Any company would simply dream of such a high profit margin.
At a forward profit multiple of 8.87 and a PEG of 1.14, the shares are basically brushing their all-time low valuation gauges. It is almost inconceivable that one can purchase such a company at such a price.
The company is shareholder-friendly. Since it initiated dividend payouts back in 2003, it has increased them at an annual pace of 15%. That is very impressive. In fiscal 2012 alone, the company returned $10.7 billion to shareholders through dividends and share buybacks.
Why Not Buy Shares for $29?
When this much skepticism enters the market, the premium on options in general -- and put options in particular -- rise exponentially. This means that investors are now able to take advantage of this scenario by selling put options and pocketing fat cash premiums on this trade.
As of this writing, shares of Microsoft are trading at $29.28 and the December $29 puts are selling for $1.10. This translates into an immediate 3.7% gain on your investment by waiting two months until the December expiration.
To put it differently, investors can act as an insurance company and collect a premium of $110 for each option contract they sell. This contract, in turn, obligates them to buy shares of Microsoft on the expiration day of December if shares of Microsoft are trading under $29.
Repeat this trade six times a year, and you will make 22% return annually.
How the Trade Plays Out
There are three different scenarios that can happen on expiration day on December:
Share price of Microsoft > $29: You get to pocket the premium and have no obligations.
Share price of Microsoft = $29: You get to pocket the premium and have no obligations.
Share price of Microsoft < $29: You get to pocket the premium, but you will also be obligated to buy the shares at the predetermined price of $29. Since this is an excellent price to pay for the shares, we are fine with that obligation. Of course, you need to adjust the number of shares you are obligated to purchase to the trading position size that is right for you. This rule applies to any trade you make, regardless of the use of options.
Tried and True
This will not be the first time we sell options. We have done it in the past with Cisco Systems (NASDAQ:CSCO) and with Intel, as mentioned above. Remember, we will always try and take free money off the table while making sure that we only make sound obligations. I will monitor for potential put selling opportunities in other major blue chips, such as Oracle Corporation (NASDAQ:ORCL). Oftentimes, these big names display the same anomaly in option premiums.
Trading Instructions
Sell to open the Microsoft December 2012 puts, at the $29 strike price, for no less than $1.05 an option.
Disclosure: I am long MSFT. I wrote this article myself, and it expresses my own opinions. I am not receiving compensation for it (other than from Seeking Alpha). I have no business relationship with any company whose stock is mentioned in this article.