Over the last 5 years, Apple (NASDAQ:AAPL) has changed mobile computing forever. They introduced touch screen interfaces and opened up the OS for developers. The latter added a wealth of functionality for free. During this game-changing feat, Apple remained a nimble company with an extremely small capital base in relation to its sales volume. I believe investors have focused too much on Apple's sales growth as the driver for stock appreciation. In my previous article, I explained that margin trends are underestimated. I also believe that capital investment needs are completely ignored. In this article, I want to explain the higher capital needs by analyzing the dire state of the Apple supply chain.
The recent Foxconn scares are only the tip of the iceberg
Most companies in the Apple supply chain have bid up their capital investments to become part of the Apple ecosystem. After 5 years of huge sales growth, many of these companies now realize that they are not making enough returns on their investments. Apple's low capital position has been a huge leverage for its cash generation. As a result, it has squeezed some of its suppliers into a dire financial state like Sharp (OTCPK:SHCAY), into a state of conflict like Samsung (OTC:SSNLF) and Google (NASDAQ:GOOG) or into a state of consistent low returns like NAND flash manufacturers or telecom operators. I understand that Apple products have a unique design and feel, but the profit vs. investment imbalance puts a lot of pressure on some weak links in the supply chain. Apple will have to invest more of its own capital in order to support its supply chain. They could also choose to spread the profits of the Apple ecosystem more evenly. The supply chain needs to generate a return above their cost of capital in order to keep pouring their sales into capital expenditures. Some companies spend 40% of their sales in capex to deliver best-in-class products that eventually make Apple shine.
Impact on my price target of 12%
The Apple cash flow statement shows that it has already increased its capex on sales from 2.5% in 2009 to 4% in 2011. The additional capex will not impact PE valuation, but a DCF price target will decrease as less cash flow is left for investors. I estimate that Apple will have to spend an additional USD 50 billion in order to normalize its invested capital. This includes USD 20 billion investment in working capital and puts the company on 5x sales to invested capital. The table below highlights Apple's systematic underinvestment vs. its supply chain. I included Google as a content supplier of Map services.

The Apple cash position will remain impressive after the capital investments. This cash is all but in the hands of investors. Foreign investors often pay local tax on top of US taxed dividends and will only receive 55% of the cash pile. The company also has a net tax liability of USD 10 billion. The Apple cash pile is usually added to the PE target price. This is wrong because the cash return is already included in the earnings. It is also an overstated figure. The capital investments to support its supply chain and tax effects can wipe USD 70 billion off the cash pile. Hence, the total impact of the cash adjustment on my DCF is a 12% downside.
Market ignores that Apple has no invested capital
Apple 1Q12 balance sheet reveals USD 7.8 billion of tangible fixed assets such as buildings and machines. Its working capital of inventories, payables and receivables are minus USD 8.1 billion. Apple owes its suppliers USD 18.9 billion. Hence, Apple is completely financed by its suppliers and has no capital invested and unlimited ROI. This situation is not picked up by sell-side research. Apple books USD 67 billion in long-term marketable securities as fixed assets. This distorts the data that feed into financial databases for analysts and quant funds. I have used the Bloomberg financial database and the Credit Suisse Holt system myself and discovered that the invested capital calculation is overstated. The invested capital includes all long-term investments and does not correct for the long-term cash position. This is also the case in Apple's public financial statements like those found on Yahoo! Finance.
Treasuries don't make the Apple cost of capital
A recent report in zerohedge estimates the long-term investments now at USD 117 billion. This money is invested in low-risk treasuries that generate a yield far below the cost of capital. The Apple cash flow statements show that the whole position is sold and bought back over each quarter. This makes it a short-term investment of marketable securities and should be reported as such. It might be a relief that the cash was not invested in a CDO vehicle, but it does not qualify as invested capital. The reclassification of the capital does not change the current Apple valuation. However, it begs the question whether a company can continue to generate USD 40 billion of cash without any cash invested. In fact, Apple is financed by its ailing supply chain and tax collector. I will go through the supply chain on 3 levels, upstream, downstream and content.
Upstream in the supply chain
Apple produces or assembles nothing. The major components such as ICs, boards, screens and casings are produced by its suppliers in Asia. These components are then assembled in the controversial Foxconn (2038 HK) factories in China and shipped by UPS (NYSE:UPS) or Fedex (NYSE:FDX) around the globe. A report from iSuppli calculates the manufacturing labor cost at only 8 USD per iPhone. Some component suppliers like Qualcomm stand their ground as they own the intellectual property. They invest in R&D to stay ahead of the technology curve. The iPhone 5 and the new iPad have introduced mainly hardware improvements in screen and processor performance. Apple now depends on its suppliers to develop new screen technologies or other hardware improvements to stay ahead of the curve. That will be a tall order. Touch screens designs have become a common feature, even for cheap smartphones like the 200 USD Lumia 610 from Nokia (NYSE:NOK). Samsung has invested into Amoled technology that could become a key differentiator in the next generations of smartphones. Screen supplier Sharp has run into serious difficulties. The Sharp FY12 cash flow statement shows the capital investments were JPY 116 billion higher than the operating cash flow. The heavy investments are made partly to keep it on the Apple supplier list with innovative products. The number of suppliers that can offer differentiating technology to Apple decreases. At the same time, survivors improve their bargaining power.
Replacing Samsung is a mistake
Apple is pushing Samsung out of its supply chain as it has emerged as the number 1 competitor in smartphones. In a hardware performance competition, capital heavy companies like Samsung have a competitive edge. They have invested tons of capital to keep up with Moore's law and control the IP behind the manufacturing technology. Samsung will not regret losing the Apple NAND flash business as it has become a commodity product that hardly makes a return on investment. NAND flash producers like Micron and Toshiba are caught up in a capex race that demands up to 40% re-investment of their sales. They will not mind the Samsung exit of the Apple supply chain either. The complex quad-core processor makes up the critical component in the Apple supply chain and has been manufactured exclusively by Samsung. The manufacturing requires the latest ASML (NASDAQ:ASML) 28 nanometer Lithography tools. One ASML 28nm tool ships for the same price as a Boeing 737-800. However, these tools are necessary in order to keep power usage and heat generation of the processor under control. Both have been pushed to the limit in the new iPad. According to EEtimes, Apple is now looking towards TSMC as a second source or to replace Samsung. This puts TSMC in a strong bargaining position. They will make sure they make a positive ROI. By the way, processors are not that easy to switch to another supplier. Otherwise Apple would have done it long ago. The chip design technology is controlled by the British company ARM (NASDAQ:ARMH) and is a level playing field for a fixed price. The pressure on Apple will increase to share more profits with its supply chain, simply to keep it ahead of the game. Foxconn is clearly the bridgehead for its supplier network. According to a Bloomberg article, Foxconn is still involved in the rescue plan for Sharp. The size of Apple doesn't matter much as most economies of scale are optimized at 2 million units. In fact, its size has been working more against it lately.
Downstream in the supply chain
Without the high-speed network investments by telecom operators, the iPhone would be just another mobile phone that backs up as a flashlight. Over the last 8 years, telecom operators have more than doubled their capex to USD 325 billion. Since the launch of the iPhone in 2007, Apple has divided and ruled the telecom operator space. Operators competed for Apple deals with generous unlimited data plans and large phone subsidies that never made a return on their network capex. A PWC study calculated a total annual capital destruction of USD 65 billion for the operators. The average ROI over the last decade only amounted to 6% vs. 9% cost of capital. Typically 20-30% of capex is reserved for new technology projects like the iPhone. In reality, 80-90% of capex has been allocated to this segment, while the maintenance capex suffered. This probably explains why the initial iPhone was a great internet device but had trouble with simple phone calls. The incentive of being the first operator to offer the exclusive iPhone and lure customers away is now gone. According to IGN, operators are still battling with unlimited data plans, but they throttle down the high users or offer limited LTE services. Telecom operators still invest 450 USD in risky consumer financing with every iPhone sold. However, the churning of customers has slowed down over the last quarters and market shares have stabilized. Apple is now investing in its own retail network as the eagerness of the operators decreases. However, a retail network gobbles up capital and has low profit margins. It generally does not make a positive return on invested assets.
Content supply chain
Apple also had a free ride on the back of the App developers that upgraded the iPhone to a free software store. Rovi (NASDAQ:ROVI) probably sold trillions of games, but is only valued at USD 1.5 billion. Instead, the attraction of free applications made billions for Apple without lifting a finger. However, the App market is not an iPhone exclusive. Google also captured the App-market train with its Android OS. Digitaltrends shows it is now taking market share from everybody including Apple. Google has now booted out the Apple ecosystem as it also overstepped the supplier border with the Motorola acquisition. Replacing the Google maps content was done in a hurry. A bid for the TomTom (TOM2) map know-how will cost Apple only a couple of billions, but it all adds to the bill of making its own content. Apple will have to invest more capex in its iOS and come up with some dramatically new features. Its resistance to acquisitions to gain content will have to change. The Windows 8 platform has to make up a lot of lost ground, but is not dead in the water yet. The asymco graphs show the Android gains and also remind investors that Symbian had a 41% market share at the start of 2010.
DCF valuation
I appreciate Apple products and have used the iPhone 4S myself. I believe that 3 factors determine the value of a company : growth, margin and capital needs. I believe that margin and capital needs are the most important factors that the current Apple valuation ignores. Apple still experiences unit growth, but growth estimates will follow the ASP trend of technology products. My DCF generates a target of 500 USD. I am not a day trader and don't expect Apple to decline 30% over the next couple of weeks. In fact, it could set new highs on persistent bullish sentiment. Stranger things have happened. I believe that over the next 12 months, the Apple strategy will result in investor disappointment and the stock price will drop to my target.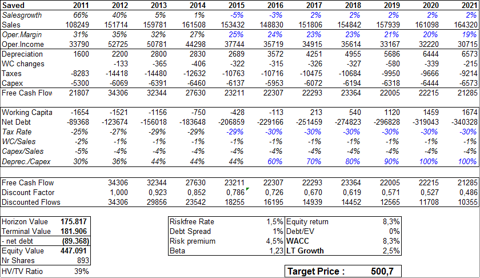 Disclosure: I am short AAPL. I wrote this article myself, and it expresses my own opinions. I am not receiving compensation for it (other than from Seeking Alpha). I have no business relationship with any company whose stock is mentioned in this article.