In this research note, we'll focus on Wells Fargo (NYSE:WFC). We'll take a look at the historic performance of the firm's operating segments. Then we'll examine the current market environment to establish the correct course of action for investors.
Recently, the U.S. government sued Wells Fargo over faulty mortgages. The potential settlement could be in the billions, and may have a short-term material impact on earnings and cash flows. Wells Fargo says it won't settle this case, however, the firm has a history of settling litigation.
Wells Fargo: Segment Data
(click images to enlarge)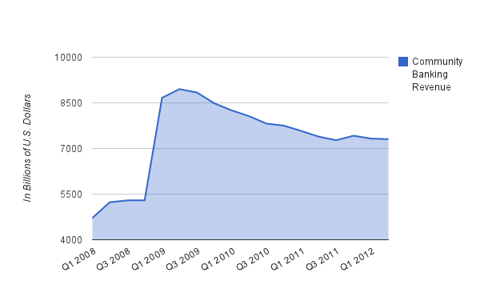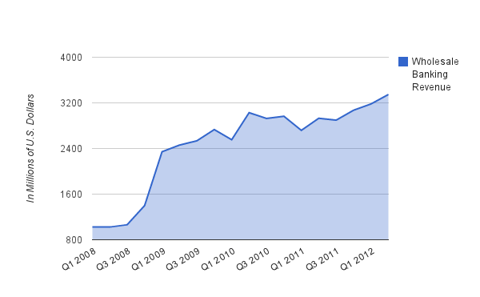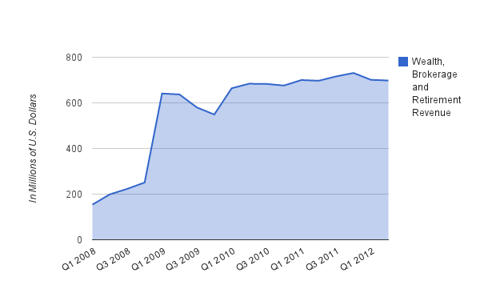 The growth in Wells Fargo's business segments is coming from wholesale banking revenue. Community banking revenue is declining. Wealth, brokerage, and retirement revenue is pretty much flat after increasing substantially heading into 2010. Consolidated revenue has declined every year since 2009.
Wells Fargo had one of the highest net profit margins of the major financial institutions at 32 percent in 2011. During the first half of 2012, the net profit margin increased to 36 percent. Net income has increased every year since 2008, and is forecast to increase this year.
Market Mood Change
Based on my investment analysis and experience, I think U.S. equities are set to decline in value. The mood surrounding financial markets the past several weeks has been optimistic as market participants discounted additional monetary stimulus from the Federal Reserve Bank.
Now markets face a period of uncertainty heading into the November elections. Equity prices could fall prior to the elections as market participants await the outcome. Also, earnings are forecast to fall 1.7 percent in the third quarter, according to analyst estimates compiled by Bloomberg. Adding to uncertainty is fiscal consolidation in Europe.
Euro Bank Asset Sales
The IMF increased its forecast of potential European bank asset sales 18 percent to $4.5 trillion. European banks have faced outflows of cash from the periphery to the core. Should outflows continue, periphery-based banks could need to raise additional capital through asset sales. The economic impact of continued periphery-based bank outflows could adversely impact the core and the U.S. The economic data in the US could be near a turning point.
Peaking Economic Data
The recent release of the IBD/TIPP economic optimism indicator increased to 54.0 from 51.8. The average analyst estimate was for a reading of 52.3. The September reading of 51.8 increased from 45.6 in August. The IBD/TIPP economic optimism indicator is confirming the up trend in stocks. Further, it suggests equity markets may be nearing an inflection point as economic data may be nearing a peak.
Conclusion
I continue to be bullish on Wells Fargo's future as I stated in this article. However, I think markets are due for a throwback and, as such, wise investors should be purchasing put protection or selling holdings. Professional investors should consider short selling shares of Wells Fargo.
Disclaimer: This article is not meant to establish or continue an investment advisory relationship. Before investing, readers should consult their financial advisor. Christopher Grosvenor does not know your financial situation and ability to bear risk and thus, his opinions may not be suitable for all investors.
Disclosure: I am short SPY. I wrote this article myself, and it expresses my own opinions. I am not receiving compensation for it (other than from Seeking Alpha). I have no business relationship with any company whose stock is mentioned in this article.