Yesterday, Jefferies analyst Peter Misek said that he thinks Research In Motion (RIMM) will probably launch BB10 in March, as opposed to the long awaited launch in January or February of 2012.
Research in Motion for its part reiterated that BlackBerry 10 is on track to launch in the first quarter as previously stated, without of course saying the beginning or the end of the quarter.
Without a doubt, any delay from this point on, in deploying BB10 is critical for RIM and it might make the difference between life and death.
Any launch delay will push back licensing deals, for developers will want to see to what extent BB10 will be successful before they commit money, time and resources to the new platform. And that will push back development of new apps that the new platform desperately needs to compete in the smart phone space.
Any delay will use up valuable cash that RIM cannot afford to spare at this point. Peter Misek thinks the company will burn about $1 billion to build up new inventory for the new launch. He also said the company might tap into credit lines in order to build 5-10 million BB 10 devices. As a result (I say), because of the company's already fragile balance sheet, this might add additional leveraged to RIM with unintended consequences in the future.
Also, since the Nokia (NYSE:NOK) Lumia 920 with Microsoft's (NASDAQ:MSFT) Windows 8 did not impress anybody (at least judging by the price action in Nokia shares, which was negative), it would have been a good chance for RIM to be in the spotlight, as the only major phone launch of the new year.
Bottom line: Any way you slice it and dice it, any delay is a negative for the company, at least in the short run.
Please recall that RIM is on my special situation play list of stocks, that I think could (under certain circumstances), reward speculators at least five times their money over the next 12 months; assuming of course that the company's current product launch will be successful. Please read: Research In Motion: Good Speculation Play With Limited Risk.
So as a follow up on that scenario, let's go over our strategy, to see if this unanticipated delay will alter in any way our speculation logic, assuming of course that RIM indeed delays BB10 by 2-3 months.
While a product launch delay will indeed create short term concern for the company's survival, in no way does it alter our speculation scenario. Please recall that our speculation time frame was 12-15 months, as the worst case scenario in order for the company to prove itself. So, as far as the time frame is concerned, it is well within the time we have given the company to succeed. Nothing has really changed insofar as our timeframe is concerned.
Also, while it is indeed true that the company might tap into its credit line to begin production, I think that this was going to happen anyway. The company has enough cash to stay afloat and to get by, but I don't think the market thought that the company might have all the cash needed to conduct a world wide marketing campaign and product launch of BB 10 with its current cash position alone. So I don't think the market was surprised here.
The other point as far as our speculation scenario is concerned, was the stop loss I had set. Since we don't know if the company's product line will be a success or not, I have designated a speculation stop loss at around $6,30. So far, the stock has not broken down below those levels. It came close to breaking down right after my previous article, but it did not close below our stop loss level.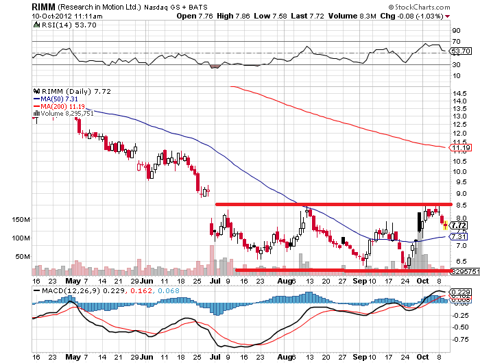 Putting aside launch delays and any other problems that might accrue in the future, insofar as the stock stays above our designated stop loss, nothing has really changed as far as our speculation logic is concerned.
And while it will be a disappointment if the company launches in March, from a speculation point of view, it only means a delay and not a derailment of our speculation strategy. Again, assuming the stock stays above our stop loss target of $6,30.
And judging from today's price action (the stock is barely down), I dare to say that the market is probably indifferent to a 2-3 month product launch delay anyway.
Disclosure: I have no positions in any stocks mentioned, and no plans to initiate any positions within the next 72 hours. I wrote this article myself, and it expresses my own opinions. I am not receiving compensation for it (other than from Seeking Alpha). I have no business relationship with any company whose stock is mentioned in this article.