By Jason Napodano, CFA
Today, Zalicus, Inc. (ZLCS) is trading at $0.52 per share. The basic share count (as of August 6, 2012) is 126.7 million. Adding in approximately 0.375 million in restricted stock, 0.412 million warrants, and 0.350 of stock-based compensation, and we arrive at a diluted share count of 127.8 million, or a market capitalization of only $66 million.
Is Zalicus Worth More Than $66 Million?
To answer this question, we stripped down the company into its sum-of-parts, starting with the Balance Sheet. Zalicus should report cash of around $50 million as of September 30, 2012. This number includes cash at June 30, 2012 of $44.1 million, less burn of approximately $9.5 million modeled for third-quarter 2012, plus the $14.7 million raised in July and August 2012 through an at-the-market "ATM" offering. From that $50 million, we are backing out approximately $17.7 million in loans and $1.3 million in committed lease obligations. We are then factoring in another six months of operating cash burn of approximately $17 million (through March 31, 2013). That gets us to a net cash position at March 31, 2013 of $13 million, or $0.10 per share.
Next up is Exalgo. Zalicus receives a royalty on sales of Exalgo (hydromorphone HCl ER) from Mallinckrodt, a division of Covidien. Royalties during first-quarter 2012 totaled $1.1 million, up 33% sequentially from fourth-quarter 2011. Exalgo royalties during second-quarter 2012 totaled $1.3 million, up 12% sequentially from first-quarter 2012. For third-quarter 2012, we model royalties of $1.4 million. For all of 2012, we model $5.2 million. Those are not big sexy numbers, but Exalgo does provide pure cash to the Zalicus bottom line.
Exalgo was approved at 8, 12, and 16 mg doses in March 2010. In August 2012, Covidien announced the U.S. FDA had granted approval for a 32 mg dose tablet of Exalgo. This was an important approval because the 32 mg dose is the dose most patients stabilized on in the pivotal phase III trial. It's the most effective dose from a therapeutic standpoint. Until this, Exalgo was competitively disadvantaged versus other long-acting opioids, like Opana-ER (oxymorphone ER). We note that gaining approval of a 32 mg dose for Exalgo also extends the exclusivity for Covidien.
In January 2012, Covidien (COV) came to an agreement with Watson Pharmaceuticals to settle patent litigation relating to Waston's generic version of Exlago for the 8, 12, and 16 mg doses. Covidien will allow Watson to enter the market with a generic hydromorphone HCl ER on November 15, 2013, approximately seven months ahead of the patent expiration in July 2014. The 32 mg dose will remain protected until July 2014, and by November 2013 we expect that Covidien will have aggressively converted the majority of scripts over to the highest approved dose.
So what's Exalgo worth? As of today, Zalicus will receive royalties on sales of Exalgo up to and through the patent expiration in July 2014. Once a generic version hits the market, Zalicus sees its royalty rate slashed by 50%. We expect sales to drop significantly as well. So for the purpose of our model, we're assuming meaningful royalties on Exalgo from today up until July 2014 totaling around $16 million. That includes $1.4 million in fourth-quarter 2012, around $10 million in 2013, and around $4.5 million in 2014 before the patent expires. Using a 15% discount rate, we see Exalgo royalties worth $13 million NPV, or around $0.10 per share.
Next up is Prednisporin, a near phase III ready candidate out-licensed to Sanofi (NYSE:SNY) for development and commercialization, with a lead indication targeting allergic conjunctivitis. Based on what we are hearing, Sanofi continues its formulation scale-up work on Prednisporin. This process has been going on for some time and investors are getting frustrated with the lack of news. That being said, moving from the experimental candidate to the commercial product, especially for a combination product like Prednisporin (prednisolone acetate + cyclosporine A), is no easy task. Sanofi completed a phase IIb clinical program testing Prednisporin in subjects with persistent allergic conjunctivitis in December 2010. We assume that if the drug didn't work, Sanofi would have killed it long ago. Instead, Sanofi is probably conducting a bridging study with this new formulation before it moves into a phase III program sometime during 2013.
Zalicus is eligible for $3 million milestone payment from Sanofi when the phase III trial initiates. If commercialized, Zalicus is eligible to receive milestone payments of up to approximately $21 million in allergic conjunctivitis and $15 million for expansion into new indications like dry eyes. We also model a 10% royalty on sales payable to Zalicus. Allergic conjunctivitis is a rather big market. Nearly 50 million Americans per year have allergic reactions that affect the eyes. About 10% of these are severe enough to require prescription medications like Prednisporin. Therefore, we see the drug as a potential $300 million opportunity for Sanofi. If the phase III starts next year, Prednisporin could be on the market by 2015, with peak sales at $300 million five years later in 2020.
For the purpose of our bare-bones valuation, we assume Sanofi starts the phase III in 2013, so Zalicus receives the $3 million milestone next year. Based on historical success and approval rates for a pre-phase III drug, we give Prednisporin a 30% chance for approval today. Therefore, if we input the $21 million commercialization milestone and $300 million in peak sales in 2020, times 30%, discounted back to present day at 15%, we arrive at a value for Prednisporin of $30 million, or $0.23 per share.
I place no value on preclinical candidates. Everyone has preclinical drugs. According to PhMRA and Innovation.org, the odds of moving a drug from preclinical screening to FDA approval is 5,000:1. Yes, Zalicus has a proprietary combination high throughput screening (cHTS) technology and a vast library of molecules targeting numerous diseases. The cHTS technology is designed to identify specific combinations of drugs with the potential to treat serious diseases by simultaneously modulating multiple biological pathways. It has led to collaborations with Amgen, Novartis, and the U.S. Army Medical Research Institute. That's fantastic, but my model is built on probability and predictability of cash flow. I can't do anything with 5,000:1. Even if Zalicus is 10 times as good as the industry average, which it has given us no evidence to support, I still can't do anything with it 500:1.
So that leaves the ion channel clinical pipeline. Let's start with Z160. On March 5, 2012, Zalicus announced it had successfully completed a phase I (n=16) pharmacokinetic and safety study with new formulations of Z160 (formerly MK6721), a first in class, oral, state dependent, selective N-type calcium channel (Cav2.2) blocker. Management noted that Z160 has been reformulated to overcome bioavailability and food effect challenges from previous studies. One formulation demonstrated a 6-fold increase in bioavailability based on the PK/PD analysis from the phase I program.
We remind investors that Merck paid Neuromed $25 million upfront to license MK6721 (then called NMED160) back when the molecules was still in preclinical testing. The agreement between Merck and Neuromed called for an additional $450 million in potential development and commercialization milestones and royalties on sales. Preclinical data demonstrated efficacy in multiple animal models of neuropathic and inflammatory pain. Unfortunately, the poor bioavailability of NMED160 resulted in Merck walking-away from the collaboration following a disappointing phase I trial in August 2007. Zalicus has since reformulated Z160 to where the bioavailability is now attractive. Management has reported a six-fold increase in bioavailability from the NMED160 candidate.
In September 2012, Zalicus initiated the first phase IIa study (Clinicaltrials.gov Identifier: NCT01655849) with Z160 in 140 patients with chronic neuropathic pain associated with lumbosacral radiculopathy (LSR). LSR is a common neuropathic pain condition resulting from the compression or irritation of the nerve roots exiting the lumbar region of the spine. Common symptoms include pain radiating from the lower back and down the legs, as well as numbness and tingling in the lower extremities. We expect enrollment will take place at approximately 20 centers around the U.S. Patients will be randomized to receive either 375 mg Z160 BID or placebo. We expect enrollment to take six to eight months, with data expected in third-quarter 2013.
We see LSR has a significant unmet medical need and an attractive market opportunity. The prevalence of LSR is high, affecting 3-5% of the global population, and to date there are no drug treatments specifically approved to treat the condition. In LSR alone, Z160 could have $500 million or more peak sales potential. Other possible indications for Z160 include post-herpetic neuralgia (PHN), diabetic peripheral neuropathy (DPN), fibromyalgia, and peripheral nerve pain. Zalicus plans to initiate a second phase IIa study in PHN in the fourth quarter 2012. PHN is a painful neuropathic condition resulting from an outbreak of the herpes zoster virus, otherwise known as shingles. We see a $250 million opportunity in PHN for Z160. Larger indications such as DPN and fibromyalgia may offer another $250 million or more peak potential.
But what's all this worth now? Well, we expect that Zalicus will look to complete these two phase IIa studies in LSR and PHN, then look to partner the drug. That's going to cost them $10+ million to do. Let's assume Z160 has peak sales of $1 billion based on successful development in LSR, PHN, and one other indications such as fibromyalgia. Odds of successfully taking a phase IIa drug to the market is around 20% (see data from PhMRA noted above). At the pace Zalicus is going, Z160 could be commercialized in 2018. Let's say it takes five years to hit peak sales. So that's $1 billion in sales in 2023. We noted above that Zalicus originally had a $475 million all-in agreement with Merck on this drug. Let's assume, because the market is more competitive now and drugs like gabapentin are available in generic form, Zalicus can strike a $250 million all-in deal for Z160 in 2014. Let's assume Zalicus collects 20% on sales at this partner. Modeling out all those cash flows: a launch in 2018 with $1 billion in sales in 2023, with 20% royalty, $250 million in milestones, with a 20% chance of success and 15% discount rate, Z160 is currently worth $25 million, or $0.20 per share.
Finally, we arrive at Z944. In December 2011, Zalicus announced the initiation of a phase Ia single ascending dose clinical trial evaluating the pharmacokinetics and safety of Z944, a novel oral T-type calcium channel blocker with demonstrated preclinical potential for the treatment of acute and inflammatory pain in animal pain models. In June 2012, management reported that the trial was a success and that a maximum tolerated dose (MTD) has been identified.
In July 2012, Zalicus initiated a phase Ib multiple ascending dose clinical trial looking to better identify the therapeutic window with Z944. Management is keeping the dosing and indication for Z944 quiet for now, as this is a highly competitive area of pharmaceutical research. Through our conversations with management, we get the sense that Zalicus really thinks it has something special with Z944. There are no approved T-Type calcium channel blockers on the market. Z944 represents a potentially new and revolutionary way to treat acute pain. T-type calcium channels have been recognized as key targets in the therapeutic inhibition of a broad range of cell functions and have been implicated in the frequency and intensity of pain signals. During the first quarter, Zalicus published preclinical data in the journal Science Translational Medicine, describing the activity of Z944 to potently suppress seizures. This data reinforces the potential biologic activity of Z944, as it is generally understood that conditions of neuronal hyper-excitability, such as epilepsy and pain, are mechanistically linked.
If Z944 is safe and well tolerated in the ongoing phase Ib program, we expect Zalicus to quickly file an IND in the U.S., and advance the molecule into a phase IIa clinical trial in early 2013. Following proof-of-concept, we expect the company to look to strike a development and collaboration alliance with a large pharmaceutical company.
So what's it worth? Let's take what we did for Z160 above and tweak it slightly. We're going to assume the same $1 billion peak sales number for Z944. Acute pain is an enormous market opportunity and the market is desperate to find alternatives to dangerous opioids. Only because the IND has yet to be filed, we're going to push everything back one year. That means launch Z944 in 2019 and peak sales in 2024. We are also going to lower the chance of success to 10%. Yes, 10%! Z944 has yet to complete phase I studies and no T-type calcium channel blocker has ever been approved by the U.S. FDA. Historic data (noted above from innovation.org and PhMRA) tells us there is around a 5:1 chance for a phase I drug. We're taking it to 10:1 for a novel mechanism like Z944. Inputting all that into our model yields a value of $16 million, or $0.13 per share.
Valuation
We've stripped Zalicus down to its bare bones. We've applied no value on the company's many collaborations and vast library of preclinical candidates. We used the base sales case on Exalgo and slashed sales in July 2014 after the patent expires. We've assumed that Sanofi pushes forward with Prednisporin in 2013, but added in no value beyond allergic conjunctivitis to our sales forecasts. We've modeled bullish sales numbers for both Z160 and Z944, but applied industry average odds at best for approval and discounted everything back to present day at 15%. We've assume no new business development activities at the company - something management has publicly stated is the goal over the next twelve months. We've factored in cash burn for the next six months and used a fully-diluted share count for our target price. All this tells us that Zalicus, today, is worth $97 million, or $0.76 per share, at a minimum.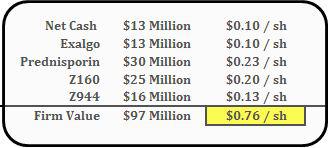 That's 46% higher than today. We see meaningful upside on any piece of good news, and we believe the shares could easily be back above $1.00 per share in 2013 in anticipation of data on both Z160 and Z944. Likewise, we expect Zalicus to seek to move additional ion channel candidates into the clinic over the next few quarters, which would then enter our valuation model, along with progress on Z160 and Z944, which has the potential to drive the shares significantly higher over the long term.
Disclosure: I have no positions in any stocks mentioned, and no plans to initiate any positions within the next 72 hours. I wrote this article myself, and it expresses my own opinions. I am not receiving compensation for it (other than from Seeking Alpha). I have no business relationship with any company whose stock is mentioned in this article.
Additional disclosure: I am an employee of Zacks Investment Research. For additional information on Zacks or Zalicus, please visit SCR.Zacks.com.