Commodity Chart Of The Day
Daily Platinum
(click image to enlarge)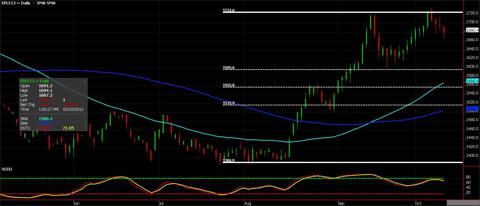 Click to enlarge
Perhaps this is off the beaten path a little, as gold and silver are more followed by metal traders, but I do follow platinum, palladium and copper. There appears to be stiff resistance in the January contract, just above $1720. Prices have started to roll over, losing ground the last four sessions. Prices are down roughly $40 in that time frame but, in my eyes, the trade is just getting started.
As a whole, my feeling is the entire metals complex could work lower in the coming weeks. My suggestion is to use the Fibonacci levels on the chart above as your targets. The contract size on the CME is 50 ounces, which means every $1 move in the futures represents $50. Risk to reward, this trade looks sound, as a new high is ballpark $2,000 of risk, while the first target is $4,250 and further weakness could be seen, in my opinion.
Risk Disclaimer: The opinions contained herein are for general information only and not tailored to any specific investor's needs or investment goals. Any opinions expressed in this article are as of the date indicated. Trading futures, options, and Forex involves substantial risk of loss and is not suitable for all investors. Past performance is not necessarily indicative of future results.
Disclosure: I have no positions in any stocks mentioned, and no plans to initiate any positions within the next 72 hours. I wrote this article myself, and it expresses my own opinions. I am not receiving compensation for it. I have no business relationship with any company whose stock is mentioned in this article.