By Sabina Bhatia
On Sept. 18 we discussed "10 Low Growth Stocks To Watch," and today we want to discuss one of them in more detail, namely Ciena (NASDAQ:CIEN) -- which reported Q2 earnings report in August. We think this will give us enough time to analyze the company before it reports Q3 2012 earnings in November. In this article, we will discuss the relevant fundamentals for the stocks performance in the short and long run.
Regarding stock performance, Ciena stock trades at $12.71 vs. its 52-week range of $10.30-$18.39. Although the stock has returned 7% in the last year, there was a 20% drop in the stock when the company missed Q2 earnings reported on Aug. 30.
So what trends will move the stock going forward? Here are some encouraging trends:
Ciena recently announced that the delays related to the Ethernet and OTN platforms will be resolved in the current quarter.
The second-quarter announcement of strong switching sales is encouraging and helps the company achieve its 40% gross margin target in the long run.
Given the tough macro environment, a diversified customer base is helping Ciena grow its revenue base. In Q2 2012, the company did not have any 10% customers.
Discouraging trends:
A weak balance sheet is reflective of a debt/cap of 105%, which consists of $1.4 billion in convertible debt. Closest maturity of the convertible debt is $206 million of the 0.25% convertibles due May 2013.
Continued contraction in margins.
Increase in competition, especially in metro/long-haul WDM systems, which contribute about 80% to Ciena's revenues.
Possible delay in the improvement in upgrade activity in Europe.
We conclude by saying that Ciena is a story for long-term investors. The company is still in transition, and we will have to see many factors unfold before making an investment decision. That said, Ciena continues to make progress in the right direction. This makes Ciena an interesting story for your radar screen.
The chart below compares share performance of Ciena and Alcatel Lucent (ALU) against the S&P 500 over the past year.
Click to enlarge image.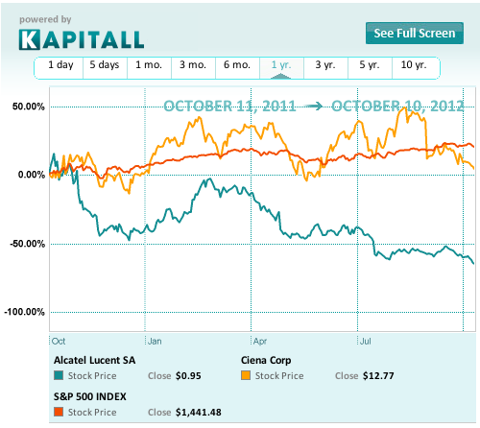 Disclosure: I have no positions in any stocks mentioned, and no plans to initiate any positions within the next 72 hours. I wrote this article myself, and it expresses my own opinions. I am not receiving compensation for it. I have no business relationship with any company whose stock is mentioned in this article.