The bull market for iron ore created by China's runaway economic growth seems to be over. Naturally, investors are wondering if that makes Vale (NYSE:VALE) and other big iron miners, such as Rio Tinto (NYSE:RIO), BHP Billiton Ltd (NYSE:BHP) and Fortescue Metals Group (OTCQX:FSUGY), value buys.
Some analysts are predicting that iron ore prices might fall to $96 a metric ton in 2017. Iron rose to a high of $167.6 a ton last year. The same analysts are stating that iron prices may fall for four years straight starting in 2014. Vale has responded to these warnings by cutting iron ore pellet in Brazil by 18%.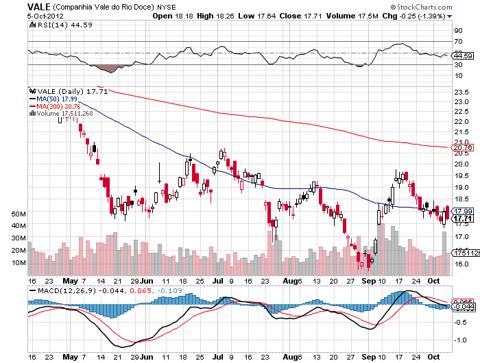 As you can see, the market responded to the news by dropping Vale like a hot potato. So is now the time to buy Vale or not? After all, it is still the world's largest iron producer, and it displayed some great fundamentals last year.
The latest figures indicate that Vale had sales of $53.74 billion, an income of $15.93 billion and sales growth of 30.2%. The company also displayed income growth of 31.5% and a net profit margin of 27.91%. That made for earnings per share of $3.07, a dividend rate of $1.15, and a yield of $6.51.
These figures are good, but some of the other figures that Vale is showing aren't. Its revenue growth fell by 18.94% in the first half of 2012, and earnings per share growth dropped by 57.38% in the same period. So it looks like the claims that the bull market in iron ore is over are correct. Vale is still making money, but it doesn't look like it can increase its revenue without expanding its operations. So is this trend being seen across the board in the iron sector or not?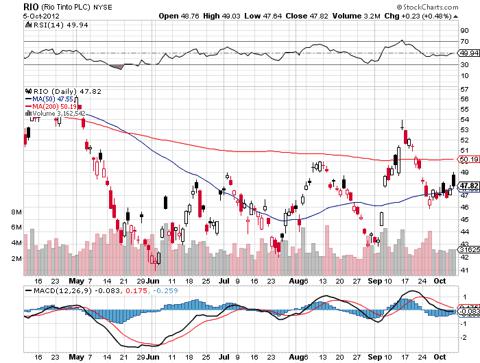 Rio Tinto has already been hit hard by the iron ore slump. Its income growth has fallen by 59.3% in 2012. Like Vale, Rio has started making cutbacks, including the shutdown of its Sydney office and job cuts in Australia. At the same time BHP Billiton has seen a drop in income growth of around 34.8%. So Vale isn't the only iron ore producer with a questionable future.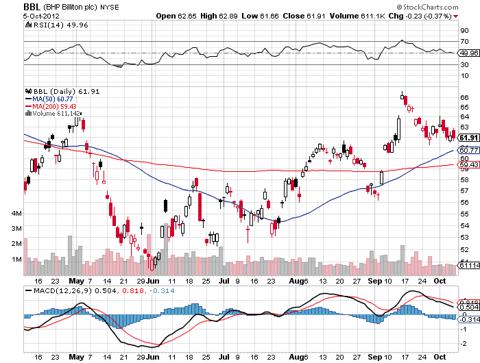 Is There Value in Iron?
The question remains though: Are iron miners now a value buy because of the troubles they are facing? After all, the demand for iron is still high, and companies like Vale and Rio can still make a nice profit with iron ore prices at $100 a ton. Since analysts think iron ore prices will stay around that price for the foreseeable future, both Vale and Rio will make money, just not as much as they've been making.
The answer to the question is that Vale is a value buy because of its current low share price ($17.71 at the close of business on October 5, 2012), but Rio and Billiton are not. Those stocks' share prices might still take a tumble. Rio in particular seems vulnerable because of its dependence on China. Billiton's share price might be kept afloat by its energy investments, including liquid natural gas and oil discoveries in Australia.
Vale, on the other hand, seems to be concentrating on its core business of iron mining in Brazil. The company is concentrating its resources on the $19.5 billion Serra Sul project in Para State. Serra Sul is believed to have around 90 million metric tons of iron. Vale is apparently still committed to boosting its iron output to 460 million metric tons by 2017. That will be a 40% increase if it is successful. Even at a price of $100 a ton, that will give Vale iron ore revenues of around $46 billion. The company currently has revenues of $54.28 billion.
It is projects like Serra Sul, which produces some of the highest quality iron ore in the world, that make Vale a value buy. Despite the predictions of a bull market for iron, Vale is still in a position to make a nice profit on the metal. The world will still need iron, and Vale can still make money off the metal even if it won't see record profits.
So check out Vale if you're looking for a value play in metals. Its share price is low now, and even if it falls lower, the stock is still a bargain because of its iron ore holdings.
Disclosure: I have no positions in any stocks mentioned, and no plans to initiate any positions within the next 72 hours. I wrote this article myself, and it expresses my own opinions. I am not receiving compensation for it (other than from Seeking Alpha). I have no business relationship with any company whose stock is mentioned in this article.