Hatteras Financial (NYSE:HTS) is one stock that almost looks too good to be true. As of October 8th, Hatteras was showing a net profit margin of 65.88%, sales growth of 60.8%, and income growth of 67.8%. Even in the mortgage real estate investment trust (mREIT) sector that's known for seemingly unbelievable numbers, Hatteras's numbers are almost mind-boggling. Yet they are modest compared to CYS Investments (NYSE:CYS), which showed a sales growth of 208.3% and an incredible income growth rate of 1,289.3%, which equated to a net profit margin of 118.2%.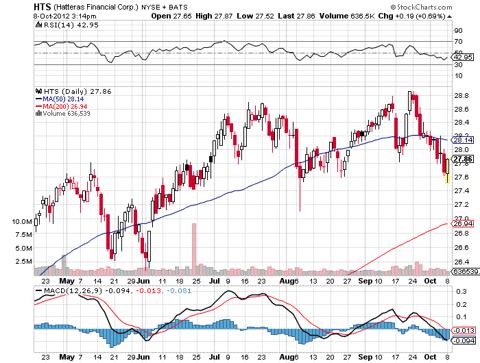 Click to enlarge
The question that most investors, including most value investors, will ask when seeing such numbers is whether or not they are real. After all, the old and usually true adage states that if it seems too good to be true, it usually is. Are there other numbers that justify the rosy picture of Hatteras we have here?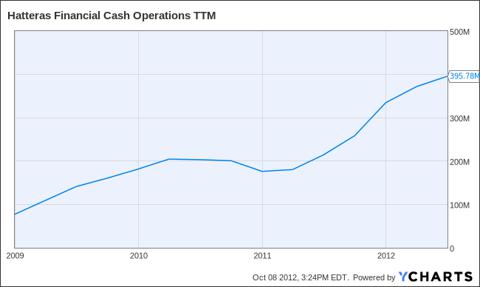 Click to enlarge
Well, as you can see above, the cash flowing through Hatteras has been increasing since 2009. The company's cash flow increased by around $195.78 million in 2011 and the first half of 2012. This gave it $566.87 million in cash and ST investments and a book value of $269.2 billion. The book value, like the cash flow at Hatteras, has been going up.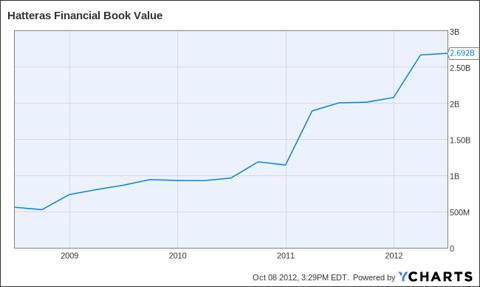 Click to enlarge
So it looks like Hatteras is a growth stock, but is it a value buy? After all, CYS's numbers seem to be better and that company has a much lower share price. CYS also had a negative cash flow of -$2.506 billion on June 30th, so it seems accurately priced. American Capital Agency (NASDAQ:AGNC) also has a rising cash flow, but its share price was $7 higher than Hatteras. Two Harbors Investment (NYSE:TWO) had cash operations of $199.88 million on June 30.
So Hatteras is in better shape than some of the smaller mREITs. Unlike CYS Financial and Two Harbors, it has stuck to government mortgage paper and ignored potentially risky moves, such as buying non-agency paper and non-mortgage assets. So it seems as if there is something behind these high yields.
These figures indicate that mREITs are still generating a lot of cash even if they are cutting dividends. Even as the dividends fall, the cash is still pouring into mREITs, and some of them still have a lot of money in the bank.
The figures also make Hatteras look really good compared to some of its competitors because of its cash. Hatteras has a higher level of cash operations than Armour Resident REIT (NYSE:ARR), even though Armour's level of cash operations is rising faster than Hatteras's. Armour had $173.28 million in cash operations at the last count, while Hatteras had $395.78 million.
Yet the question remains if mREITs can keep increasing their cash operations for the foreseeable future. After all, there is a school of thought that describes the situation these companies are in as a sort of a perfect storm. The mortgage market is being driven by record low interest rates and increased demand for refinancing. To add icing to the cake, the Federal Reserve keeps pumping more money into the mortgage market in the name of stimulus.
Yes, mREITs can keep generating more cash because the mortgage market is growing. It isn't growing at the rates we saw in the last decade, but it is growing. Analysts predict that mortgage revenues at big banks such as Wells Fargo (NYSE:WFC) and U.S. Bancorp (NYSE:USB) might rise by as much as 34% because of increased refinancing.
Hatteras Not Too Good to Be True
Even though the overall economy might not benefit from quantitative easing the Fed's plan to purchase $40 billion worth of mortgage backed securities a month, mREITs like Hatteras will. Analyst Richard Bove thinks that the program will drive up prices for mortgage backed securities (MBS), which is mREIT's prime products. Bove also thinks the program will allow banks to create more mortgages.
This may not lead to a housing recovery, but it will mean more revenue for well managed mREITs like Hatteras. So Hatteras is not too good to be true; the amount of cash it is going through seems to justify the fundamentals. Hatteras is making money and will continue to make money.
mREITs are still a risky buy, but if you like high risk companies like Hatteras, they can offer some nice yields for a relatively low price. More importantly, they seem to have a lot of cash, which makes them a sounder investment than the bears portray them as.
Disclosure: I have no positions in any stocks mentioned, and no plans to initiate any positions within the next 72 hours. I wrote this article myself, and it expresses my own opinions. I am not receiving compensation for it (other than from Seeking Alpha). I have no business relationship with any company whose stock is mentioned in this article.