Everybody has a price break point. I had no problem paying $1.99 a lb for peanuts, but for over a year now, the price of peanuts has been $3.49 a lb and I continue to pass on them and wait for the price to come down. Will they ever?
Something has happened in or around 2004/2005 that I can't quite put my finger on why. The price of food and energy started taking off. Also, the profits at corporations starting taking off as well.
See these charts starting with the world food price index: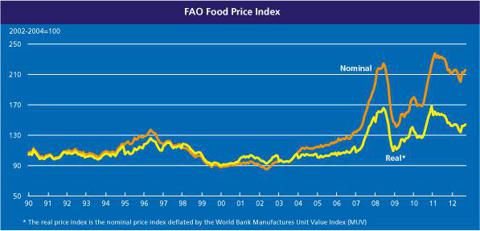 Here is a chart from 1990 of a gallon of regular gasoline: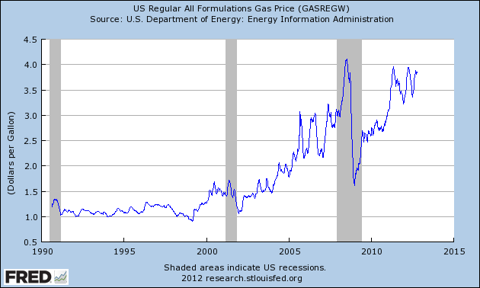 Lastly, here is a chart showing corporate profits after tax as a percent of GDP: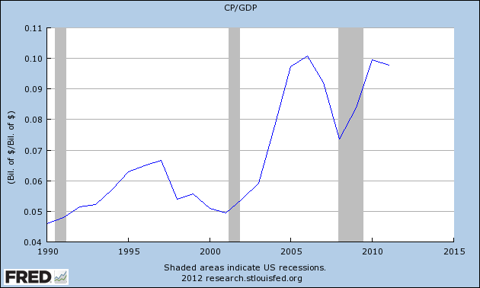 It is of every Corporations prerogative to set the price of the goods and services they provide at their discretion. Take for example, Disney Corporation (NYSE:DIS). Every year since at least 1990, Disney has raised the price of 1 adult admission to its Disney World theme park.
In 1990, $30 was the cost of admission for 1 adult into Disney World's Florida location. The average hourly wage for a production non supervisory position in the U.S. was $10.20 an hour. So the cost of an adult admission was worth 2.94 hours of work.
In 2012, the admission cost is $87 for 1 adult while the average hourly wage of production non supervisory workers is $19.81 an hour. It now takes 4.4 hours of work for 1 adult admission.
I charted out the data by year of how many hours of work it would take for 1 adult admission and found that it was generally steady from 1990 until about 2004, the same year as the break out in food prices, gas prices and corporate profits.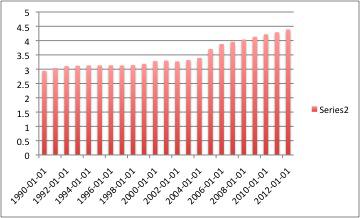 Of course, given the sharp increase in the price of admission, that has outpaced the wage increase since 2003 or so, the net profit margins at Disney Corporation have been rising and are now at the highest level since at least 2001.
Here are the net profit margins of Disney Corp since 2001:
Source: Valueline
2001: 8.1%
2002: 4.4%
2003: 5.0%
2004: 7.4%
2005: 8.5%
2006: 9.8%
2007: 11.3%
2008: 11.6%
2009: 9.4%
2010: 10.6%
2011: 11.8%
2012: 13.18%
The Valueline analyst expects the net profit margins to be around 15.5% in the next 3-5 year time frame. That should imply yet more steep price increases. The question is, at what point can they keep raising prices, relative to wage earnings that is, before there is a drop in aggregate demand?
McDonald's Corp. (NYSE:MCD) is another example of a company that has seen extraordinary profit margin expansion since 2001.
Here is McDonald's net profit margins since 2001:
2001: 11.9%
2002: 11.0%
2003: 10.7%
2004: 12.9%
2005: 12.3%
2006: 13.3%
2007: 15.5%
2008: 17.9%
2009: 19.4%
2010: 20.6%
2011: 20.4%
2012: 20.03%
The Valueline analyst sees the 20% profit margins holding 3-5 years out as well.
There are breaking points for all of us in all categories.
Let's take a look at gasoline demand. Here is a year over year chart of gasoline supplied in the U.S. going back to 2005: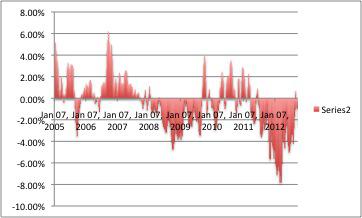 It must be noted that in 2011, gasoline averaged $3.53 a gallon for the year, a record high. The average household was estimated to have spent $4155 on gasoline, a record amount as well.
$4155 represented about 8.4% of the median household income in 2011.
So far in 2012, the average price of gas has been $3.66, 3.8% higher than a year ago. The price is $3.85 a gallon as of last week which will likely take the average price even higher by year end.
The above chart shows the impact of these high price are having on overall demand. For most of the year demand has been down Vs. the year ago period. But the most recent week showed only a very small decline from a year ago but prices were 10% higher than a year ago.
That should imply there will be even less money left to be spent on other goods and services as average weekly earnings are only rising about 2.1% from a year ago.
Not only does this affect McDonald's and Disney's ability to raise prices, but just about every Corporation in the entire S&P 500 (NYSEARCA:SPY).
I anticipate we will begin to see Corporations not raising prices but having to lower them to get sales.
Between rising gas prices and the fiscal cliff that looms ahead, where according to the non partisan Tax Policy Center, taxes will rise $3500 per year for the average household, there will be a good deal less disposable income to go around for things like quarter pounder's and trips to Disney World. That is unless they lower prices to the point where people will buy.
The good news is, the profits are so high relative to the past 20 years, there is ample room to lower prices and still earn decent profits.
The bad news is, profits from this point on could be down and that could prove bad for stock prices, especially given the high expectations like the folks at Valueline have for future profit margins.
Disclosure: I am long SH. I wrote this article myself, and it expresses my own opinions. I am not receiving compensation for it (other than from Seeking Alpha). I have no business relationship with any company whose stock is mentioned in this article.