There has been much talk recently of firms unwinding their long commodity and short financial strategies.  The energy sector experienced a quick 20% decline and financial stocks began to look attractive, for a minute.  Below we look at selected sectors' relative strength versus the S&P 500.  The chart begins on May 20th, energy's peak. 
As the energy sector declined, financials firmed up, though this was a short-term phenomenon.  As the last week has shown, the bad news has not ended in the financial sector and the energy correction is drawing to a close.  The defensive stocks have been the best names, with health care leading and consumer staples closely following. 
Energy however is likely to offer the best opportunity in the coming months.  Oil has found short-term support at $111.75 and the 200-day moving average ($110.37 currently), with strong support at $100.  As oil slows its decent look for energy stocks to regain some of their losses.
click to enlarge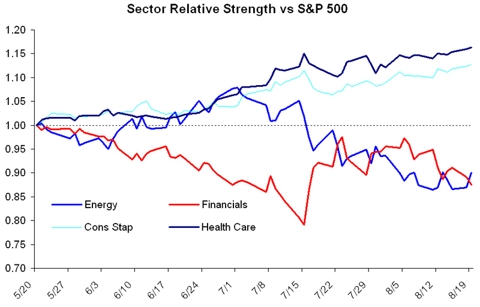 Click to enlarge