Investors looking to scale into their shorts in a topped out market situation finally had their day Wednesday as weakness caused the market to tumble!. Stock funds had redemptions of about $10.6 billion and the foreign equities lost about $483 million in withdrawals last week. It is thought that some of the shifts in allocations may have gone to Treasuries and other debt instruments.
US Wholesale Inventories increased 0.5% to $487.5 billion in line with expectations. Wholesale Inventories are a key component in the US GDP. Wholesale Sales increased 0.9% while forecasts were for 0.5%. Alcoa Inc.(NYSE:AA) kicked off earnings Tuesday reporting a loss of $143 million or 13 cents a share in comparison to last year's $172 million profit or 15 cents a share. Revenue decreased 9.1% to $5.83 billion while analysts forecasted revenue of $4.54 billion.
Weak demand in Europe, higher cost of production and decreased aluminum costs all weighed on the company. Analysts are projecting third-quarter earnings to decrease perhaps 2.3% from one-year ago. Fourth quarter earnings are seen as increasing 9.6%. According to the Thomson Reuters pre-announcements, 91 companies may have a negative outlook while only 21 companies have positive outlooks.
The Beige Book showed consumer spending flat, residential real estate slightly improved, manufacturing mixed. Vehicle sales were mixed, tourism stronger, steel production flat and agriculture mixed due to the drought conditions over the summer. Crude oil dropped due to poor demand.
On the stock side: JP Morgan Chase and Co. (NYSE:JPM) was up 0.87 % to $41.74. Citigroup Inc. (NYSE:C) was up 1.36 % to $35.07. Bank of America (NYSE:BAC) was down 0.11 % to $9.20. Alcoa Inc. was down 4.71 % to $8.70. Boeing Co. (NYSE:BA) was down 0.42 % to $70.34. Caterpillar Inc. (NYSE:CAT) was down 1.98 % to $83.07. General Electric Co. (NYSE:GE) was down 1.02 % to $22.39. Halliburton Co. (NYSE:HAL) was down 1.18 % to $33.47. Hewlett Packard Co. (NYSE:HPQ) was down 1.32 % to $14.18. SPDR Select Sector Fund - Financial (NYSEARCA:XLF) was down 0.13 % to $15.93.
E-Mini S&P 500 Chart.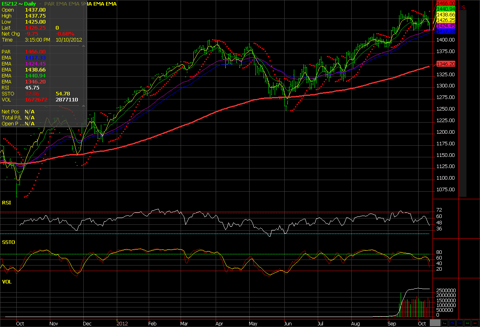 Click to enlarge
Thursday, what to expect: We maintain a bearish bias unless the (December) E-Mini S&P 500 penetrates $1466.00. Today, we anticipate an inside to lower to outside day. Wednesday's range was $1437.75 - $1425.00. The market settled at $1426.25. Our comfort zone or point of control for this market is $1432.50. Our anticipated potential range for Thursday's trading is $1439.50 - $1417.50.
Disclosure: I have no positions in any stocks mentioned, and no plans to initiate any positions within the next 72 hours. I wrote this article myself, and it expresses my own opinions. I am not receiving compensation for it. I have no business relationship with any company whose stock is mentioned in this article.