Currency Market Constriction Continues
The Australian Dollar and the Euro took turns rolling down and then rolling up this week, with the net effect being little difference in price and action hungry traders getting squeezed. What made matters more interesting was the timing of the moves. Rather than moving in sync against the Greenback, the two pairs once again moved independent of each other, further eroding previous currency market correlations. If there is one market that has shown consistency this week, it is the S&P 500 which has worked its way steadily lower the past several days. And unlike the currencies, where no one pair has proven to be an alpha over time, the S&P 500, which is a proxy for U.S. blue chip stocks, still holds plenty of credibility as a leading indicator market.
While the trend this year for Aussie economic data has been troublesome, we could see a potential bright spot today with an employment change of +5.1 expected, which would be decidedly better than the last figure of -8.8K. That's the funny thing about a string of bad data; it makes even the slightest improvement look noteworthy. Any kind of a disappointment however could mean an acceleration of the current day to day pattern which is lower. We are calling for still lower prices in the Aussie with a near-term downside target of .9975 - see Figure 1. We see weakness in U.S. stocks over the last couple of days as supportive of lower prices in the Aussie.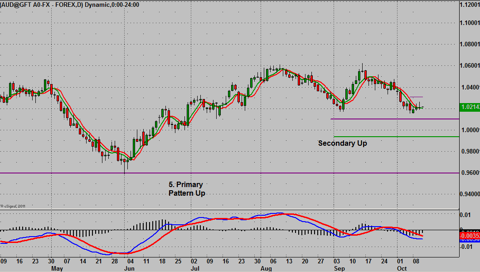 Figure 1. Daily AUDUSD Chart
The Run is Done
We think the bull-run in the Euro that started back in August is over. Previously we were looking for a move just beyond the September high to climax that move, and while that is still a possibility, we can't risk missing a resumption of the primary pattern lower. The markets have not been paying much attention to day to day fundamentals, so we don't see anything on the economic front that could put off a turnaround for this pair. Likewise if we do see an October correction for stocks and commodities, i.e. sharp sell offs in the S&P 500 and gold, it would weigh heavily on the Euro. Call it temporary Dollar strength or just a needed correction, but either way it would spell downside for the Euro.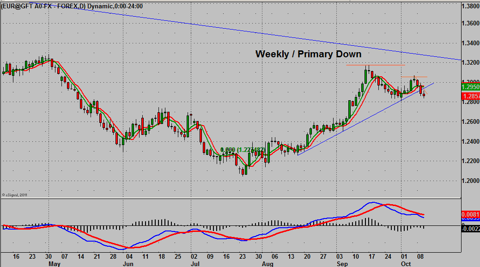 Figure 2. Daily EURUSD Chart
Disclosure: I have no positions in any stocks mentioned, and no plans to initiate any positions within the next 72 hours. I wrote this article myself, and it expresses my own opinions. I am not receiving compensation for it. I have no business relationship with any company whose stock is mentioned in this article.