The release of the latest monthly employment figures for September has certainly caused a stir. Of course, the heart of the debate continues to swirl around the headline-grabbing U-3 unemployment rate that not only unexpectedly dropped but also downright plunged from 8.1% to 7.8%. This was particularly notable since this move lower came less than five weeks before the next Presidential election. While some have understandably cast a skeptical eye on the latest jobs numbers, no one has done so with more vigor and controversy than former General Electric (NYSE:GE) CEO Jack Welch. But whether Mr. Welch is correct or not in his assertions, the mere debate highlights a critical problem that is escalating at a compounded rate for investment markets as we move forward. This problem is a mounting crisis of confidence. And the longer this crisis is left to build, the more we are likely to experience a more prolonged and pronounced period of below-normal stock valuations in the future.
The fact that some are now publicly debating the integrity of the Bureau of Labor Statistics and their data releases is not surprising. In fact, it was somewhat predictable that we have found ourselves at this point. The following is an excerpt from an article that I posted on Seeking Alpha from a few months ago on July 12.
At present, investment markets are increasingly struggling with a crisis of confidence. And what the recent LIBOR scandal has explicitly introduced is the notion that some in the public sector charged to oversee the markets may have involvement in encouraging misinformation at any given point in time. So while I fully believe in the integrity of the BLS data including those who construct it, one must now question whether the potential exists for this important employment report data to be "managed" one way or another in any given month. Does the potential exist for monthly employment numbers to be "encouraged" higher in order to send a particular signal to the markets? Conversely, does the potential exist for this data to be "adjusted" lower to make a more aggressive policy response more palatable? While I do not believe that such activities are taking place, it is a risk that must now be considered more closely in light of recent events.
Here is the problem. Participants in the global economy are suffering not only from badly shaken faith in the markets from the financial crisis over the last several years, but also from deteriorating confidence in the integrity of investment markets and the government institutions that are responsible for providing information and regulation.
We are now four years on from the financial crisis, yet no meaningful penalties have been levied on any of the bad actors that sparked these events. Instead, the perception is widespread that the same institutions that helped contribute to the crisis and were saved from the abyss may once again be taking on undue risk at the same time that those in the global economy that helped rescue these institutions continue to struggle to regain their footing. Moreover, many also fret that consequences are few if any to discourage unscrupulous activity by potential bad actors in the future. Making matters worse, some are now openly questioning the complicity of government agencies in contributing to these potentially illicit activities. One has to look no further than the events surrounding some of the most notorious episodes over the past year such as MF Global and LIBOR to establish a plausible foundation for these worries.
Whether these perceptions are true or not is beside the point. It is the fact alone that people are openly debating these concerns that is the real dilemma. And these issues are no longer being raised by those on the fringe but instead are now coming from a broad range of well regarded individuals across the spectrum. After all, Jack Welch is not only the former and long time CEO of what was at the time one of the largest and most respected business institutions in the world in General Electric in the 1980s and 1990s, but is also a business icon that is admired and respected in most circles. And he is only one example of an increasing chorus in the mainstream that are expressing genuine concerns over the integrity of the economy, the financial markets and the institutions both public and private that serve them.
Deteriorating confidence in the underlying financial system has serious implications for the stock market (NYSEARCA:SPY) in particular. This is due to the fact that the fundamental basis that many investors apply in deciding whether to invest in stocks is based on how much they are willing to pay for each dollar of earnings produced by the underlying company, which of course leads to the price-to-earnings ratio.
If investors in general perceive that markets are not being governed and regulated in a completely equitable way, they will be willing to pay less for each dollar of earnings on the belief that they may be operating at a competitive disadvantage to other players in the market.
Or if investors have concerns that unscrupulous behavior by financial institutions that might spark another crisis is going undeterred, they will require a discounted valuation when purchasing stocks to better protect themselves against the risk of sudden and severe loss.
Or if investors start to question the veracity of the information that greatly influence the markets and the economy provided by presumably impartial public institutions, they will not be willing to pay as much for each dollar of earnings given the greater risk for error in their models due to concerns over potentially faulty or misleading data.
These already heavy forces are continuing to build on the minds of investors, and this latest episode surrounding the September jobs report is only adding to the mix. And they all imply lower P/E ratios for stocks as long as these concerns persist. Moreover, with the stock market as measured by the S&P 500 Index still trading at valuations that remain at or above the long-term historical average based on 12-month trailing reported earnings, this implies a meaningful valuation gap between current price levels and what would be the reasonably anticipated valuation at the final bottom of the current secular bear market at somewhere between 8x to 10x earnings.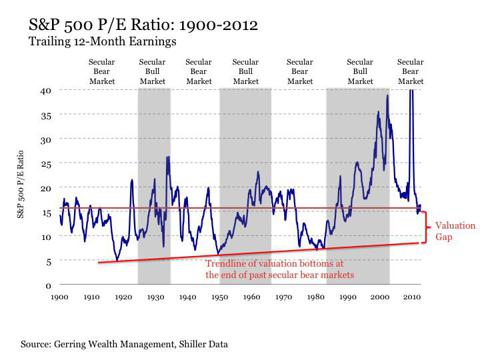 Click to enlarge
So the next time we hear mention that stocks are currently trading at "attractive" valuations, remember that they are likely trading at a discount for a good reason. And one of the key reasons that they may trade at an even more "attractive" discount in the future is the building crisis of confidence about the integrity of the economy and investment markets. This downward adjustment in valuations may not happen tomorrow or in the next six months for that matter, particularly given the Fed's insistence on printing money to endlessly flood the financial system with liquidity. But until investors see definitive actions by policy makers to address these confidence concerns, this downward pressure on valuations and subsequently stock prices is only likely to build at an accelerating rate.
Disclosure: I have no positions in any stocks mentioned, and no plans to initiate any positions within the next 72 hours. I wrote this article myself, and it expresses my own opinions. I am not receiving compensation for it (other than from Seeking Alpha). I have no business relationship with any company whose stock is mentioned in this article.
Disclaimer: This post is for information purposes only. There are risks involved with investing including loss of principal. Gerring Wealth Management (GWM) makes no explicit or implicit guarantee with respect to performance or the outcome of any investment or projections made by GWM. There is no guarantee that the goals of the strategies discussed by GWM will be met.