Stocks To Trade
Today, we are looking at an earnings trade in General Electric (NYSE:GE), longs in Louisiana-Pacific (NYSE:LPX) and Home Depot (NYSE:HD), and shorts in Deere (NYSE:DE) and Pandora (NYSE:P).
For an earnings trade, we are looking at General Electric today. As the market starts to roll over a bit here, conglomerates and defensive plays are going to be more attractive. Does GE's earnings allow for the stock to increase or decrease from here? GE is looking at around 15% gain in earnings and 3% gain in revenue. Both are solid for such a large company, and we believe GE may stay fairly strong into earnings. The company's last report was very good, and the stock has rallied since. The problem is that earnings come on October 19th, which is just before October expiration. Therefore, we have to go to November options for a play. The $21 line looks very strong, and with growth in earnings/revenue expected, we believe the 50-day MA is safe, which is above $21. What's going to power earnings? GE Capital seems to be back on track, and the company has had a lot of orders coming from outside the USA in places like Saudi Arabia, China, and Australia. The company's global footprint is actually going to be a positive we believe for the cyclicality of a lot of economies.
Trade: GE, Nov17, 21/20 Bull Put Spread
Max Gain: 9%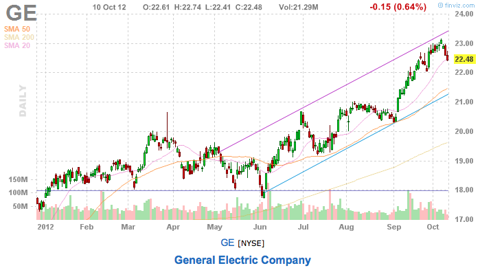 For longs, we like the looks of Louisiana-Pacific and Home Depot . LPX is looking very good for a potential breakout here. The stock has been very strong despite recent weakness, holding onto the 50-day MA and rising while the market has fallen. The catalyst? Earnings! LPX is expecting a 215% increase in earnings to complement a 35% rise in revenue. While a lot of other companies are struggling, LPX is not. We believe the stock could really break out if the market turns or even flattens. The place we want to watch is 13.75 - 13.80. If the stock can get over that area, we would be pretty excited to buy it. Additionally, we like Home Depot . HD has done nothing but grow this year, increase expectations, and continue to show a lot of promise with its dedication to improving the remodeling experience. Now that it has that and housing is picking up again, HD looks promising. The company has lost some ground as of late, but the $55 line looks very solid. Further, the company's last earnings report was very solid. We believe the 55 line can be used for options.
Stock Trade: Long, LPX
Breakout Point: 13.80
Options Trade: HD, Nov17, 55/52.50 Bull Put Spread
Max Gain: 8%
For shorts, we like the looks of Pandora and Deere. Pandora, Wednesday, was showing some unusual put calling as the stock is slipping. The stock broke out of a channel that it was in Wednesday and fell apart, but we do not see the move as over yet. The problem for Pandora is that the stock has very little confidence, and that will not be created by the coming earnings. The company is expected to see no earnings growth to complement 50% revenue growth. Until this company starts to turning revenue into earnings, things are going to be rough. Further, while we see traffic increasing, it's not turning into gains. The stock lost technical support, and it's going to be weak over the next week. 9.40 is a key price channel bottom, if they lose that, we would be shorting. Additionally, we believe a bear call spread in DE is looking solid. Why? First off, the stock has made quite a move over the past couple months. It's been looking toppy though around the $84 level, and we do not see it being able to break out from that level as earnings are not till the end of November. Those earnings look solid, but with the market locking in gains and weakening, DE could lose a key level at $80. If that happens, we like the $85/$87.50 bear call spread.
Stock Trade: P, Short
Breakout point: Failure of 9.40
Options Trade: DE, Nov17, 85/87.50 Bear Call Spread
Max Gain: 20%
Today's Outlook
The market has been rolling over a lot over the past three sessions, and despite some nice earnings from Alcoa (NYSE:AA) and Yum! (NYSE:YUM), the market continued to move lower. Today has a bit of economic data to digest that should give the market direction with more material. Initial Jobless Claims and Trade Balance are both released. Another strong number from claims could go a long way to help this market. No major earnings are to be released. Overseas, we get important information from China with their Business Climate index. Asia could help a lot with some positive information. We also get the ECB monthly report, and perhaps that will be a place of headlines as well. Look for the selling to slow down as we get closer to more earnings and short sellers start to cover.
Our Moves/Holdings
We had a nice day in the market as we were able to lock in a 1.6% gain in Carter's (NYSE:CRI) short. We also had Costco (NASDAQ:COST) hit our final target on our bull put spread for a 9% gain. We added a short in Biogen Idec (NASDAQ:BIIB) and Omnicom (NYSE:OMC) as well as an earnings play in Continental Resources (NYSE:CLR).
We have the following positions:
In our Short-Term Equity Portfolio, we are short Biogen Idec and Omnicom.
In our Options Portfolio, we are long Discover (NYSE:DFS), Amazon.com (NASDAQ:AMZN), Intuit (NASDAQ:INTU), Williams-Sonoma (NYSE:WSM), Wal-Mart (NYSE:WMT), and ExxonMobil (NYSE:XOM).
In our Earnings Alpha Portfolio, we are long Starbucks (NASDAQ:SBUX), Disney (NYSE:DIS), Travelers (NYSE:TRV), Alexion (NASDAQ:ALXN), Costco, Polaris (NYSE:PII), Crocs (NASDAQ:CROX), Continental Resources. We are short SPDR S&P (NYSEARCA:SPY).
In our Goldman Sachs Up/Down Paper Portfolio, we are long MeadWestVaco (MWV), Travelers , and Netsuite (NYSE:N). We are short Johnson & Johnson (NYSE:JNJ).
Chart courtesy of finviz.com.
Disclosure: I have no positions in any stocks mentioned, and no plans to initiate any positions within the next 72 hours.
Business relationship disclosure: The Oxen Group is a team of analysts. This article was written by David Ristau, one of our writers. We did not receive compensation for this article (other than from Seeking Alpha), and we have no business relationship with any company whose stock is mentioned in this article.