Everyone knows that Sprint (NYSE:S) has a large amount of debt that is weighing down its balance sheet. At the end of the second quarter, Sprint had over $21 billion in debt on its balance sheet, more than half of the company's liabilities. In fact, the $21.2 billion plus in debt is 2.3 times the amount of equity on Sprint's books. As Sprint now sells Apple's (NASDAQ:AAPL) iPhone, the company is working to build out and improve its current network, and that includes shutting down the old Nextel network. That has proven to be very costly, and Sprint has taken on almost $3 billion more in debt over the past year.
Both Sprint and its investors believe that things are improving. Sprint's revenues are increasing nicely, and the company does appear to be stealing some customers away from Verizon (NYSE:VZ) and AT&T (NYSE:T) with its unlimited talk, text, and data plans. With the new iPhone out now, Sprint will look to take even more market share in this space, despite the fact that its network isn't up to par with its competitors, not yet anyway. The good news is that Sprint raised its forecast at the Q2 report, and it does expect margin improvement as it dumps the old network. Net losses are expected to be big in 2012, but improve in 2013, and that could help Sprint's situation. So let's look at where things stand, and what Sprint needs to do to get out from under this mountain of debt.
First, the following image shows Sprint's debt picture at the Q2 report, taken directly from the company. This does not include any debt changes since then, which I'll detail later on.
During Q3, Sprint announced made two debt announcements. First, Sprint announced a new debt issue, $1.5 billion due in 2020, carrying a 7% interest rate. The company then announced it was retiring two of the debt issues related to Nextel Communications. It was retiring $472.9 million of the 6.875% notes due 2013, and $1 billion of the 7.375% notes due in 2015. They still will have about $1.1 billion of the 2015 notes due. In terms of interest costs, it's almost a wash, with the company saving about a million dollars per year, chump change when you consider the size of Sprint's operations.
After these debt deals are factored in, the debt due chart looks like the following for Sprint: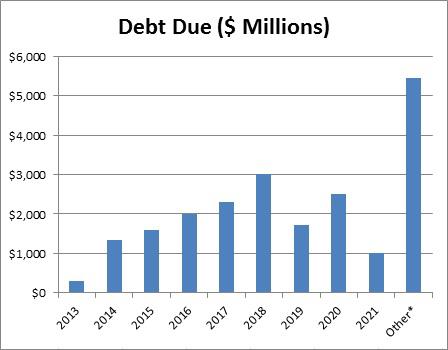 *Other includes debt due in 2022, 2028, 2030, 2032, and $81 million in capital lease obligations due during 2014-2022.
The good news for Sprint is that it has no more debt due this year, and just $300 million due in 2013. Beyond that, the debt load increases with at least $1 billion due each year until 2022. Sprint had $6.76 billion in cash and short term investments on the balance sheet at the end of Q2, so they shouldn't have a problem paying off any debt in the next year or two. But they do need cash to fund the network expansion and daily operations, which is why they haven't retired any other debt yet.
So that is why 2013 is the key year for Sprint, in my opinion. Sprint is still expected to post big losses in the second half of 2012 as they continue the network build out and shutting down of the Nextel network. They also should see Q3 gross margins decline over the prior year period because this is the first Q3 they are selling the iPhone. The interesting quarter will be Q4, since we'll have the first iPhone comparable quarter for Sprint. Now, most of Sprint's losses are due to huge depreciation expenses, which are non-cash charges. So while net losses decrease cash flow from operations, depreciation charges are added back. However, as Sprint's net losses improve going forward, you won't have as much depreciation add-backs, so there will be somewhat of an offset. While analysts currently forecast Sprint to lose $1.68 per share this year (almost $5.1 billion), the forecast for 2013 is a loss of $0.98 (about $3 billion). The real question is how much will cash flow improve.
In recent times, Sprint has seemed to retire outstanding debt about 6-12 months before it is due, so I would think that by the end of 2013, they would have retired the roughly $1.65 billion due in 2013 and 2014. But I would also recommend that Sprint looks a little further out in the maturity curve. Why? Well, most of Sprint's debt has interest rates in the 6% to 8% range. However, Sprint has $5.2 billion worth of debt, none of it due until 2017 at the earliest, that carries interest rates of 9% of higher. That includes a $1 billion notes offering, due in 2021, that carries an interest rate of 11.5%. That means that Sprint is paying $115 million in interest costs per year on that issuance alone, excluding tax benefits.
I don't think it is realistic to expect Sprint to retire $10 billion of debt by the end of 2013 (without issuing new debt). But if Sprint can improve things as we are expecting, would it be unrealistic to expect $3 billion to $5 billion perhaps? I'm guessing the $1.65 billion I mentioned above is retired sometime this year or next, but then I would focus on either retiring, or at least restructuring, some of that higher interest rate debt. Interest rates shouldn't be too bad, because Sprint just took out $1.5 billion at 7%. You can't tell me that they can't work on getting that 11.5% one down or out.
So where does that leave Sprint stock? Well, Sprint closed Wednesday at $5.04, about 12.5% below the recent 52-week high of $5.76. But it certainly is well off the 52-week low of $2.10. The rally in Sprint shares has to do with the expectation that conditions are improving, and that was certainly true when we got the second quarter results. For investors looking for a speculative type play for a small piece of their portfolio, Sprint could be a nice add. There are certainly several risks still involved, and if conditions worsen the debt problem could get much bigger. But if Sprint is able to achieve the goals it has set, they should be able to get this debt pile down a little over the next 12-18 months. That should send shares higher.
Disclosure: I am long AAPL and may initiate a position in Sprint over the next 72 hours. I wrote this article myself, and it expresses my own opinions. I am not receiving compensation for it (other than from Seeking Alpha). I have no business relationship with any company whose stock is mentioned in this article.