Shares of Baker Hughes (NYSE:BHI) have declined 15.24% over the past 12 months. Compared to its peer group consisting of competitors such as Schlumberger (NYSE:SLB) and Halliburton (NYSE:HAL), the stock has the worst 1-year price performance (see below).
click to enlarge images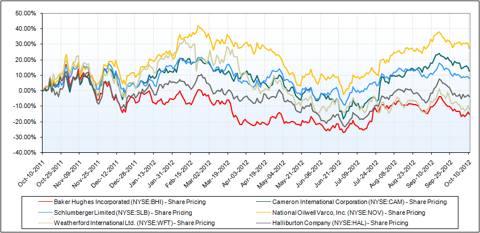 Click to enlarge
Some investors believe that the stock is cheap after the fall and that now is a good opportunity to invest in the company for a turnaround story. Indeed, the stock's valuation metrics, such as LTM EV/EBITDA and LTM P/E multiples, have dropped significantly over the past 12 months (see charts below) and the stock price has successfully broken through the 100-day simple moving average line (see chart below).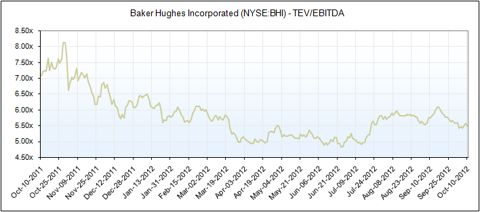 Click to enlarge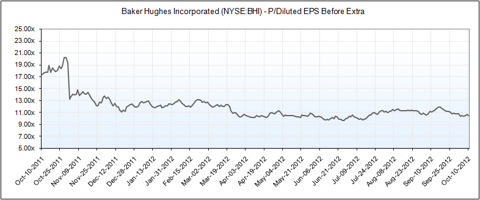 Click to enlarge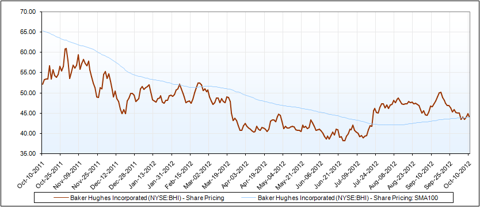 Click to enlarge
However, I have a neutral opinion on this investment based on the following reasons.
BHI's valuations are still not cheap relative to the firm's financial performance (see table below). First of all, the company has an inferior growth potential. Sell-side analysts in average predict BHI's revenue, EBITDA, and EPS to rise by 2-year CAGRs of 7.6%, 5.5%, and 0.5% over the current and next fiscal years. The estimations are substantially lower than the peer averages of 13.9%, 18.3%, and 26.9%, respectively. In addition, BHI's EBITDA margin is forecasted to shrink by 0.8% over the same period, compared to an average growth of 0.8% for its peers.
Secondly, BHI's profitability is below the par as all of the firm's margin and capital return measures are below the peer averages. Lastly, in terms of capital structure and liquidity, BHI assumes an in-line leverage as reflected by the company's similar-to-average debt to capitalization and debt to EBITDA ratios. Due to the relatively lower profitability, BHI's interest coverage ratio is thus below the averages. Moreover, the company has the worst LTM free cash flow margin at -5.4%. However, both its current and quick ratios outperform the peer averages, reflecting a fairly healthy balance sheet.

Click to enlarge
In summary of the financial comparisons, BHI has multiple weaknesses in growth, profitability, and cash flow generation. As such, BHI's current discounted valuations at 5.5x LTM EV/EBITDA and 10.5x LTM P/E should be justified by the company's financial issues (see table above).
Furthermore, the stock is trading at 0.69x NTM PEG, almost in line with the peer average at 0.67x. Even with the decline of the stock price, BHI's NTM PEG ratio has more than doubled from 0.32x in exactly a year ago, and both the stock's NTM EV/EBITDA and NTM P/E multiples have expanded by 13% and 20%, respectively (see charts below). The expansions of the forward valuation multiples imply that the magnitude of the stock price decline is less than that of the decrease in the earnings and growth estimates, and therefore the stock has actually become more expensive.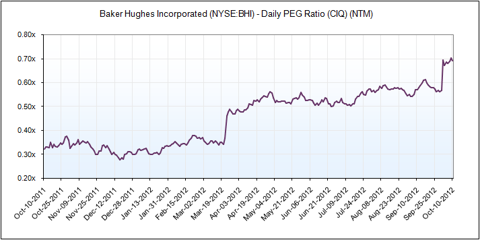 Click to enlarge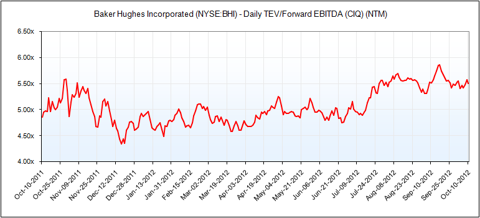 Click to enlarge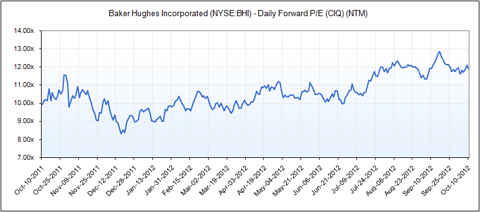 Click to enlarge
At the current price, the stock offers 1.3% dividend yield, which looks decent compared to Schlumberger's 1.5%, National Oilwell Varco's (NYSE:NOV) 0.6%, and Halliburton's 1.1%. However, BHI's dividend level is very fragile. Over the last decade, the dividend per share had only been raised by a 10-year CAGR of 2.7%, and the dividend increase has stopped since FY2009 (see chart below). This was primarily attributable to BHI's deteriorated free cash flow. The FCF has started to decline since FY2007 and the deterioration became more severe after FY2009 as a result of a substantial increase in capital expenditure (see charts below). Nonetheless, BHI has been able to maintain the dividend payments with externally borrowed funds. According to the chart shown below, there has been a significant increase in net debt issuance since FY2008.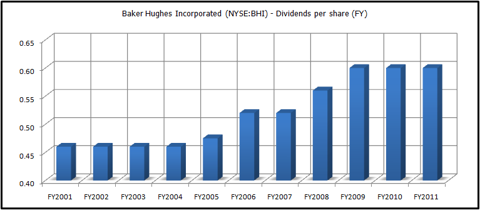 Click to enlarge

Click to enlarge

Click to enlarge

Click to enlarge
I expect that BHI's dividend can be maintained in the near term given that the company still has the capacity to borrow (suggested by the aforementioned debt to capitalization ratio, debt to EBITDA ratio, and interest coverage ratio). However, to attract long-term and income-oriented investors, the dividend yield needs to be sustained by a solid level of internally-generated free cash flow.
Bottom line, given that BHI's valuation is not cheap and the company is currently in the mist of the cash flow issue, I believe the investment is lack of sufficient margin of safety and thus do not recommend acquiring the shares at the current price.
Comparable analysis table is created by author, all other charts are sourced from Capital IQ, and all financial data is sourced from Morningstar and Capital IQ.
Disclosure: I am long HAL. I wrote this article myself, and it expresses my own opinions. I am not receiving compensation for it (other than from Seeking Alpha). I have no business relationship with any company whose stock is mentioned in this article.