Intel's (NASDAQ:INTC) stock price has been taking on water of late, mostly due to the anemic environment surrounding PCs. In spite of the sickly PC market, Intel has increased revenue and profits. In Q2 2012, Intel reported revenue of $13.5 billion, which represented a growth rate of 4% year-over-year.
In the company's Q2 2012 earnings call held on July 17, 2012, Intel noted its Ultrabooks business has continued to build momentum and its 22 nanometer process is ramping well. The 22 nanometer process is ahead of schedule when compared to the older 32 nanometer process. The company also announced it is accelerating the development and deployment of the 450 millimeter process by up to two years. Intel also reported record server revenues for Q2.
However, on a negative tone, the company reported consumer market growth in Western Europe and North America is not forecasted to recover in the second half of the year. Additionally, the company experienced some softness with respect to its NAND memory business, and also noted that while emerging markets, such as China and Brazil are growing nicely, the growth rates in those countries has moderated. Based on the global macroeconomic conditions, Intel lowered its full-year revenue growth to the 3% to 5% range, down from a previous forecast in the high single digits.
Intel's stock price has been up and back down over the last year as shown below: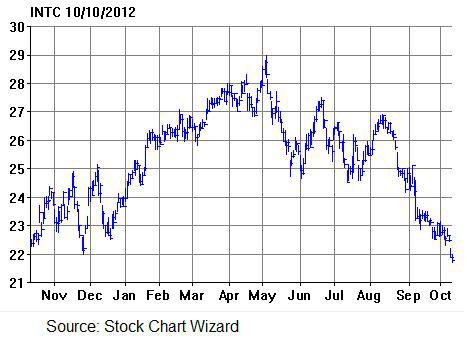 Even with the expected release of Microsoft's (NASDAQ:MSFT) Windows 8 operating system in the coming weeks, Intel's stock price has fallen. Maybe the release of Windows 8 will boost Intel's stock price, but for now the company's stock price looks to be in trouble.
With the roller-coaster ride for Intel's stock price over the last year and the company's upcoming earnings release on October 16, 2012, an investor in the company might seek some protection. A method of protection to consider is a protected covered call or collar. A protected covered call/collar may be entered by selling a call option against the stock and using some of the proceeds from selling the call option to purchase a protective put option which operates as "stock insurance". The protective covered call strategy positions for a potential return, even if the stock price remains stagnant and provides for protection in case the stock's price takes a nasty fall.
Using PowerOptions, a few protected covered call positions are available for Intel for November option expiration as shown below:

Click to enlarge
The second protected covered call position looks attractive with a potential return of 1.4% (13.4% annualized) and a maximum potential loss of 6.8%. The second position looks even more attractive when considering expected dividend payments during the holding time period. Including the expected November dividend payment, the potential return is increased to 3.6% (34.6% annualized) and the maximum potential loss is decreased to 5.8%. So, even if the price of the stock drops to zero, the maximum loss which can be sustained is 5.8%.
The protected covered call position may be entered against a long position in the stock by selling the 2012 Nov 22 call option for $0.53 and purchasing the 2012 Nov 20 put option for $0.22.
Intel Protected Covered Call
INTC stock (purchased or existing)
Sell INTC 2012 Nov 22 call for $0.53
Buy INTC 2012 Nov 20 put for $0.22
A profit/loss graph for one contract of the Intel protected covered call position, including receipt of expected dividends, is shown below: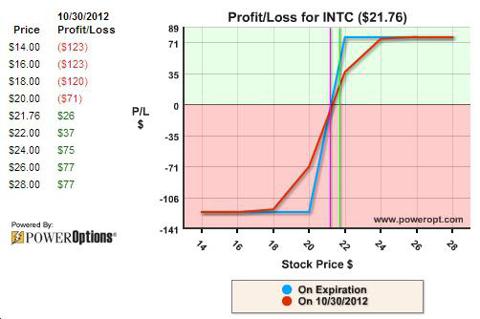 Click to enlarge
For a stock price greater than the $22 strike price of the call option at expiration in November, the position will be fully profitable with a return 3.6% (34.6% annualized). For a stock price less than the $20 strike price of the put option at expiration, the position will sustain a maximum loss of 5.8%. If the price of the stock increases to greater than $24, the position can most likely be rolled in order to realize additional potential return.
Look forward to hearing your comments below!
Disclosure: I have no positions in any stocks mentioned, and no plans to initiate any positions within the next 72 hours. I wrote this article myself, and it expresses my own opinions. I am not receiving compensation for it (other than from Seeking Alpha). I have no business relationship with any company whose stock is mentioned in this article.