Shares of Hewlett-Packard (NYSE:HPQ) are down roughly 70% from their February 2011 highs, and investors may be wondering if now is an opportune time to buy. Recently appointed CEO Meg Whitman delivered some disappointing news to investors at the company's recent analyst meeting, and shares were sent tumbling downward. Although the picture she painted was alarming, one cannot help but be intrigued by her sense of confidence regarding the company's future. Regardless of what you believe, she will have to prove herself before the market lifts HP shares.
Investors look at multiple scenarios before buying stock in a company. However, this article is going to focus on one metric of Hewlett Packard, the eroding tangible book value. I would urge you to evaluate the company in greater detail before you decide to invest. Tangible book value has become quite alarming over the past few years, and nothing has been done to repair its demise. The chart below shows a downward sloping line representing tangible book value per share, and an upward sloping line representing book value per share. This graph will provide the framework for my points to follow.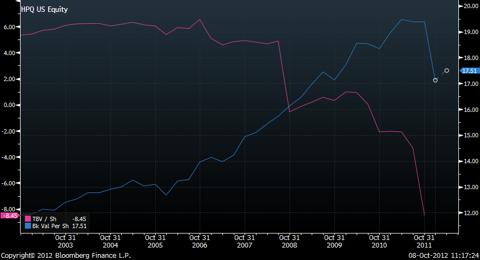 Click to enlarge
Source: Bloomberg
Taking a look at HP's most recent quarter which ended July 31st, total shareholders' equity stood at $32 billion. The company had $36.8 billion in goodwill and $7.96 billion in intangible assets. Subtracting these non-tangible assets from total shareholders equity, and you can see why tangible book value is now negative. Even with the recent goodwill impairment charge of $8.77 billion the company endured, goodwill still accounts for 30% of total assets.
Goodwill
Goodwill is always an "iffy" topic on the balance sheet and largely relies upon management to determine its value. The company also determines the impairment charge, if one were to occur, and how much of a charge to take. Due to the potential bias that many corporations have, you can understand why many analyst choose to strip out non-tangible assets when evaluating companies. Luckily under GAAP, once goodwill is impaired, reversing the loss is not permissible. The chart below shows annual growth of goodwill on HP's balance sheet, note that impairment charges for 2012 are not included.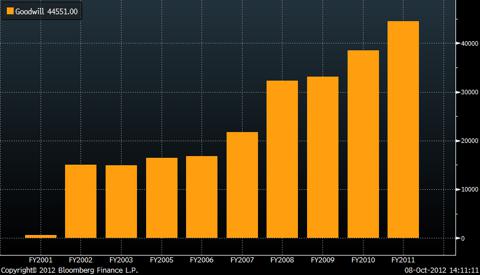 Click to enlarge
Source: Bloomberg
Asset growth over the past few years has largely been fueled by the goodwill line item of the balance sheet. Although the company has $9.5 billion in cash, in my opinion further acquisitions are not likely. This brings up a concern, since goodwill will therefore not be increasing and impairment charges cannot be reversed, we are likely to see asset growth flatline. If further impairment charges are taken (which is a very realistic probability) then assets will begin to decline.
Intangible Assets
The other line item on the balance sheet to be aware of is intangible assets. As of the most recent quarter HP reported just under $8 billion in "other intangible assets." This line item is comprised of customer lists, customer contracts, distributions agreements, patents and trademarks. These items are all amortized; below are the estimated future amortization expenses. Bottom line, unless further acquisitions are made or new patents are developed, it is certain this balance sheet entry will be lower each quarter (eventually moving to zero).
| | |
| --- | --- |
| Fiscal Year | In millions |
| 2012 (Remaining three months) | $467 |
| 2013 | $1,747 |
| 2014 | $1,410 |
| 2015 | $1,221 |
| 2016 | $1,063 |
| 2017 | $621 |
| Thereafter | $1,430 |
| Total | $7,959 |
Source: HP SEC Filings
Comparison
So is this declining tangible book value a common trend in the technology industry? The two charts below show tangible book value per share (top graph) and book value per share (bottom graph). The white line is Hewlett Packard, the same graph presented at the beginning of this article. What is startling from this chart is that the three companies which are exhibiting the greatest level of stress, Hewlett Packard, Intel (NASDAQ:INTC) (light blue line), and Dell (NASDAQ:DELL) (red line), all show declining tangible book value per share. Some of the strongest companies in the technology industry, Google (NASDAQ:GOOG) (green line), Apple (NASDAQ:AAPL) (brown line), Yahoo! (NASDAQ:YHOO) (blue line), and Amazon (NASDAQ:AMZN) (pink line), have been displaying increasing tangible book value per share. Although HP is the only company with a negative tangible book value, the trend from these PC based companies is worrisome. Note: Microsoft (NASDAQ:MSFT), which is not included on the graph below has been increasing tangible book value per share.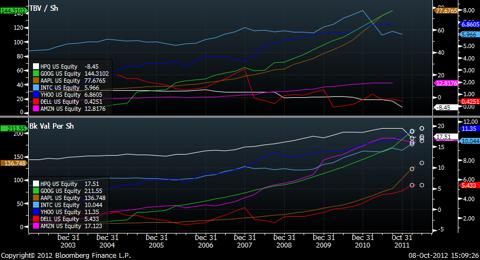 Click to enlarge
Source: Bloomberg
Conclusion
Again, this is only one item to evaluate this company upon. Hewlett Packard generated over $122 billion of revenue last year! They are certainly a major player in the industry and will be around for years to come. If you evaluate the company using price-to-earnings, price-to-cash flow, or price-to-sales, shares trade at the lowest multiples in this company's history. Meg Whitman has a very large boat to turn around, but if she is successful, HP may offer one of the best values in today's market. Further clarity may be necessary before new positions are initiated, but any unexpected positive news could shoot these shares higher.
*Note: All data reported and graphed is pulled directly from HPQ SEC filings and press releases.
Disclosure: I am long AAPL. I wrote this article myself, and it expresses my own opinions. I am not receiving compensation for it (other than from Seeking Alpha). I have no business relationship with any company whose stock is mentioned in this article.