United Technologies (NYSE:UTX) is a mega-cap company with a stable full of well-entrenched brands. UTX's market capitalization is $69 billion and trailing twelve month TTM revenue are $57 billion. Management generates about $5 billion in Free Cash Flow, a number that is expected to increase at about 10% a year. Its products include Carrier air conditioning and heating units, Otis Elevators, Pratt & Whitney aircraft engines, and Sikorsky helicopters. In addition, UTX operates in the fire alarm and security sector. UTX is divided into several distinct operating units and each is a leader in their respective fields.
With a restructuring of segment groupings as of Jan 2012, UTC Climate Control and Security segment combined Carrier and security related products. Climate Control and Security generated 33% of 2011 revenue and 25% of operating profits. Otis Elevator generated 22% of revenue and 32% of operating profit. Pratt & Whitney generated 23% of revenue and 22% of operating profit. UTC Aerospace (Hamilton Sundstrand and recently added Goodrich) generated 10% of revenue and 11% of operating profit. Sikorsky generated 12% of revenue and 10% of operating profit.
Carrier is the world's largest manufacturer of HVAC equipment. Otis is the world largest maker of elevators and escalators. P&W is a major player in aircraft engines, both military and commercial. Hamilton Sundstrand makes advanced aerospace components along with industrial pumps and metering systems. Sikorsky is the world largest manufacturer of military and commercial helicopters.
About 61% of 2011 revenue were generated overseas. Company-wide, revenue from commercial and industrial clients generated 58% of revenue while worldwide military aerospace contracts comprise 42%, with the US Department of Defense accounting for about 20%.
There are two noteworthy events that will have an impact on United Technologies for a while. The first event is longer-term with the acquisition of Goodrich in July for $18.6 billion, 25% financed by share issuance and 75% from new debt. The second is the short and medium-term impact of the "Fiscal Cliff" and possible sequestration of defense spending. With 20% of revenue tied to the US Defense Dept., the exposure is notable.
Goodrich is being folded into the new UTC Aerospace group, adding about $8 billion in revenue. Goodrich fits the criteria of being a leader in its field as it is the largest manufacturer of aircraft landing gear. In addition, UTX is acquiring other aircraft components, such as de-icing systems used on planes.
UTX has been on a share buyback spree for several years with share count declining from 956 million shares in 2008 to a current 906 million shares outstanding. The company has suspended the buyback program for 2012 and will reinstitute a much reduced version in 2013 and 2014, diverting the capital to debt reduction. In addition, UTX has announced assets sales of about$4 billion with the proceeds also reducing leverage.
Investors like acquisitions that are immediately accretive to earnings. However, the Goodrich purchase won't be one of them. Management has announced a $0.40 per share dilution to earnings in 2012 due to the purchase and has limited overall earnings growth for this year. However, long-term it seems Goodrich is a good fit with UTC Aerospace and boosts that segment's percent of revenue to about 20%.
The second issue facing UTX is the impact of the Fiscal Cliff. Over the past year, there has been more written about the Fiscal Cliff than in all of Arthur Miller's writings combined. The reality is no one knows what the outcome will be, how much defense spending will be cut, and where. It is therefore intelligently impossible to predict with any certainty how it will affect UTX.
United Technologies is involved in three major defense programs: the joint strike fighter, Sikorskey's Black Hawk program, and the refueling tanker program with Boeing (NYSE:BA). These are all important projects which have a high likelihood of progressing mostly as anticipated.
Of particular interest is the decline in the workforce associated with the anticipated reduction in defense spending and the timing of such. According to the WARN Act, companies with more than 100 employees have to pre-announce layoffs 60 days in advance. Some union contracts require a 90-day notice. If the federal expenditures are cut by the proposed $109 billion sequestration on Jan 2nd, $55 billion from defense budgets, layoff notices should go out no later than Nov 2st - right before the election. A few weeks ago, the Administration announced its intentions to reimburse the potential penalties levied under the WARN Act for employers who delay their layoff notices until after the election. The White House Memorandum dated Sept 28th can be found here (pdf). The Republicans have vowed to disallow the reimbursements which they describe as potentially costing taxpayers billions of dollars, as described in The Roll Call here and here. Ahh - the politics of it all.
As with many industrial companies, United Technologies is all about the "sum of its parts." Not the hedge fund private valuation calculation but the amount of business generated by replacement parts and upgrades. For example, of the $8 billion in added revenue from the Goodrich acquisition, $3.2 billion will come from replacement parts. Pratt & Whitney is experiencing a faster than anticipated retirement of older Airbus A320s (EADSY.PK), reducing parts demand. In addition, when these planes are replaced by a Boeing-manufactured airplane using a competitor's engine, P&W loses not only the new engine contract but the replacement business as well. P&W's parts business may be down by about 10% in 2012. When conducting further review of UTX, pay close attention to comments about replacement part forecasts.
Another headwind facing UTX is China's current slowdown. Otis Elevator has a sizable chunk of business in China and a continuing economic slowdown will adversely affect commercial construction, hence demand for elevators and escalators. Over the longer-term, however, Otis is well positioned to profit from their high-rise office/residential building and an expanding shopping mall footprint.
It is noteworthy that UTX has earned a coveted A+ Equity Ranking from Standard and Poor's for the most important investment trait sought after by long-term investors. S&P's Equity ranking measures 10-year consistency in earnings and dividend growth, and only a handful of companies have achieved this ranking, especially over the past rocky 5-yr period. Investors should take note of this designation.
Investors don't like uncertainty and this has weighed on UTX's share price. Currently trading at $76.00, earnings in 2012 are anticipated to be flat with 2011 at $5.30 a share. However, historic earnings momentum is expected to return in 2013 with consensus eps of $6.34 and 10% to 12% long-term growth.
Below is a fundamental view of UTX:
| | |
| --- | --- |
| As of 10/10/12 | UTX |
| Share Price | $76.02 |
| Dividend TTM | $2.14 |
| Current Yield | 2.70% |
| Average 5-yr Yield | 2.30% |
| 5-yr Divy Growth Rate | 12.80% |
| 2011 EPS | $5.31 |
| 2012 EPS | $5.30 |
| 2013 EPS | $6.34 |
| 2012 Payout Ratio | 34% |
| ROE TTM | 23.40% |
| 5-yr Average ROE | 22.50% |
| Long-term Debt to Equity | 0.9 |
| ROIC TTM | 12.30% |
| 5-yr Average ROIC | 11.80% |
| 2012 PE Ratio | 14.4 |
| 2013 PE Ratio | 12.1 |
| Long-Term EPS Growth Rate | 10% |
| Annualized Total Return 1-yr | 5.70% |
| +/- Sub-sector Return | -18.20% |
| Annualized Total Return 3-yr | 9.40% |
| +/- Sub-sector Return | -2.20% |
| Annualized Total Return 5-yr | 0.90% |
| +/- Sub-sector Return | 3.40% |
| Annualized Total Return 10-yr | 8.40% |
| +/- Sub-sector Return | 4.60% |
Sources: Morningstar.com, Rueters.com, Finance.yahoo.com. Sub-sector- Diversified Industrials
The following is a 5-year chart of UTX versus the broad-based S&P Industrial ETF (NYSEARCA:XLI):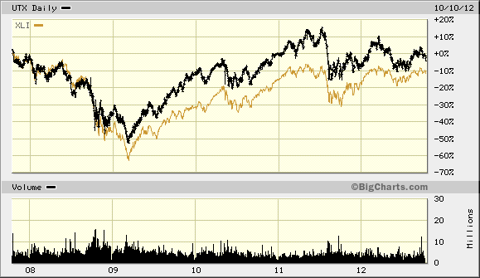 United Technologies is a late-cycle business in commercial construction and commercial aviation. If the world economies don't slide back into negative growth and reset the growth cycle, UTX seems poised to continue to expand its business, which in turn should drive share prices higher.
It seems most of the uncertainty is priced into share prices. Consensus price targets are in the $85 to $110 range. The folks at Trefis.com have a target of $92 and their review of UTX is found here.
UTX should be considered a buy on dips for longer-term investors. With the Fiscal Cliff looming large in the minds of many investors, picking up cheaper shares should amply reward those with longer horizons.
Author's Note: Please review important disclaimer in author's profile.
Disclosure: I have no positions in any stocks mentioned, and no plans to initiate any positions within the next 72 hours. I wrote this article myself, and it expresses my own opinions. I am not receiving compensation for it (other than from Seeking Alpha). I have no business relationship with any company whose stock is mentioned in this article.