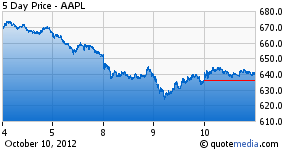 Investors have done well holding on to Apple (NASDAQ:AAPL) shares over the years. Today, the tech-giant has grown its market cap to $600 billion. Recently the company successfully launched its much-awaited smartphone device iPhone 5. But Apple shares have been losing ground after creating an all-time high last month, just after the release of iPhone 5. Although some reviews of iPhone 5 dismissed it as having no significant improvement, its orders topped two million during the first 24 hours of its debut.
In the meantime, Microsoft (NASDAQ:MSFT) shocked the technology world when it revealed that it would be launching its own tablet, named Microsoft Surface, to compete with leaders such as Apple and Google (NASDAQ:GOOG) in the rapidly growing tablet market. The competition is expected to extend to the smartphone market very soon.
Microsoft will launch its own Windows 8 phone, according to a report by BGR's Zach Epstein. The report comes just weeks after Microsoft held widely publicized media events with companies such as Nokia (NYSE:NOK) and HTC to help promote the Windows Phone 8 operating system. Microsoft has been privately working on its own smartphone that will eventually compete with the most popular smartphones on the market including the Samsung Galaxy S3, Apple iPhone 5, Nokia Lumia 920 and HTC Windows Phone 8X.
Microsoft is trying to mark its entry in the smartphone and tablet market going into the fourth quarter of 2012. The company has already sent out two invitations for events that will come just before the holiday shopping season begins. The first event will take place on October 25 in New York City and is the expected release date of Windows 8. Some have speculated that Microsoft Surface may also make an appearance at the event. The second event will take place on October 29 and is the expected release date of Windows Phone 8, the new mobile operating system for smartphones. (Read more)
Apple's iOS 6 Creates Corporate Chaos in Email Hosting
Just when many Fortune 500 companies have finally smoothed out their BYOD system, a culprit comes along wreaking havoc in the office and causing mayhem in the email hosting space. It seems that the cause behind the chaos goes by the name of the iPhone 5.
After employees of a Fortune 500 company with iO6 devices declined meeting invitations sent via Microsoft Exchange, a notice of cancellation started to circulate then to everybody on the invite list. Unfortunately for some, the meeting was not cancelled. This event then led to the circulation of another office memo, requesting employees to not update to the iOS 6, if they haven't already.
But there is another problem associated with the iO6 that goes beyond meeting cancellations and is affecting the hosted email service, Exchange. Exchange's automated push e-mail feature is one in which many in the office have grown accustomed to, but for employees with iOS 6 that feature of Exchange gets lost. (Read more)
The incident, however, caused no damage to the reputation of Apple yet. But some long-term Apple watchers just started to feel uncomfortable with the company's recent activities. And Microsoft's upcoming release of Surface, as reported by the media, only heightened the tension among some Apple bulls.
Microsoft Upgraded to Outperform Rating by Some Analysts
Microsoft shares got an endorsement from Bernstein Research's Mark Moerdler, who reiterated an Outperform rating and a $38 price target, writing that Microsoft could have more than the $83.1 billion in revenue he's been modeling for this fiscal year, if things go well on a few different fronts, including sales of the hosted version of Microsoft Office, called Office 365, and sales of Surface brand tablet computers.
The other thing that excites Moerdler is the prospect of multiple billions of dollars for the Surface tablet that Microsoft designed itself:
We estimate the Surface for Windows RT to be priced at ~$600, and the Surface for Windows 8 Pro to be priced at ~$1,000. We believe that Microsoft could ship 2.5-3.0 million Surface for Windows RTs, and 750,000 to 1 million Surface for Windows 8 Pros in CY12 [...] Given these assumptions and a range of product prices, we estimate that Microsoft could generate total Surface revenue of between $1.8 billion and $2.7 billion in CY12 (~$540 million for first-quarter FY13 and ~$1.5 billion for second-quarter FY13). (Source: Barrons)
Apple or Microsoft: From an Investor's Perspective
Did you know?
Smartphone shipments will outpace PCs by 2012.
Online users in rapid-growth regions like Latin America,
the Middle East and China are now spending more time
on social-networking sites than on e-mail.
Gartner Research predicts that social networking services
will replace e-mail as the primary communications vehicle
for 20 percent of business users by 2014.
Globally, the total minutes spent on social networks
monthly saw a more than 100 percent gain over the same
time last year.
Given an estimated forward PE of only 10 excluding $120 cash per share, Apple is currently trading at a valuation that's ridiculously cheap. Microsoft has a long way to go to prove itself as an established player in the tablet and smartphone market. But it's equally true that Microsoft's reported entry in the space will keep Apple shares under pressure for some time. Recent negative news-flow surrounding Apple and the ongoing correction in the stock markets can drag the share price well below $600 in the near-term.
Disclosure: I have no positions in any stocks mentioned, but may initiate a long position in AAPL over the next 72 hours. I wrote this article myself, and it expresses my own opinions. I am not receiving compensation for it (other than from Seeking Alpha). I have no business relationship with any company whose stock is mentioned in this article.