Summary
Despite PC sales falling, Microsoft is well capitalized and will be able to survive any downturn. The market is already worried about the PC industry and a good entry point will appear if the fear over the death of PC continues to escalate.
Let's see what the fair value range is using fundamental analysis.
Investment Overview
To start, here's a dashboard overview from the OSV Stock Valuation and Analysis Spreadsheet for you to review.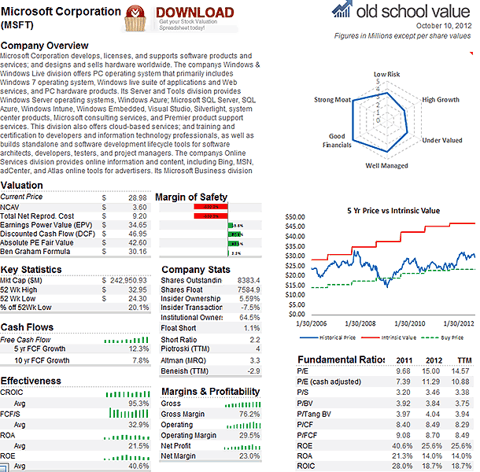 Here is a free 13 page PDF report on MSFT to help you follow this article.
Is Microsoft Dead Money??
Compared to Apple (NASDAQ:AAPL), you may think that Microsoft is a lazy giant incapable of catching up.
Or you may believe that Microsoft is dead money, but take a look at another company that was labeled the same thing.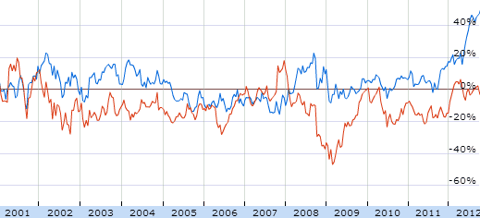 The red line is Microsoft and the blue line is none other than Wal-Mart. Wal-Mart is less exciting than Microsoft but it is having an phenomenal year while still being viewed as dead money.
The point is that historical stock prices are not an indicator of future performance. They are unpredictable and should be used as a tool and not a guide.
Moving onto the real stuff.
Falling PC Sales
Global PC sales are down 8.3 to 8.6% in the third quarter as consumers spent money on tablets and mobile devices while waiting for the Windows 8 release.
That's a big drop, but the misconception is believing that mobile devices will replace the PC. People still need a computer to work productively whereas mobile devices are being used as temporary solutions and in a way that is creating new markets.
E.g. If you go to your local AT&T store, the greeter uses an iPad app to check you in and put you in a queue. Previously, this task never existed, so rather than a mobile device replacing a PC, it created a whole new way of doing business.
This misconception is where the value opportunity lies.
What Growth Rate Does Mr Market Expect?
According to the market, Microsoft's growth is expected to slow down to 4%.
I use two measures to determine the expected growth by the market.
A business is worth its future cash flows and therefore, I use a reverse DCF valuation to find the expected cash growth rate.
The expected future cash growth from the current stock price comes out to be -5%.

Seeing as how Microsoft consistently grows its cash, this is a very pessimistic expectation.
In fact, over the past 10 years, the median FCF growth rate is 7.8%. Compare this to the last 5 year median FCF growth rate which is 12.3%.
Applying the same concept to Graham's Formula that uses EPS, and using the current EPS of $2.00, the expected growth rate is 3.7%.

Microsoft Margins
Microsoft's updated strategy is to now incorporate both hardware and software into their business model. Rather than just continue as a software business, Microsoft is taking its cue from Apple in creating its own complete product.
This will make Microsoft a direct competitor with the other hardware companies such as HP and Dell, and by now spending on hardware, cost of revenues will increase and margins will decline.
With software as the main business, Microsoft enjoyed gross margins of 80%, but gross margin has now declined to 76%.
Operating margins averaged 36% from 2003 to 2011 and has dropped to 30% currently.
Expect margins to decrease or to remain where they are as the max value going forward.
Microsoft's Fundamentals
Despite the decline in margins, profitability and liquidity are not an issue.
Cash and equivalents is at a 7 year high, making up 52% of total assets.
This huge amount of cash brings the PE of 14.6 down to a cash adjusted value of 10.9.
EV/EBITDA is 10.1
P/FCF is 8.5
Profitability returns have decreased but they are still at excellent levels.
Each of the below numbers represent how profitable the company is with what it uses to invest.
ROE (Return on Equity) is 25.6%
ROA (Return on Assets) is 14%
ROIC (Return on Invested Capital) is 18.7%
CROIC (Cash Return on Invested Capital) is 33%
FCF/Sales is 40%
Rather than going through a lengthy explanation for each one, you can read about ROE, ROA, ROIC and CROIC in another article I wrote.
I will quickly say that a FCF/Sales of 40% means that for every $1 in sales, 40c becomes FCF.
Debt is negligible considering how much cash the company has, and there are no accounting red flags.
Do Inventory Levels Suggest Anything?
As Microsoft is still predominantly a software company, inventory can be overlooked, but by performing the same inventory analysis as you would with other manufacturing or retail companies, there are positives to take away.
Sequentially, year over year, inventory has gone down during December due to holiday sales. The interesting point to note is that in 2012, at the end of the 4th quarter in June, there is a drop in inventory levels.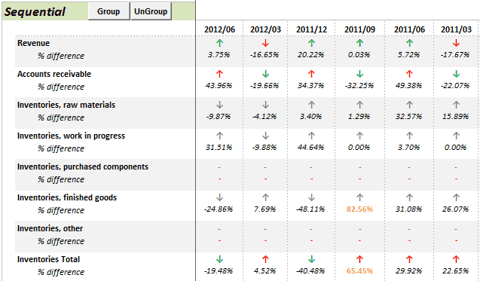 If you look at the image above for June 2012, raw materials is down, work in progress is up 31.5% and finished goods inventory is down 24.9% since the previous quarter.
A year ago for the 2011/06 quarter, finished goods was actually up 31%.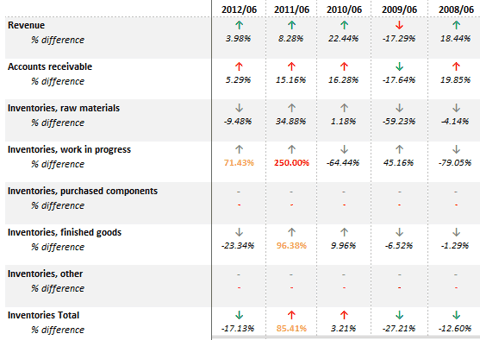 You also get a clearer view when you compare the same period over 5 years.
Work in progress is up 71.4% while finished goods is down 23.3%.
Unlike 2011, where it looks like Microsoft got aggressive with its inventory, 2012 inventory management is good and there are expectations of higher product demand. This isn't surprising since Windows 8 is being rolled out in a couple of weeks.
Microsoft's Fair Value
Based on assumptions of 4% growth with an increase in capital expenditure, intrinsic value ranges from $34 to $47.
To see how these targets were calculated, be sure to download this PDF report from earlier.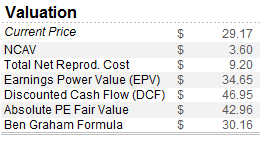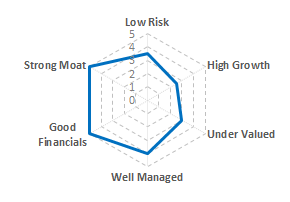 Summary
Despite PC sales falling, Microsoft is well capitalized and will be able to survive any downturn. The market is already worried about the PC industry and a good entry point will appear if the fear over the death of PC continues to escalate.
Disclosure: I have no positions in any stocks mentioned, and no plans to initiate any positions within the next 72 hours. I wrote this article myself, and it expresses my own opinions. I am not receiving compensation for it (other than from Seeking Alpha). I have no business relationship with any company whose stock is mentioned in this article.