High yield credit spreads as measured by the Merrill Lynch High Yield Index are currently at their widest levels since the bailout of Bear Stearns in March.  At a level of 823 basis points, high yield corporate bonds are currently yielding 8.23 percentage points more than comparable treasuries. 
Credit spreads are often looked to as a leading inverse indicator of stock market direction, so rising levels are generally considered bearish for the market.  However, conventional wisdom and reality can often differ. 
The chart below compares the S&P 500 (inverse) to high yield spreads so far in 2008.  As shown, the two have moved in tandem with each other throughout 2008, although we would note that rather than being a leading indicator of stocks, moves in credit spreads have tended to be coincident with moves in the S&P 500.
click to enlarge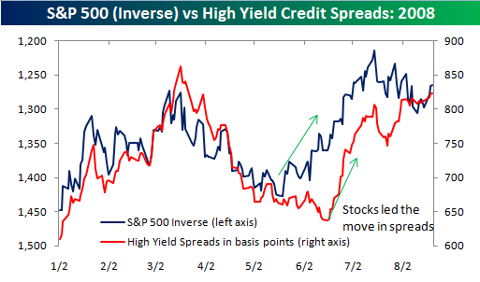 Click to enlarge