By Jason Born, CFA
There are things one grows up believing may never happen. For instance, it was hard to foresee the tumble of the Iron Curtain and Berlin Wall before they ever collapsed. But they fell. For baseball fans, it was difficult to think the Red Sox would ever win the World Series after the "Curse of the Bambino" began in 1918 when the Sox traded away Babe Ruth. The curse ended in 2004 and the team buried that hex forever with another World Series win in 2007. Another, equally improbable event is unfolding right on the page you now read. We, cash-flow-focused, intangible-value-seeking investors to our very cores, are recommending readers go long Facebook (NASDAQ:FB).
Find a chair, use it, and then catch your collective breaths. It will all turn out OK.
We actually really want to dislike Facebook. We've seen the famous movie after all, and since Hollywood works so diligently to depict reality with thorough accuracy, we know that Mark Zuckerberg is just not nice. He also constantly wears hoodies. We like hoodies very much, finding them suitable for jogging, gardening, or rooting on your favorite college team on a chilly Saturday afternoon. There may be more boardroom appropriate attire for Mark, though.
But the real opportunity provided by several disparate events, conspiring to drive down the price of FB this year means that long-term, growth-oriented investors should truly consider adding shares of the stock to their diversified portfolio. It has been widely publicized that NASDAQ had a bit of a, what's the proper word, SNAFU when FB began trading earlier this year. Confidence in NASDAQ in general and in FB specifically, eroded, contributing to the slide in FB shares in those first few weeks. This confidence has yet to return. Then the first in a mass of share lock-ups were released and now free to trade in the market, creating added selling pressure. Please note these lock-up releases are nothing particular to FB's case, but since they are large, and since they continue into 2013, and finally since they came on the heels of the NASDAQ trading issue, they are of increased importance to observe.
Risks abound. Another set of potent reasons the stock price appears anemic when compared to its IPO price revolve around the company's future strategy. Will the company truly monetize its one billion users? Yahoo (NASDAQ:YHOO) had something approaching five hundred million users at one point. YHOO left them to twist in the wind. For FB it cannot simply be about advertisements stuck onto the side of the webpage. FB gathers tremendous amounts of data on all of us - what we "Like," who we "Friend," and what we physically type. Can the company profit from that collection and collation by selling the information gleaned to a host of buyers? Can FB sell eyeball space to application developers so that those apps can gain access to a billion people via their friend network? Will it be able to act as a central repository for a user's online identity, enabling that single user profile to go out and conquer the World Wide Web one purchase at a time? We have absolutely no answers to these questions.
And so we've successfully listed a myriad of reasons the stock has dropped precipitously since coming public. This in and of itself should not surprise the experienced among you. There was a study done some years back - we cannot lay our hands on it - that showed the lion's share of IPOs traded below their initial offer price six months after trading ensued. Most novice investors are incredulous to this point. The truth hurts, though. There are only a few of the highest of high-profile IPOs that consistently moved higher, never to look back upon their offering price. Remember, however, that today's setback may be an opportunity.
What we do understand in our shop is that the price an investor pays for an investment is the primary determinant of the ultimate value received. In the case of FB, the "lucky" few who jumped into the IPO, are going to get much less value than those of us patient enough to sit on our hands.
So since the risks appear to be everywhere, the analyst need only ratchet up the discount rate to drive the intrinsic present value lower. If the analyst is still scared, raise the discount rate again. At some point all these increases in the discount rate actually add up to a built-in margin-of-safety. Then if the current price in the market is still less than the calculated intrinsic value, there is a good chance opportunity abounds.
See our attempt at forecasting the unforeseeable below.
Click to enlarge
For those of you who have read our work before, you should be familiar with our general comfort in exhibiting conservatism in our assumptions. But, in the case of FB we did not want to just throw up our hands and toss it from consideration because there were many unknowns. So we asked ourselves if there was any value at all in the company if it grew somewhat less than what some sell-side shops or even some buy-side shops are predicting. We projected revenue growing at a 28% clip in 2013 and 2014 then steadily dropping over time. We do not expect the reality to be this neat, but we've got to do something. We further assume a pretax income margin of 50% (FB has been a little over that in recent years) which drops to 45% with time. Cash flow per share is slightly mitigated by growth in the number of shares outstanding - which is a reasonable assumption for most companies these days. You will immediately see that our forecasts do not at all match the consensus EPS estimates on the street. That bothers us not as we are simply using pretax income as a rough approximation of operating cash flow available to shareholders. If any of you take issue with our forecast, we immediately concede. Our aim is not to be entirely accurate - which is impossible. Rather our aim is to give a decent representation of a possible future.
Then it is a matter of simple math the likes of which countless first-year finance students are crunching through as we type. The discount rate selection is nerve-racking to say the least. But we plunged ahead without fear, because we decided to just set it prohibitively high, discard FB altogether, and move on to more traditional investments. See below.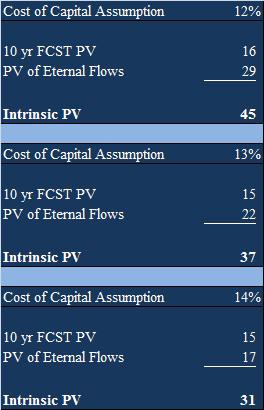 We were quite shocked to see that the marketplace is actually placing a very, very fair value on FB shares today. Even if we demand a 14% return on our capital, the stock is 35% below its intrinsic value. Now if you are still a FB-hater, we challenge you to simply reduce our growth assumptions further and apply the discount rate you like. We believe you will find that the company, at $19 or $20, is a good bargain.
FB is not appropriate for what we view as traditional value investors. We discussed this very fact in our internal meeting about releasing this report. Since our conservatively rendered intrinsic value is substantially above the current market price, we ought to have supreme confidence in recommending the stock for our favorite, smiling TV grandma. We don't. Yes, our projections are conservative when compared to many out on the street. But we acknowledge that they are not projections grounded in rigorous historical analysis of the price and volume of widget sales. We don't even know the widget that will be invented to sell to FB users. Should Mr. Zuckerberg disappoint investors in his user monetization attempts, the share value could rapidly fall to $8 (about four times TTM revenue), which implies more volatility than we believe many conservative investors desire.
Disclosure: I have no positions in any stocks mentioned, and no plans to initiate any positions within the next 72 hours. I wrote this article myself, and it expresses my own opinions. I am not receiving compensation for it. I have no business relationship with any company whose stock is mentioned in this article.