iShares Dow Jones Transport ETF (IYT) was up 14.5% year to date on Aug. 15—more than the fund returned during each of the last three calendar years, and among the top 25 of all 800-plus ETFs tracked by Morningstar.
IYT invests in just 21 stocks but represents a wide range of transportation sub-industries.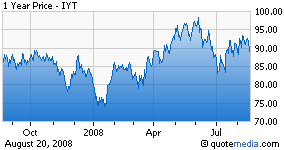 Still, railway stocks have been a key driver for the fund this year. Shares of the four major U.S. rail carriers—among the fund's top 13 holdings and accounting for nearly one-third of assets—were up an average of 29.9% year to date, even as many major transportation stocks (such as UPS, down 6.5% YTD) struggled. Railroads tie into a global supply chain, which has offered some protection from the U.S. slowdown, and they've actually benefited from high energy prices because they're such an important means of moving coal.
IYT tracks the Dow Jones Transportation Average, which includes 20 stocks selected by the editors of The Wall Street Journal to reflect the broader transportation industry. The index, up 12.8% YTD, includes components from air freight, transport logistics, and airlines, along with railroads.
Railway stocks have benefited from explosive fuel prices, which have pushed up transportation costs, giving the most fuel-efficient mainstream means of transportation a long-awaited comeback. The Association of American Railroads claims that the average locomotive is capable of hauling a ton of freight about 400 miles on a gallon of fuel, or about three times as far as a tractor-trailer can.
In many cases, the shipping industry has been hit by declining freight volumes caused by a slowing U.S. economy, but many railway firms have seen their freight shipments increase significantly. Lower fuel costs play an important role in this increase, spurring firms to forgo faster means of delivery in favor of much cheaper and slower rail delivery.
But recent increases in railway freight have also resulted from the fact that, on average, about 45% of the total tonnage shipped on trains is coal. With coal becoming an increasingly appealing lower-cost alternative to oil and natural gas, shipments have risen sharply. That's made the industry one of the few to benefit from rising energy costs. As long as oil and natural gas prices remain high, railway firms could benefit on two fronts: a greater ability to lure customers away from higher-cost transportation and more coal shipments.
The U.S. Chamber of Commerce estimates that freight railroads will see an 88% increase in demand in the next 25 years, noting that the industry's energy-efficient nature positions it well for today's environmentally minded political climate according to Barron's. Plus, Warren Buffett's Berkshire Hathaway (BRK.A) (BRK.B) recently made a big move into railway stocks, including an 18% equity stake in Burlington Northern Santa Fe (BNI), IYT's top holding.
Railway stocks aren't the only IYT holdings that have rallied in a difficult market. Like the U.S.-based railways, which have been trimmed from 40 to seven as a result of consolidation, many transportation firms are enjoying the benefits of restructuring over the last 20 years. Shares of three trucking firms in the top 10 holdings—Con-Way (CNW), Landstar (LSTR), and J.B. Hunt (JBHT)—have gained an average of 32.4% year to date, aided by a recent rally as diesel prices fell, and continued strong global demand.
Like the railroads, which have raised prices on agriculture and energy customers, the trucking firms and other, broader transportation companies such as Ryder System (R) (up 50.2% YTD) "dominate their markets through extensive transportation networks," says Morningstar analyst Harry Milling, and have largely been able to pass on rising costs. The result has been numerous Street-beating earnings announcements, drawing investor interest.
A perfect example is J.B. Hunt, which has a leg up on other trucking firms due to its successful adoption of intermodal shipping, combining trucking with other forms of shipping, such as railways. Shares are up 43.2% YTD.
Stocks in air freight and parcel delivery firms have performed poorly under the combined weight of a poor economy and high fuel prices, but they make up a small enough portion of IYT's portfolio to insulate the ETF from their issues.
The bottom line for transportation stocks is fairly simple: They rely on the demand to ship goods, and the cost to do so—and, thus far, their ability to raise prices and remain profitable has helped the stocks be among the stronger industries of 2008.
We added IYT to the ETF Momentum Tracker Portfolio in April, and the fund's NAV is up 4% since, compared to a 5.3% dip for the S&P 500. Still, investors here should remember that IYT makes big bets on its largest holdings, with nearly 70% of assets in the top 10 holdings, and that transportation is a notoriously cyclical industry. If, for example, energy prices unhinge global economies and reduce transportation demand, IYT's gains could disappear quickly.