After falling to their lowest since 2009, the prices for iron ore, a key ingredient in steel production, recently rebounded and surged by more than 12 percent to their highest in 10 weeks. After the Golden Week holiday, Chinese steel makers, the world's biggest buyers of steel, returned to the market with renewed vigor. Driven by hopes that the Chinese government will aid the country's slowing economy by announcing more stimulus measures, Chinese steel futures rose to two-month highs. "The price recovery is due to expectations of more policy measures by China to boost consumption growth, including steel, as well as restocking," said Helen Lau, a senior commodity analyst at UOB-Kay Hian in Hong Kong.
Spot iron ore was trading at $117.2/ton on October 9, showing an increase of as much as 35% from the three-year low of $86.70 in September. However, even with the recent surge in prices, they are still well below the record high of $191.9 reached in February last year, and below the 2012 peak of $149.4 in March. The prices are expected to rise further, and the fact that iron ore swaps in Singapore are trading in contango, and normally trade in backwardation, is an indication that the market expects prices to rise further.
China loosening its monetary policy is expected to continue to stimulate steel demand. A pickup in construction activities is expected in 4Q12, driven by new infrastructure projects, resumption of delayed projects, and early signs of a recovery in the property market. All these factors are expected to increase steel demand and support steel and iron ore prices.
Commenting on the recent increase in prices, Liberum Capital said that the bounce was the "first evidence that a fourth-quarter restocking in iron ore might be under way." The move to restock indicates a positive sign for leading iron ore producers which supply to China like Rio Tinto (NYSE:RIO), Vale S.A. (NYSE:VALE) and BHP Billiton Ltd. (NYSE:BHP).
Vale S.A.
Rather than a massive and rapid boost like the one after the global financial crisis of 2008, this time around, the Chinese stimulus is expected to be slow and gradual. Therefore, the rebound in ore prices is also expected to be gradual, rather than a strong rebound. Nonetheless, iron ore prices are set for a rebound, and Vale is expected to gain from the rise in prices.
Vale, a leading producer of iron ore and pellets, is the second-largest mining company in the world. Based in Rio de Janeiro, it is also one of the biggest logistics operators in Brazil. Other than iron ore and pellets, it is also one of the leading players in nickel, ferro-alloys, and manganese production. The following chart shows its FY2011 revenue's appropriation to different segments.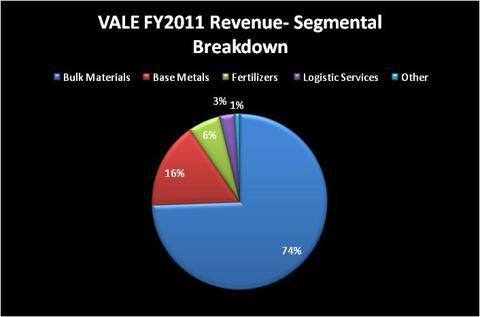 Source: Qineqt
Vale has a strong balance sheet and low leverage, with total debt-to-EBITDA of 1.1x (Source: Yahoo Finance). Furthermore, Vale is offering a dividend yield of 6.3%, in comparison to BHP and RIO, which are offering forward annual dividend yields of 3.3% and 3%, respectively. Vale's five-year dividend growth rate is 26.59% as compared to the industry average of 2.97%. Vale's attractive dividend yield and historic dividend growth rate makes it a lucrative investment for those looking for high dividend paying stocks.
As can be seen in the graph below, Vale's operating profit margins have declined in recent quarters due to low iron ore prices, slow Chinese recovery and sluggish demand for steel. However, since prices have already started their rebound, we expect these margins to increase. Furthermore, the company reported a gross margin (TTM) of 55.37% compared to the industry average of 39.35%, and an operating margin of 41.26% as compared to the industry average of 19.22% (Source: Reuters).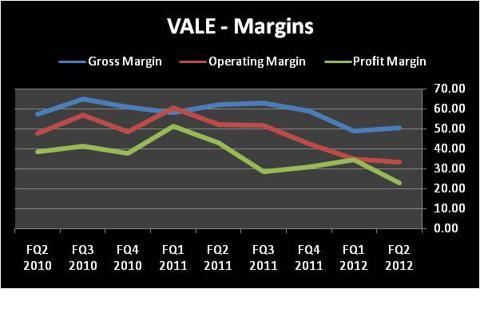 Source: Qineqt
Valuation
The low forward P/E, and the fact that its share price has dropped by as much as 21.25%, makes Vale an inexpensive stock to buy. Its five-year average P/E is 10x, which is twice its current forward P/E of near 5x.
| | | | | |
| --- | --- | --- | --- | --- |
| Companies | Vale | BHP | RIO | CLF |
| Forward P/E (1 year) | 4.98x | 11.99x | 6.51x | 6.98x |
| Forward Annual Dividend Yield | 6.3% | 3.3% | 3% | 6.2% |
| Share Price Performance YTD | -21.25% | -9.08% | -7.68% | -36.75% |
Source: Yahoo Finance
Disclosure: I have no positions in any stocks mentioned, and no plans to initiate any positions within the next 72 hours.
Business relationship disclosure: The article has been written by Qineqt's Basic Materials Analyst. Qineqt is not receiving compensation for it (other than from Seeking Alpha). Qineqt has no business relationship with any company whose stock is mentioned in this article.