Tesco (OTCPK:TSCDY) is one of the world's largest retailers with operations in 13 countries across Europe, North America and Asia. It's also one of Warren Buffett's long-term stock investments within Berkshire Hathaway (NYSE:BRK.B) portfolio. Indeed, Berkshire is Tesco's largest shareholder, holding more than 5% of its capital.
As I discussed recently in my previous article "3 food retailers with yields above 4%", Tesco offers one of the highest dividend yields within the global food retail sector. Currently, Tesco's yield is around 4.70%. Compared to American peers, as you can see from my previous article where I compared Ahold (AHONY.PK) and Delhaize (DEG) with their U.S. peers, only Safeway (NYSE:SWY) has a yield close to Tesco.
This high yield is justified by its weak stock performance over the last few months, given that its dividend has grown slightly over the years without big increases. Indeed, over the last year Tesco's share price fell by more than 20% underperforming the European retail sector.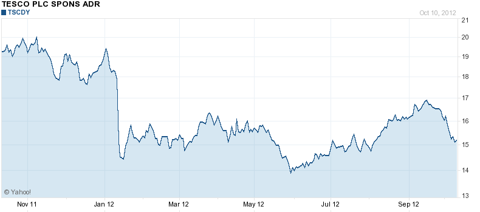 Click to enlarge
Source: YahooFinance
Company Overview
Tesco has more than 6,000 stores worldwide and group sales around £70bn ($112 bn). It's the largest retailer in the UK and the domestic market accounts for around two-thirds of total sales. In the last financial year (ending on February 25, 2012), Tesco generated around 15% of sales in Asia, 15% in Europe (ex-UK), 1% in the U.S. and 1.5% at Tesco Bank.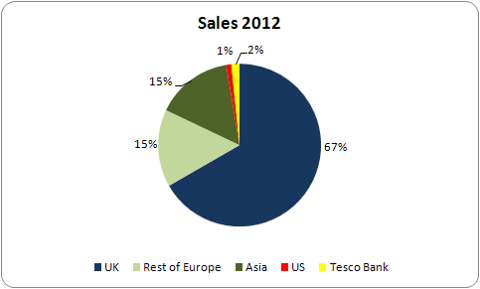 Click to enlarge
Source: Tesco
Tesco doesn't have any exposure to Southern European countries, but has exposure to Ireland, which also has a challenging macroeconomic environment. Tesco entered the US market in 2007, but this operation remains unprofitable and is expected to reach breakeven only at the end of the 2013/14 fiscal year. As part of its goal of boosting investment returns, Tesco has decided recently to exit Japan in view of the poor results obtained there given the lack of scale.
The company has a respectable growth history of its business over the past years, growing the core U.K. business and expanding into new markets. In 1997, the international business represented only 1.8% of the Group's profit, but nowadays is responsible for 30%. Tesco has expanded mainly to emerging markets in Eastern Europe and Asia, operating in countries such as Poland, Hungary, China, Malaysia and Thailand.
Tesco has a very good history of balance between growth and returns. Contrary to many competitors, Tesco was able to grow without sacrificing returns and free cash flow. Compared to other global retailers, like Wal-Mart (NYSE:WMT), Casino-Guichard (OTC:CGUIY) or Carrefour (OTCPK:CRRFY), it has best in class margins, achieving group EBIT margin around 6% over the last few years. From 2008 to 2012, Tesco's sales compounded annual growth rate was 8.3% and its operating profit grew 9.3% annually.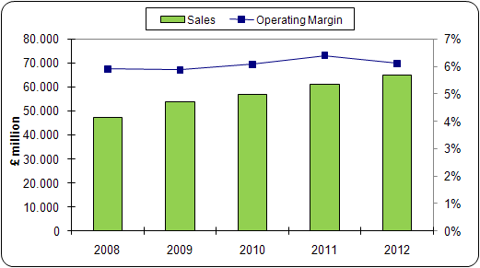 Click to enlarge
Source: Tesco
Domestic Business
As mentioned before, Tesco's domestic grocery business still represents more than 60% of the group's sales and profit, being obviously an important factor for Tesco's share price performance. Tesco is the leader within a concentrated market, where the top four retailers dominate around 80% of the market. Within the U.K. sector, Tesco is more sensitive to the macroeconomic environment due to its higher non-food than its main competitors, such as Sainsbury (OTCQX:JSAIY) or Morrison (OTCPK:MRWSY).
Given the current sluggish U.K. macroeconomic environment, isn't surprising that Tesco had weak results domestically since the beginning of 2011. Indeed, the company has confirmed recently that were non-food sales that dragged down group sales. In January 2012, management recognized that the business had some problems and reduced profit expectations. Tesco's stock fell 16% on that day. To recover the business, announced a £400m ($640 m) investment equivalent to around 100 bps of its domestic operating margin.
Tesco's plan to improve its business consists of adding staff to enhance customer service, refresh stores, cut back significantly on new space and improve other metrics such as customer's quality and pricing perceptions. This initiative is showing good early signs with margins in line with management guidance, in the last quarter, and like-for-like sales growth was positive for the first time in six quarters.
However, the domestic business isn't the company's growth driver but generates the cash flow necessary for its expansion abroad and could put in jeopardy its dividend payments. Although Tesco's growth going forward will much probably come from emerging markets, this doesn't happen to its peers that rely almost exclusively from the U.K. to grow.
Even though Tesco's strategy is to maintain the business profitability, it can continue to be pressured to lower prices due to the fierce competition that only can grow through market share gains. If this price war leads to a sector's long-term lower profitability, it can represent the biggest threat to Tesco dividend sustainability.
Dividend History
The company has consistently increased the dividend over the last few years, with an average annual growth rate of 8% from 2007 to 2012. In April 2006, Tesco announced a new dividend policy which is increasing its dividend payouts broadly in line with its earnings growth rate.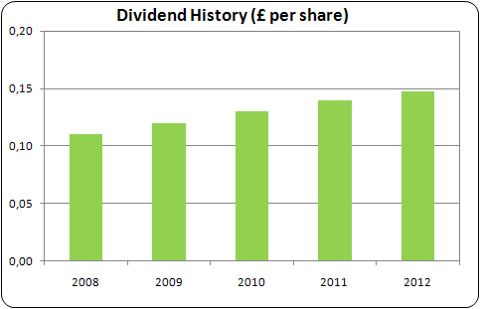 Click to enlarge
Source: Tesco
Dividend Analysis
Based on earnings, the dividend seems to be safe. The average payout ratio over the last five years was only 43%, and never went above 45%. This means Tesco has room to keep dividends stable, even during the current tough time that is experiencing in its domestic market.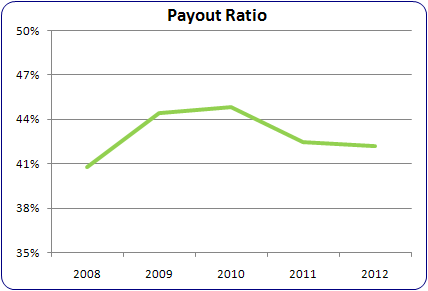 Source: Tesco
Based on cash flow, the dividend is less secure. Over the last three years, free cash flow covered dividend payments but during the crisis of 2008-09 that wasn't the case. However, Tesco increased the dividend during those years, clearly showing that management policy is to pay a steady rising dividend, and only a structural shift in the business would lead to a dividend cut.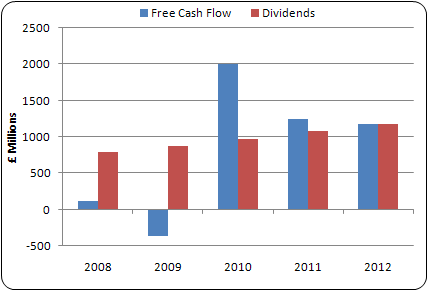 Source: Bloomberg
Over the last three years, capital expenditures were more than covered by its operating cash flow. Tesco expects it to represent 5-5.5% of group sales over the next few years which should be completely financed through operating cash flow and don't pressure negatively its leverage. Additionally, it has further possibilities to continue to lower capex leading to more capacity to maintain or increase dividends.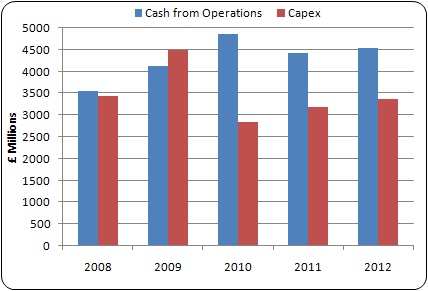 Source: Bloomberg
As of August 2012, the company had net debt of £7.2 bn ($11.5 bn), which it aims to reduce thanks to its cash flow generation. Despite the fall in operating profit over the last few quarters, Tesco has been able to reduce net debt which shows Tesco's strong cash flow generation capacity. Tesco leverage ratio (net debt/EBITDA) is low and has declined over the last three years, being supportive for Tesco's dividend.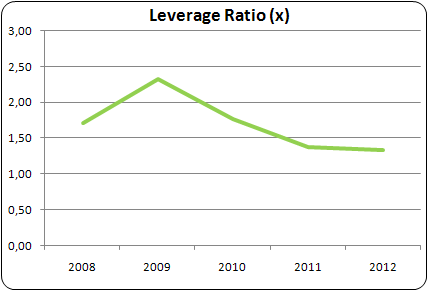 Source: Tesco
Conclusion
Tesco offers a high and relatively safe dividend to its shareholders due to its low leverage and good cash flow generation capacity. The domestic business is Tesco's main weak point but the turnaround plan seems to be working well, and shouldn't put on jeopardy Tesco's shareholder remuneration.
The stock is trading at only 9.7x forward earnings which is way below its 14x long-term average. If the global macroeconomic outlook improves and the U.K. business keeps the good momentum, Tesco offer a very appealing total return value for its shareholders.
Disclosure: I have no positions in any stocks mentioned, but may initiate a long position in OTCPK:TSCDY over the next 72 hours. I wrote this article myself, and it expresses my own opinions. I am not receiving compensation for it (other than from Seeking Alpha). I have no business relationship with any company whose stock is mentioned in this article.