By: Brendan Gilmartin
Coca Cola (KO) is slated to report 3Q 2012 earnings before the opening bell on Tuesday, October 16. The results are typically released between 7:30 a.m. and 8:00 a.m. EST and will follow with a conference call at 9:30 a.m. Coca-Cola is a member of the Dow Jones Industrial Average (DJIA) and is often seen as a barometer for the health of the global economy and could therefore impact the index futures when it delivers its quarterly numbers.

Coca-Cola is expected to post EPS of $0.50. The range is $0.49 to $0.52 (Source: Yahoo Finance).
Revenues are seen rising 1.1% to $12.38 billion.
Unit Case Volume is a key metric for Coca Cola. Estimates call for a mid-single-digit increase.
Coca-Cola is seen benefiting from the recent weakness in the U.S. Dollar, given its global exposure.
Coca-Cola shares are trading at just over 20x trailing earnings, a slight premium to the 5-year average of 18.7x, and 16.9x forward profits, versus Pepsi (NYSE:PEP) at 15.9x future results.

Recent News
09/27: UBS raised its price target on Coca Cola from $38 to $39, according to StreetInsider.com, due in large part to recent Forex volatility, with the EUR/USD rate climbing from 1.21 in mid-July to a more recent 1.29.
09/13: According to a report on Standard & Poor's, Coca-Cola's long-term corporate credit and senior unsecured debt ratings were increased to AA- from A+, citing "continued strong global operating performance and financial profile amid weak global economic conditions." S&P added that the company maintains a strong financial profile and the outlook remains s

table

.
08/13: Goldman Sachs lowered its rating on the

beverage

sector to Neutral, according to Barron's. While the firm anticipates Coca-Cola will deliver strong fundamentals, valuation at the time of this call was a concern and, combined with a tough macro backdrop, may limit upside at these levels.
07/30: Coca-Cola declared a quarterly dividend of $0.255 per share. The company is now yielding 2.68%.

Technical Review
After establishing a 52-week high of $40.67 on July 31, Coca-Cola shares are off about a little more than 6% and hovering just above key support near $38.00 - a level going back to May. Should earnings disappoint, the next area of support is $37.00, with downside risk to the 200-Day SMA near $36.50. Resistance is at $39.00, followed by the aforementioned peak of $40.67. (Chart courtesy of StockCharts.com)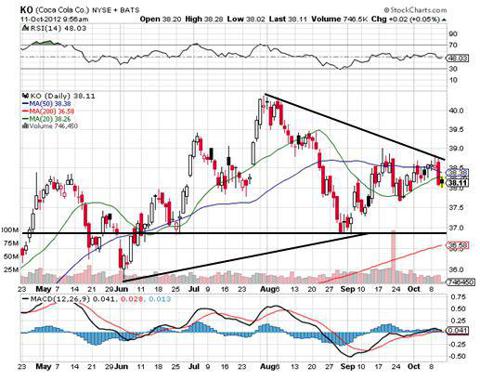 Click to enlarge
Summary
Coca-Cola shares are coming off the recent highs, due in part to valuation (16.9x forward earnings versus 15.9x at PepsiCo.) and an uncertain global macro backdrop. But with an attractive dividend yield of 2.68%, a positive nod on its debt from S&P (upgraded long-term rating on 9/13) thanks to "continued strong global operating performance," and recent tailwinds as a result of the weak dollar, some are betting that Coca-Cola will deliver solid earnings.
DISCLAIMER: By using this report, you acknowledge that Selerity, Inc. is in no way liable for losses or gains arising out of commentary, analysis and or data in this report. Your investment decisions and recommendations are made entirely at your discretion. Selerity does not own securities in companies that they write about, is not an investment adviser, and the content contained herein is not an endorsement to buy or sell any securities. No content published as part of this report constitutes a recommendation that any particular investment, security, portfolio of securities, transaction or investment strategy is suitable for any specific person.
Disclosure: I have no positions in any stocks mentioned, and no plans to initiate any positions within the next 72 hours. I wrote this article myself, and it expresses my own opinions. I am not receiving compensation for it (other than from Seeking Alpha). I have no business relationship with any company whose stock is mentioned in this article.