"Don't cry because it's over. Smile because it happened." - Dr. Seuss
As I have been arguing in my various writings, market internals continue to worsen in the U.S. The odds of a correction have been steadily rising given sudden outperformance in the bear trade of Healthcare, Consumer Staples, Utilities, and bonds as I noted in a recent Wall Street Journal interview. Meanwhile emerging market stocks, and most notably China, seem to be bucking any kind of corrective period the U.S. may be in. For those tracking my seasonal calls, you know that I believe the Dow will hit new all-time highs in the next three months (the "Fall Catalyst of 2012"), but first markets likely have to "refresh the fear" with a decline.
Various parts of the market have paused and may be rolling over in a warning sign to the nouveaux bulls. Take a look below at the price ratio of the iShares Spain ETF (NYSEARCA:EWP) relative to the MSCI All Country World Index (NASDAQ:ACWI). As a reminder, a rising price ratio means the numerator/EWP is outperforming (up more/down less) the denominator/ACWI. A falling ratio means the opposite.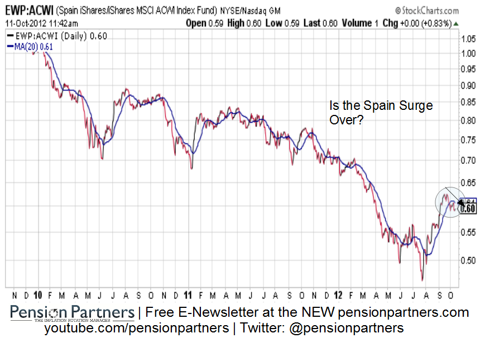 Note the surge that occurred in Spain as its weakness ended in late July on chatter of aggressive European Central Bank monetary action. That strength continued unabated up until mid-September, which is right around when various other intermarket trends began reversing in favor of another deflationary pulse. Is this because of the debt downgrade? Probably not - markets learned to ignore credit ratings long ago. Rather there is something else happening here which is hard to pinpoint.
Could the markets suddenly be saying "unlimited" is not enough to counter Spain's deflationary environment? And what does that mean for the broader reflation theme? As an interpreter of price, I remain cautious here. Our ATAC models used for managing our mutual fund and separate accounts has been defensive for the past two weeks on equities, with no near-term change in sight unless a dramatic reversal in intermarket trends occurs.
With hindsight, any kind of a decline might be a good opportunity to leg back in if I am right about the Fall Catalyst. But for now, Spain's surge looks to be over.
Disclosure: I have no positions in any stocks mentioned, and no plans to initiate any positions within the next 72 hours. I wrote this article myself, and it expresses my own opinions. I am not receiving compensation for it (other than from Seeking Alpha). I have no business relationship with any company whose stock is mentioned in this article.
Additional disclosure: This writing is for informational purposes only and does not constitute an offer to sell, a solicitation to buy, or a recommendation regarding any securities transaction, or as an offer to provide advisory or other services by Pension Partners, LLC in any jurisdiction in which such offer, solicitation, purchase or sale would be unlawful under the securities laws of such jurisdiction. The information contained in this writing should not be construed as financial or investment advice on any subject matter. Pension Partners, LLC expressly disclaims all liability in respect to actions taken based on any or all of the information on this writing.