Gold thrives on bad news. When the economy is in a downturn and stock markets are going south, investors tend to park their funds in gold and wait out the storm. The demand for gold increases in a downturn economy, and consequently the value of gold also increases. Gold - bullion, coin, or gold-indexed ETFs - see thriving business.
This article will discuss the SPDR Gold Trust ETF (NYSEARCA:GLD) as an example of how gold reacts to economic downturns. I will touch on certain aspects of investing in gold such as the correlation between stock markets and the value of gold and historical data.
SPDR Gold Trust - Basic Facts
SPDR Gold Trust was formed as an investment trust on November 12, 2004, with the objective of providing investors a safe, secure and relatively cost effective access to the gold market. The trust is sponsored by World Gold Trust Services, LLC. A division of Bank of New York (NYSE:BK), the BNY Asset Servicing is the trustee of SPDR Gold Trust. State Street Global Markets, LLC is the marketing agent of the trust.
SPDR Gold Trust invests only in gold, which is its one single asset apart from the occasional cash. HSBC Bank USA, NA is the custodian and also responsible for the logistics, audit and insurance of the gold held by GLD.
The primary motive of the trust is to remove roadblocks faced by institutional and retail investors wanting to invest in gold, which it achieves by issuing shares from time to time, which trade on NYSE ARCA, Inc., or NYSE ARCA. GLD shares track the performance and value of gold bullion less the expenses of the trust including that of the custodian. Being an Exchange Traded Fund, GLD offers an opportunity for investors to participate in the gold market without the hassle of actually holding physical gold.
Shares are issued in minimum blocks of 100,000 shares, referred to as baskets. Shares are issued in exchange of the gold held by SPDR Gold Trust and redemption is met with by distributing gold. GLD shares may be issued or redeemed only in one or more baskets depending on the combined NAV of number of shares in the basket/s. Shares are issued or redeemed only on request from authorized participants, people who have entered into a participating agreement with the sponsor and the trustee.
The market cap of GLD is $70 billion with net assets of $75 billion. The fund has 444.60 million shares outstanding. Currently, GLD shares are trading at $170.84, that is at a slight discount to its NAV of $171.71.
SPDR Gold Trust does not have a fixed date for termination. Termination, if at all, will happen only on the "occurrence of a termination event listed in the Trust Indenture." Further information on the business of the trust, its objectives and related issues is available in its Annual Report.
Fund Performance and Trading History
SPDR Gold Trust has been performing consistently since inception. As of September 30, 2012, one month return on investment was 7.71%, 11.00% QTD, 12.74% YTD and an impressive 18.86% since inception. On the back of an impressive performance and considering that shares of SPGR Gold Trust track the price of gold bullion, the share price of the ETF has shown a constant and steady upward trend. GLD has appreciated 281.84% since its listing on NYSEARCA on November 26, 2004.
SPDR Gold Trust, Gold and Stock Markets - Historical Facts
The S&P 500 has risen nearly 15% in the last nine months - from 1277 on January 3, 2012 to 1460 on October 4, 2012 - and rallied despite concerns over the high unemployment rate and sluggish growth in U.S., over the European recession and fears of more bad news from China.
Gold started the year at $1598 and is currently trading at $1,773 per ounce, an increase of almost 11%. It showed a mixed trend and was up by 0.39% over the week with the December contract closing at $1,780 an ounce on the Comex division of the NYMEX. That gold price did not hit $1,800 is not being seen as a sign of weakness but more due to profit taking in light of the September employment report, which was on expected lines - 114,000 more jobs were created and the unemployment rate fell to 7.8%. Read about it here.
GLD started the year at $155.92 (January 3, 2012) and is currently trading at $170.84, a gain of $14.92 or 9.56% as against 11% in gold. A small price I think that one must pay for the convenience of trading gold as a security.
The Negative Correlation Between Gold and Stock Markets
While both stocks and gold have shown upward trends in the recent past, the historical evidence is overwhelmingly in favor of a negative correlation between stocks and gold.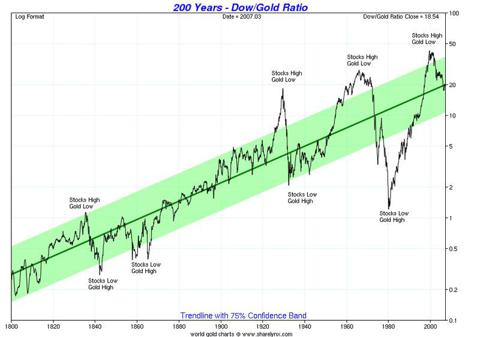 Source: www.goldintomoney.com/
1973-74 was a period of high unemployment, slow growth and high inflation, which caused the worst bear market in US stocks since the Great Depression of 1929. Study the charts for that period and you will find that the Dow Jones Industrial Average fell by a staggering 40%. (From 987 points on October 26, 1973 to 598 of December 12, 1974), in the same period, the value of gold shot up by $58.70 from $100.08 per ounce (gold prices quoted here are monthly averages) a jump of more than 50%.
An almost similar story was written during the bear market of October 1987 when US stocks fell by 22.5%, from 2570.17 on Sept 25, 1987 to 1993.53 on October 30, 1987. Gold however held its ground during the period registering a marginal increase of almost 2%.
The subprime mortgage crisis of the fourth quarter of 2008 and first of 2009 is still fresh in every investor's mind. When failures of banks and financial institutions sent shock waves and stock market indices fell by thousands of points, the monthly average value of gold rose from $806.62 to $916.5.
A comparison between the behavior of DJIA and Market Vectors Gold Miner's Index (INDEXNYSEGIS: GMI) results in the same conclusion. Whereas DJIA dropped from 10325 to 9034 (a fall of 12.5%) between October 3, 2008 and January 02, 2009, GMI rose from 29.19 to 33.36 (a rise of 14.28%) during the same period.
During the financial crisis of 2008, when equity prices were falling as if there was no end to it, investors in gold ETFs made money. The GLD moved up by 4.5% from 82.59 (October 3, 2008) to 86.23 (January 2, 2009). The Market Vectors Gold Miners ETF (NYSEARCA:GDX) that replicates GMI moved up from $29.05 to $33.32, an impressive increase of 14.62% during the same period.
Whereas the long term negative correlation between gold and stocks is established, it is not possible to predict the ups and downs of gold price and the stock market. However, one thing that is supported by historical evidence is that the stock market falls faster than it goes up.
There are lots of possible triggers right now that may send the stock market into a correction mode: The island dispute between Beijing and Tokyo and the growing tension between Israel and Iran. Nearer home, the laws that were passed for easing the financial strains of the recession are set to expire at the end of the year - something that the Federal Reserve Chairman Ben Bernanke termed as the fiscal cliff. He said, "A massive fiscal cliff of large spending cuts and tax increases" is scheduled to occur on January 1, 2013, which "could cost America 277K jobs in January." Despite the fact that market watchers are expecting that Congress may come up with a viable solution, it is anybody's guess how the stock market and the economy will take it particularly when reading earnings forecasts that have been pretty dismal recently.
Disclosure: I have no positions in any stocks mentioned, and no plans to initiate any positions within the next 72 hours. I wrote this article myself, and it expresses my own opinions. I am not receiving compensation for it (other than from Seeking Alpha). I have no business relationship with any company whose stock is mentioned in this article.