One way to distinguish an experienced from a novice investor is to see what stocks they initially screen for closer research. Novices tend to look at stocks near their lows, hoping to pick up bargains. They see the "previous high price" as a target and drool over the percentage gains that will occur when the stock climbs the mountain.
Experienced investors tend to look at the new highs list, hoping to pick industry leaders and emerging stars. The popularity of momentum investing and CANSLIM analysis in the last two decades has only expanded the legions of these investors.
I prefer a synthesized version of these two approaches. While I look at stocks that are near their highs and thus attracting investor and institutional buying, I also insist that the shares still be undervalued on a Price to earnings and price to cash flow basis, compared to recent historical norms for the company.
This is not easy. Usually dogs are undervalued and remain so, high-fliers are overvalued and remain so, and never the twain shall meet. Thus you can have all the Intel (NASDAQ:INTC) you want at $22 a share and 8x earnings; while you must pony up some serious cash for Amazon (NASDAQ:AMZN): almost $250 a share and 300x earnings. Aren't there companies out there with solid performance, but also still available at reasonable valuations?
One stock that meets my criteria is Walt Disney (NYSE:DIS). A blue chip, no less! Over the last difficult ten years, revenue growth, profit margins, and return on equity have been outstanding: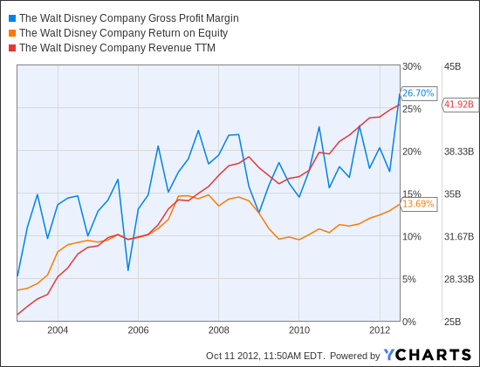 Profit margins and revenues were barely dented during the crash; return on equity suffered but quickly recovered.
The company has trimmed its long term debt, already modest at 24% of capital; and has generous interest coverage of 19.6x EBIT. This company is no dog! Or if it is a dog, it is a guard dog, ready to defend the value of your portfolio.
While not as bargain priced as it was last summer, when the usual Europe crisis du jour and some film hiccups created concern about the shares, Disney stock is still fairly priced on a trailing PE basis: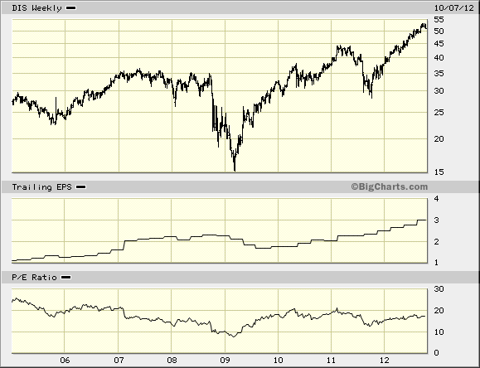 source: www.bigcharts.com
Last year's concerns never materialized: earnings grew to record levels, and have continued to do so. Thus we are unlikely to revisit PEs in the low teens, let alone the single digits which prevailed during the crash. Once it becomes clear to investors that profitability is back on a solid winning track, shares should push up against the higher PE peaks of 21x of the last few years, and even exceed them if the economy picks up steam next year. Twenty one times next years projected earnings of $3.35 (from Value Line) or $3.45 (from Yahoo finance) would easily push share prices into the low $70s, a 41% gain from their current levels.
Estimates based on cash flow are somewhat less generous. Value Line sees cash flow for 2013 at just over $5 a share; assigning a historical 12x CF multiple to this number gives you $60 a share, "only" a 20% gain from current levels. If cash flow multiples were to expand to levels which prevailed early in the previous decade however, the shares would be much more richly priced. Like PE ratios, cash flow ratios suffered compression throughout the 2000s and into our decade as the stock market bubble deflated and corporate performance suffered. But Disney's performance suffered very little, and more important, has fully recovered and then some. It is not unrealistic to expect cash flow multiples to recover as well.
But just to be conservative lets take a blended price of $65, splitting the two estimates. That is still nearly a 30% gain on a blue chip. And you can use the dividends to buy popcorn when you go watch the company's next screen hit, the prequel to Wizard to Oz.
Disclosure: I am long DIS. I wrote this article myself, and it expresses my own opinions. I am not receiving compensation for it (other than from Seeking Alpha). I have no business relationship with any company whose stock is mentioned in this article.
Additional disclosure: I am long DIS through my holdings in SPY and other ETFs.