Mirror mirror on the wall, who are the two doggiest dog stocks in the diversified computer systems space of them all?
Mirror: Hewlett-Packard and DELL of course.
All kidding aside, Hewlett-Packard (NYSE:HPQ) and Dell (NASDAQ:DELL) have some serious problems. The question in my mind is, who is to blame? Is it management or the sector?
Management is always to blame because at the end of the day, the captain steers the boat. Yes many times the boat is deficient, but that is the captain's responsibility. Management always has the lion's share of the blame. Either because they did not steer the ship in the right direction or they did not repair any damage to the hull along the way.
But putting blame aside, there is another issue for the sector as a whole. The problem is that PC sales are either stagnant or going down. And both companies are guilty of not being able to diversify fast enough into other high tech segments in order to offset slumping PC sales. Below is a chart of y-o-y revenue for both companies. As you can see the picture is not pretty.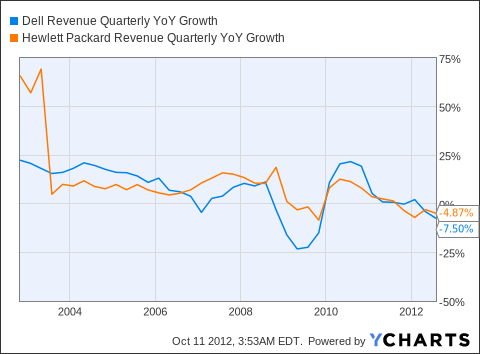 DELL Revenue Quarterly YoY Growth data by YCharts
The next chart clearly shows that Hewlett-Packard's return on equity has simply snapped. Dell is still hanging in there, however it is hovering around 10 year lows.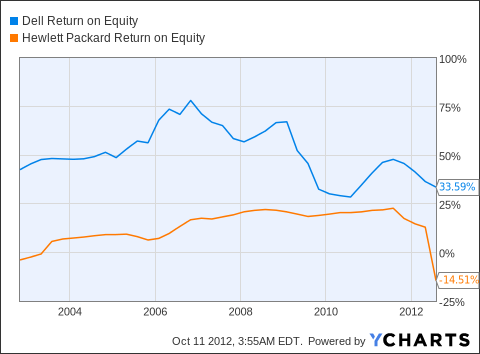 DELL Return on Equity data by YCharts
So what has happened to two of the best computer companies the world has ever known? I mean, did anyone expect this outcome 10 years ago?
For one thing, times are changing. PCs are just not cool anymore. That's the message from many young kids these days. Gone are the days when every kid on the block wanted to buy that big desktop PC with all that Intel horsepower underneath. Kids these days are more focused on hand held devices (both phones and tablets). It may just be a passing trend. However it is what it is and for the time being at least, it's more cool to say you have an iPhone than a powerful desktop PC that plays the most demanding PC games.
Apple (NASDAQ:AAPL) is probably the main culprit in this trend, for it single-handedly invented the tablet market. Both companies however have missed the boat and still have yet to formulate some kind of strategy, leaving the tablet market wide open for Apple and other companies who came out of nowhere and dominated the space.
According to IDC, shipments of PCs in the U.S. shrank by more than 12% during the most recent quarter, and Gartner estimates 14%. On the other hand, analysts at IHS iSuppli predict global PC shipments will contract this year by 1.2% to 348.7 million units, down from 353.8 million units in 2011. That's the first decline in global PC shipments in a decade.
But that's not all. Last quarter Lenovo shipped about 1.3 million computers, more than the same quarter a year ago and Hewlett-Packard shipped 2.7 million units less. That translates to about a -16.4% drop in shipments. For DELL shipments were lower to the tune of around -14% less than a year ago. That's according to a recent IDC report.
So on the one hand we have a global PC slump and on the other hand, both DELL and Hewlett-Packard are loosing market share. You might call that a double whammy.
This also means that the worst is yet to come for both companies, for if these figures are correct, we can expect a big slide in revenue starting next quarter.
So what does the future hold for both companies? Well it's really difficult to say. We do know that people and companies will not stop buying computers. So yes these two companies will be around, but they might be around as much smaller companies than they are today. It might just be that reason why the market is pricing both companies on the cheap:
DELL PE 10 data by YCharts
But then again, what was the market smoking when it was pricing DELL at 80 times earning several years ago? So I don't think the market is a good indicator of the future. The market is simply pricing in a big nothing at this point.
My hunch is that eventually some kind of catalyst will come along that will breath some life in both companies. I don't know what that might be at this point. But just as in the case of Apple, change can happen fast and where we never expected it.
And yes both of these stocks are cheap at the moment. However, if the worldwide PC slump continues for several years and if both companies continue to loose market share, then cheap can become a whole lot cheaper in the future. In fact, there is a chance that DELL and Hewlett-Packard might give cheap a whole new meaning.
One catalyst might be Windows 8 from Microsoft (NASDAQ:MSFT). It's still too early to tell if Microsoft's new operating system will incite people to buy more PCs, but looking at a sneak preview of Windows 8, it makes the PC look like a big hand-held device or a Windows phone rather than a PC. So I don't know if that will be a catalyst for people to buy PCs or hand-held devices.
So I can't find any reason to buy either stock. My hunch is that both stocks will simply muddle through and continue to drift lower, until such time comes that a catalyst comes along that makes people excited about both stocks. And when that happens, both of these stocks will perform very well.
Disclosure: I have no positions in any stocks mentioned, and no plans to initiate any positions within the next 72 hours. I wrote this article myself, and it expresses my own opinions. I am not receiving compensation for it (other than from Seeking Alpha). I have no business relationship with any company whose stock is mentioned in this article.