In this research note we are going to take a look at Citigroup's (NYSE:C) operating segments. We'll also discuss the Beige Book and mortgage bond rating. I continue to believe Citigroup is undervalued, however, the current market environment dictates investors take a cautious approach.
Citigroup's Operating Segments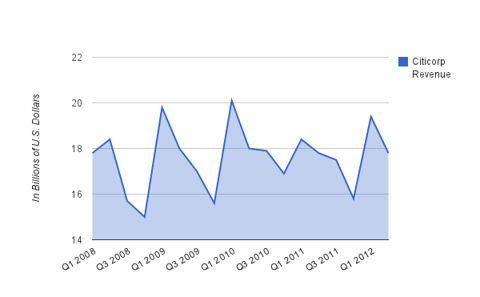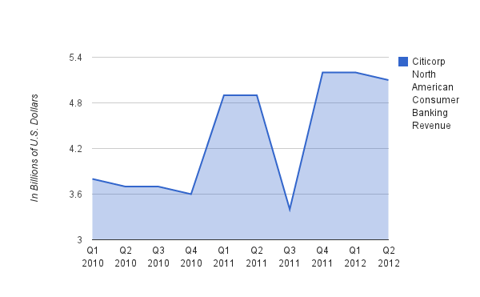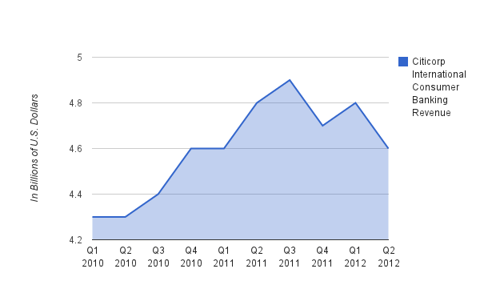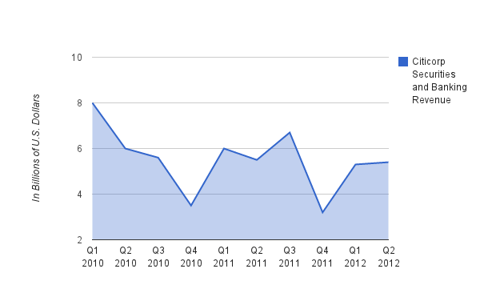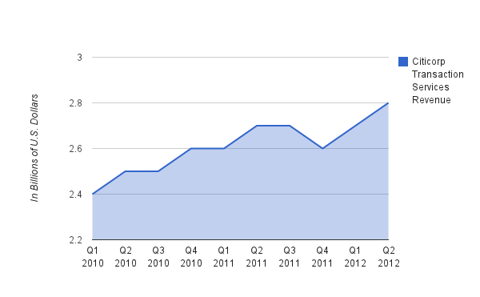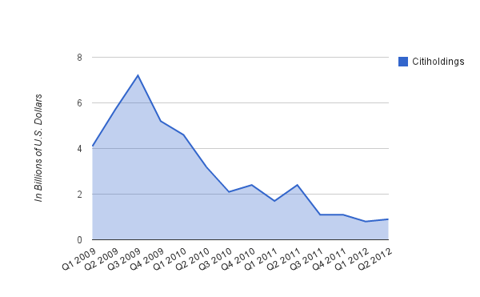 Citicorp's revenue recovered the past year. The 2009 and 2010 period was a tough period for Citigroup. Most of the growth in Citicorp's revenue is coming from North American consumer banking. International consumer banking revenue is pretty much flat. The decline in securities and banking revenue slowed and stabilized. Revenue from transaction services increased slightly. Citiholdings is almost completely unwound and shouldn't be much of a drag on the revenue of Citigroup going forward. Overall, the future of Citigroup seems bright as the drag from Citiholdings diminishes. I'd like to see some growth in international consumer banking revenue.
Revenue is on pace to decline compared to last year while net income is on pace to increase compared to a year ago. Since the negative cash flow from operations in 2009, cash flow from operations has been positive and reversed the 2009 loss. Total equity has been trending higher between 2008 and now as financial leverage declined. I would like to see management improve the profitability of the firm. That said, I continue to believe the market isn't pricing in the improved fundamentals of the firm as I said in this article. Further, I continue to believe Citigroup is undervalued.
All of that said, the broader market is due for a throwback as uncertainty weighs. Part of the lack of clarity stems from the sovereign debt crisis in Europe, another from the elections in the US, and lastly the slowdown in China could be deeper than investors originally forecasted. Also, problems with the iPhone 5 have been weighing on markets.
Beige Book
The Federal Reserve said that the US economy was expanding "modestly" last month, supported by improvement in housing and auto sales, even as the labor market showed little change. The housing market showed "widespread improvement since the last report," according to the Fed with all twelve districts reporting that "existing home sales strengthened, in some cases substantially." Businesses cited the fiscal cliff, the US elections and the European sovereign debt crisis as reasons for restraining spending.
The strength in auto and home sales is bullish for shares of Citigroup as the improvement in home and auto sales should boost revenue, earnings and cash flow. However, uncertainty surrounding the elections, fiscal cliff, and European sovereign debt crisis may weigh on the share price in the coming weeks. Further, following the announcement of the latest round of quantitative easing, markets are lacking a short-term catalyst.
Bond Ratings Hurt Fees
The ratings agencies changed the way they rate commercial-mortgage backed bonds following the financial crisis. The new ratings system better accounts for enterprises that may struggle to survive. Consequently, Citigroup may earn lower revenues, earnings and cash flows than it otherwise would.
Conclusion
Citigroup is an attractive long-term investment. However, the current market environment suggests investors should consider buying put options or selling a portion of their shares if they own shares of Citigroup. Further, professional investors should consider short selling shares of the financial institution.
Disclaimer: This article is not meant to establish or continue an investment advisory relationship. Before investing, readers should consult their financial advisor. Christopher Grosvenor does not know your financial situation and ability to bear risk and thus his opinions may not be suitable for all investors.
Disclosure: I am short SPY. I wrote this article myself, and it expresses my own opinions. I am not receiving compensation for it (other than from Seeking Alpha). I have no business relationship with any company whose stock is mentioned in this article.