Back in August, Continental Resources (NYSE:CLR) announced increases in capex that the market mostly shook off. For some reason, the market wasn't too excited about a company spending more on oil production while domestic oil prices were in the $90s range. The stock has since risen from $71 to over $79 today.
The company hosted an on Tuesday where it announced a major discovery in Oklahoma's Anadarko Woodford play that could lead to nearly 2Bboe in reserves. The company also announced plans to use this discovery along with the Bakken positions to nearly triple oil production to 300K Boed by 2017.
The company is an oil and natural gas exploration and production company focused on the Bakken play of North Dakota and Montana and Oklahoma's Anadarko Woodford play.
The market remained so focused on reduced spending in the domestic energy production sector that any added spending was seen as negative. Along with Continental, SandRidge Energy (SD) and WPX Energy (NYSE:WPX) all encountered resistance over the summer when announcing capex increases. All three stocks are now surging higher.
Investor Day Highlights
The investor presentation is a lengthy 126 pages, worth a read for any investors wanting specific details on the growth plan.
The company reported the following highlights:
Continental's plans to triple production from 2012's expected total of approximately 36 million barrels of oil equivalent (MMBoe), which is the mid-point of the Company's 2012 growth guidance. This level of growth would result in production of 108 MMBoe in 2017.
The Company expects production growth in 2013 in a range of 30 percent to 35 percent, based on a capital expenditures budget (excluding acquisitions) of $3.4 billion. Based on this budget, the Company expects to complete 738 gross (300 net) wells in 2013.
Continental expects oil differentials will average in a range of $8 to $11 per barrel in 2013. The Company expects its liquids-rich natural gas production will have an average premium of $1.00 to $1.50 per Mcf.
Continental plans to triple proved reserves from year-end 2011 to year-end 2017. Continental's estimated proved reserves at mid-2012 totaled 610 MMBoe.
The strategic growth plan is to triple production and reach 300K Boed per day in 2017. The proved reserves are forecasted to reach 1,524 MMBoe.
Next Super-Independent
The company expects reaching the 300K Boed would place the company in the league with larger independents such as EOG Resources, Inc (NYSE:EOG) and Apache Corp. (NYSE:APA).
The below chart provided on page 35 highlights how Continental would still lag behind the production of the Super-Independents that average from 500K to 800K Boed.
click to enlarge)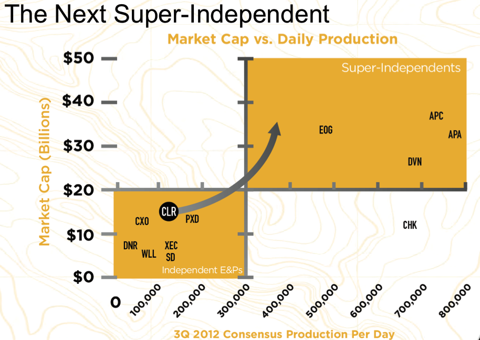 Click to enlarge
Woodford Discovery
The company has expanded the Anadarko Woodford net acreage from 149K in 2009 to 316K as of October 2012. Within that area, it has identified a new, high-impact oil-rich resource play with the potential for 1.8 BBoe net reserves potential to Continental.
The company is calling this area the "SCOOP" for South Central Oklahoma Oil Province. The company has more than 170K acres in the area that includes three of the top oil-producing counties in Oklahoma.
The company has participated in 35 wells today covering 600 square miles of the area. With spacing of 160 acres, it expects to have the potential of 1,114 net wells and doubling to 2,242 net wells with 80 acre spacing. Current production in the area is only at 5K Boed, but the company expects significant growth.
Stock Price
The price action of Continental's stock remained range bound for about three months between $62.50 and $75. It recently broke above that range suggesting higher prices ahead. The current price of oil should support much higher stock prices and natural gas prices have rebounded sharply in the last month.
1 Year Chart - Continental Resources
The chart below compares the price of Continental with oil for the last year.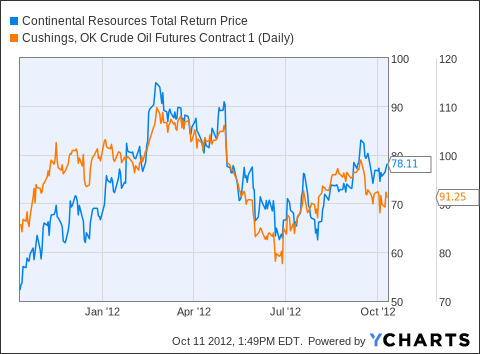 CLR Total Return Price data by YCharts
Conclusion
The company continues to provide huge growth and solid returns for investors. The only issue setting up for investors is that if the stock doubles over the next 5 years, it will reach equivalent valuations of the Super-Independents that would still produce significant amounts more than Continental. Hence, the valuation will become very stretched to match the production growth over the next 5+ years.
Disclosure: I have no positions in any stocks mentioned, and no plans to initiate any positions within the next 72 hours. I wrote this article myself, and it expresses my own opinions. I am not receiving compensation for it (other than from Seeking Alpha). I have no business relationship with any company whose stock is mentioned in this article.
Additional disclosure: Please consult your financial advisor before making any investment decisions.