From a value investors' standpoint, Cisco (NASDAQ:CSCO) seems to have a lot going for it. Cisco may not be the bargain it was a couple of months ago, but it is still cheap, and it is displaying some great numbers.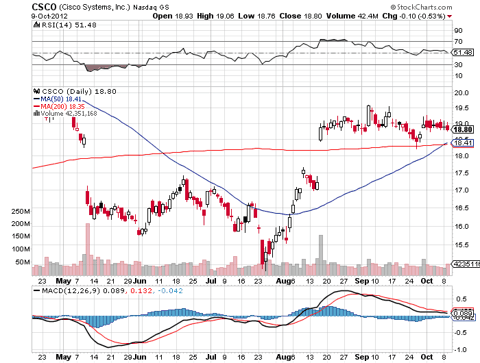 Click to enlarge
Even though its share price is still under $20, Cisco reported an income growth rate of 23.9% and sales growth of 6.6%. The company also delivered a 17.46% net profit margin and a P/E of $12.62. This also made for an earnings per share growth of 56.52%.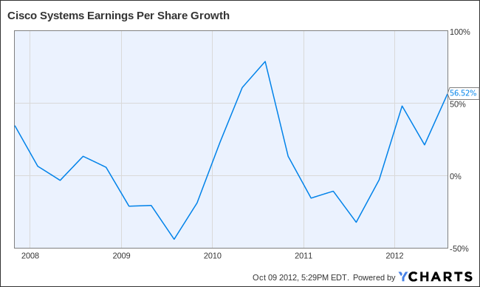 Click to enlarge
In contrast, Juniper Networks (NYSE:JNPR) saw its earnings per share growth fall by 47.6%, and Intel's (NASDAQ:INTC) earnings per share did not grow at all in the same period. Microsoft (NASDAQ:MSFT) reported a slight drop in earnings per share growth of 1.64%. So Cisco seems to be bucking industry trends by generating a higher EPS.
Yet does it have anything else going for it? Yes, it does-revenues of $46.06 billion that grew at a rate of 4.42%. The company also reported cash operations of $11.94 billion, and that figure has been increasing for the past two years and continues to increase. In contrast, IBM (NYSE:IBM) had cash operations of $20.5 billion in the same period, and its stock was trading at $208.06 a share.
Cisco is also sitting on some cash of its own. The company reported cash and ST investments of $48.72 billion. At the same time it reported a long-term debt of $16.30 billion, so Cisco's bank account is twice the size of its long-term debts - not bad for a tech company. Cisco's cash actually exceeded that of Intel, which had $13.6 billion in the bank, and IBM, which had $11.19 billion in the bank.
Click to enlarge
So if you like cash, you have to like Cisco. Not only does it have a lot of the stuff on hand, its cash stockpile is increasing. The company is hoarding cash at a time when many of its competitors are not. Cisco has more in cash and ST investments than Oracle (NASDAQ:ORCL) does. As of August 31st, 2012, Oracle had only $31.61 billion in the bank.
The question, of course, is what is Cisco going to do with all that cash? One option is to expand into new fields, such as satellite networks. Cisco and Immarsat (OTCPK:ISAT) have entered into a deal to provide advanced services over a satellite network. The services will include video, audio, cloud applications, and high speed Internet delivered through a network that Cisco will build.
ZTE News Will Not Hurt Cisco
Cisco may need such partners because it has been forced to end its deal with ZTE Corp since that company sold Cisco equipment to Iran in violations of U.S. sanctions. It is not clear how this development will affect Cisco's cash flow. The main deal between Cisco and ZTE involved the reselling of Cisco equipment in China.
This news will not change the fundamental fact that value investors are supposed to like about Cisco. The company has a lot of cash, and it looks like that cash is going to keep growing for the foreseeable future.
Cisco has become a classic value play because it is undervalued despite having a lot of cash. The company is also facing bad news that does not necessarily affect its bottom line. ZTE's trading with Iran is the kind of bad news that attracts a lot of media attention but has little or nothing to do with the company's core business. It might cause some investors to sell, especially those that find dealing with a regime like that in Tehran distasteful, but I don't see how it affects Cisco's cash flow.
News stories indicate that the relationship between Cisco and ZTE was already souring. ZTE only linked up with Cisco in the hope that it would help the Chinese company enter the U.S. market. When that did not happen, the deal started to fall apart. Cisco can now get out of a deal it really does not like or need, so it might be in a better position.
Value investors that dislike tech might be well advised to take a look at Cisco. The company is undervalued, and it is sitting on a lot of cash. If you are interested in Cisco, buy soon, because once the ZTE story fades from the wires, Cisco's share price will probably start going up again.
Disclosure: I have no positions in any stocks mentioned, and no plans to initiate any positions within the next 72 hours. I wrote this article myself, and it expresses my own opinions. I am not receiving compensation for it (other than from Seeking Alpha). I have no business relationship with any company whose stock is mentioned in this article.