By Brendan Gilmartin
Intel (NASDAQ:INTC) is slated to report Q3 2012 earnings after the closing bell on Tuesday, Oct. 16. Results are typically available between 4:05 p.m. ET and 4:15 p.m. ET, with a conference call to follow at 5:30 p.m. ET. Other tech names are often impacted by the results, along with related ETFs such as the PowerShares (NASDAQ:QQQ) and the Market Vectors Semiconductor ETF (NYSEARCA:SMH).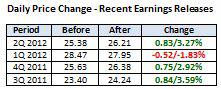 Intel is seen posting EPS of $0.50, the midpoint of analyst forecasts of $0.47 to $0.56 (source: Yahoo Finance).
Intel warned in September that it expects third-quarter revenue to be $13.2 billion, plus or minus $300 million ($12.9 billion to $13.5 billion), compared to the prior range of $13.8 billion to $14.8 billion. The consensus is $13.20 billion.
Intel stated in September that the expectation for third-quarter gross margins is now 62%, plus or minus one percentage point. That's lower than the previous expectation of 63%, plus or minus a couple of percentage points.
Keep an eye on the following guidance measures for the Q4 2012 period:
Revenue guidance, which is estimated at $13.81 billion.
Gross margins, which have been running in the mid- to low 60% area. A lower adjustment could be negative.
Hewlett-Packard (NYSE:HPQ), which lowered its FY 2013 earnings guidance on Oct. 3 due in part to "the challenging environment."
Recent News
Oct. 10: According to Gartner, worldwide PC shipments dropped more than expected by 8.3% to 87.5 million units in the third quarter of 2012, based on overall PC weakness and the transitional period ahead of Windows 8.
Oct. 9: R.W. Baird cut its price target on Intel from $32 to $26, based on high inventories and weak end-demand, according to an article on Barron's. Similarly, Nomura Securities reduced the Q3 EPS estimate from $0.55 to $0.52 amid concerns over gross margins.
Oct. 8: Bernstein Research downgraded Intel from Market Perform to Underperform, according to an article on Barron's, and reduced the price target from $24 to $20. The firm noted that upside is limited due to reduced pricing power for microprocessors.
Sept. 7: Intel warned revenue and gross margins for the third quarter are forecast to come in below the previous outlook, due to "weaker-than-expected demand in a challenging macroeconomic environment." The company pinpointed several specific areas: 1) customers reducing inventory in the supply chain; 2) softness in the enterprise PC market segment; and 3) slowing emerging market demand.
Technical Review
Intel shares have come under heavy pressure in recent months, dropping to their lowest level in a year. Following the free fall, however, there are several signs pointing toward a potential reversal:
The recent revenue warning in September appears priced in.
The Relative Strength Index (RSI) is below 30 -- a level considered oversold.
The MACD is coming off depressed levels.
The candlestick from Oct. 11 represents a classic "hammer" following the recent pullback.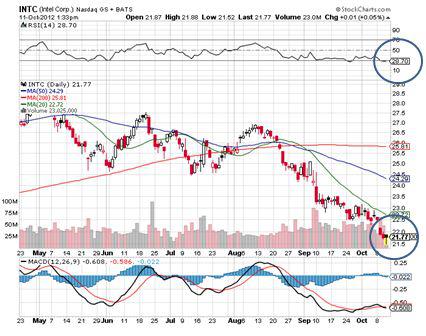 Source: StockCharts.com.
Summary
Intel shares have come under heavy selling pressure in recent weeks, following a revenue and margin warning back on Sept. 7, signs of a depressed PC market, a challenging macroeconomic environment, and rising inventories. But with the shares at their lowest level in close to a year, a possible Windows 8 refresh cycle, and oversold technical readings, Intel could be due for a bounce as long as Q4 guidance meets estimates.
Disclosure: I have no positions in any stocks mentioned, and no plans to initiate any positions within the next 72 hours. I wrote this article myself, and it expresses my own opinions. I am not receiving compensation for it (other than from Seeking Alpha). I have no business relationship with any company whose stock is mentioned in this article.
Disclaimer: By using this report, you acknowledge that Selerity, Inc. is in no way liable for losses or gains arising out of commentary, analysis, and or data in this report. Your investment decisions and recommendations are made entirely at your discretion. Selerity does not own securities in companies that they write about, is not an investment adviser, and the content contained herein is not an endorsement to buy or sell any securities. No content published as part of this report constitutes a recommendation that any particular investment, security, portfolio of securities, transaction or investment strategy is suitable for any specific person.