In this research note, we'll take a look at Bank of America's (NYSE:BAC) operating segments. The performance of the operating segments has been less than stellar. Further, we'll consider the valuations and financial performance of the consolidated firm. Also, we'll discuss the junk bonds financial firms are selling.
Bank of America's Operating Segments
Bank of America's revenue from almost every operating segment is trending lower. The segments with revenue trending higher are global banking revenue and global wealth and investment management revenue. Global markets was one of the largest operating segments by revenue and is now one of the smallest. Revenue from consumer and business banking fell off of a cliff. Based on the revenue from the operating segments, Bank of America hasn't turned the corner following the financial crisis. Investors should still be cautious about the future of Bank of America.
Consumer & Business Banking Revenue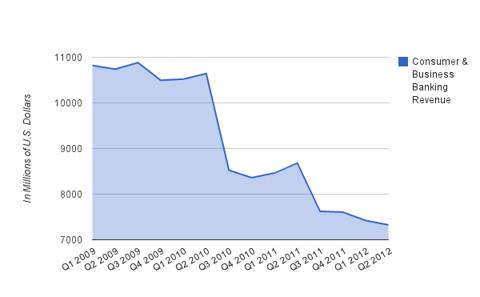 Consumer Real Estate Services Revenue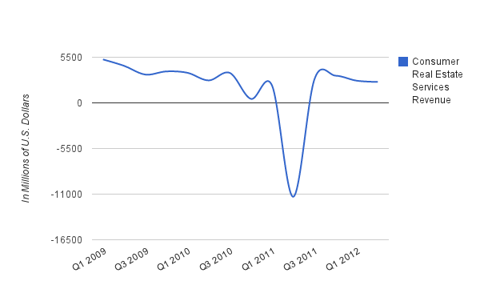 Global Banking Revenue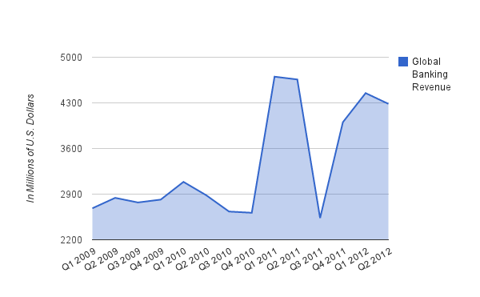 Global Markets Revenue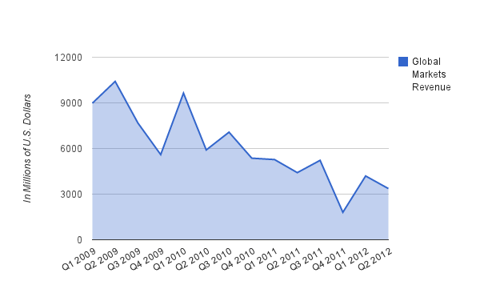 Global Wealth and Investment Management Revenue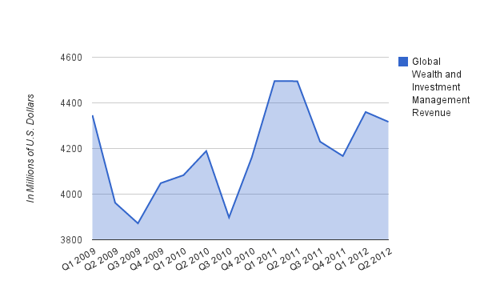 Valuations & Financial Performance
I estimated Bank of America's intrinsic value to be $10.29 using a present value dividend discount model. The model assumes the dividend isn't increased in the next year. At $9.35, Bank of America is approaching fairly valued, although, it is still moderately undervalued. The outlook for Bank of America is improved, but the operating segments need to show improving revenue trends.
Operating cash flow and net income declined between 2008 and 2011. That said, the firm has a large pile of cash. I would like to see the profit margin improve: Bank of America has one of the lowest net profit margins of the large financial institutions. Further, the firm has a low financial leverage ratio as a result the firm isn't generating a modest return on capital. Also, based on the recent price-sales levels the firm is probably short-term overvalued.
Payment-In-Kind Notes
A type of financing that peaked before credit markets seized up four years ago is making a comeback just as concern mounts that corporate profits are falling and the global economy is losing steam.
Offerings of $2.1 billion in the past 30 days of so-called payment-in-kind notes, which allow borrowers to pay interest with extra debt, account for more than a third of this year's $6 billion of deals, according to data compiled by Bloomberg.
Sales of high-yield, high-risk bonds are soaring to a record pace as interest rates hover at unprecedented lows send investors toward riskier assets.
Demand for PIK bonds underscores investors' appetite for riskier assets. Sales of junk bonds in the U.S. are proceeding at an unprecedented pace, with issuance of $259.9 billion exceeding the $210.6 billion sold in the corresponding period in 2010.
Bank of America will benefit from increasing sales of junk bonds through the fees collected. In addition to payment-in-kind notes, the firm is issuing equity-linked step notes that act like a common equity security, but have the characteristics of a fixed-income security. Step notes allow investors to participate in the upside once a certain level is reached and participate in the downside below a pre-determined level while earning a stated coupon rate.
Conclusion
There is uncertainty surrounding Bank of America's future financial performance. The operating segments performance is less than good. While that remains the case, investors may want to hold off on taking long positions. That said, given the current market environment of uncertainty stemming from the US elections, fiscal cliff and sovereign debt crisis in Europe, professional investors should consider taking a short position.
Disclosure: I am short SPY. I wrote this article myself, and it expresses my own opinions. I am not receiving compensation for it (other than from Seeking Alpha). I have no business relationship with any company whose stock is mentioned in this article.