What if, without revealing the name of the company, I told you that you had an opportunity to invest in a company with:
a 3.72% dividend yield;
multiple lines of business; one of which-
has a 41% market share, twice the number of its next largest competitor*; the other of which
had a 15.7% market share, also the largest but about the same as its next largest competitor**;
had limited capital requirements, with capital expenditures usually less than depreciation;
had reduced shares outstanding by about 1/3 over the last 10 years, from 3 billion shares to 1.99.
had a normalized P/E (excluding one-time charges) of 4X, based on last year's earnings?
* Source: There's a Storm Ahead for HP's Printer Business by Eric Hesseldahl
** Source: HP Remains Top PC Maker as Market Falls 8.6 Percent by Michelle Maisto
Sounds like a pretty good deal, right?
Now what if I showed you a 1 year stock chart? Scared yet?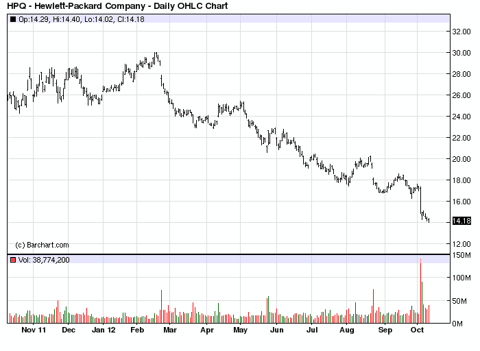 Source: barchart.com
Now what if I revealed the name of the company to be Hewlett-Packard (NYSE:HPQ)? Petrified yet?
All kidding aside, HPQ is an interesting case in that the market is treating it like a declining business on the verge of near total ruin. While I recognize and acknowledge the criticism, I believe most of it stems from Apple's (NASDAQ:AAPL) recent rise and the fear that tablets will replace PCs and printers.
During a recent CNBC interview, David Faber said,
"..particularly the younger generation, instead of taking home documents you take home your tablet, you don't print"

(CNBC interview with Whitman, 10/4/12).
I am not sure that I agree with this theory. In my view, not only will tablets not replace printers, they will not even entirely replace laptops or desktops. First, tablets are not the first portable computing option invented. Laptops have been around for quite some time, select employers have been handing them out to employees for a good number of years, yet this portability has not really affected the need to print documents. I see no reason why the emergence of tablets should change this in any material respect.
Second, it is my view that while tablets are very easy to use, portable etc., they are more for recreation than office work, or serious computing, so I do not believe that they will replace PCs entirely.
Negativity surrounding the stock has continued its climb, with Stern Agee analyst Shaw Wu downgrading the stock to neutral and it seems chalking up a negative $2 valuation on the stock, because goodwill write downs will result in a negative $2 book value. Says Wu,
"We calculated-I couldn't believe this-the tangible book value is -$2 per share. The book value, when you look at it, is $16. But you have to take out the $36 billion in goodwill. So basically, the company's intrinsic value is negative. They are fortunate the stock's not zero. This is not an opinion, these are facts."

Source: Analyst on HP: The Stock is Technically Worth Negative $2, by Julie Bort (Business Insider).
Take that analysis for what you will. However if you follow that logic, here's a short list of other companies "fortunate the stock's not zero": Pfizer (negative $16 billion tangible book); Masco Corporation (-$1.5 billion tangible book); and obviously Altria is worthless because of its negative $13 billion tangible book value.
Take that for what you will.
So HP stock may make you a little queasy and I admit it's not, and shouldn't be, free from criticism (I've criticized the company in the past myself, in a previous article that you can see here). But in my view, while the criticism are very valid and very important, they are outweighed by other factors, including the company's low market price.
Disclosure: I am long HPQ. I wrote this article myself, and it expresses my own opinions. I am not receiving compensation for it (other than from Seeking Alpha). I have no business relationship with any company whose stock is mentioned in this article.