Many people like to stay away from energy and mining stocks because such companies are heavily invested in the developing world. Well, there's one energy company that hasn't invested outside of the U.S. or Canada. It's Devon Energy (NYSE:DVN), which operates only in North America and follows an interesting strategy of investing equally in oil and gas.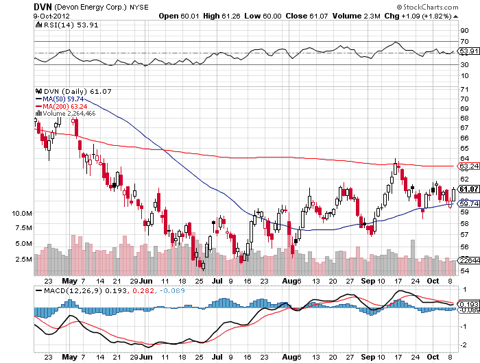 As you can see, Devon has been struggling to keep its share value up after a drop over the summer. The company is also suffering from the same contagion afflicting other energy producers, such as SandRidge Energy (NYSE:SD) - it is showing a drop in income growth and a rise in sales growth at the same time. The latest figures show that Devon's sales of $11.14 billion grew by 15.2%, while its income of $2.42 billion fell by 8.5%. That is better than analyst darling SandRidge, which had an income growth rate of -65.7%.
These figures indicate how unstable the North American energy market is today and how bad it can be for investors. The latest figures indicate that Devon had an earnings per share growth rate of -81.79%.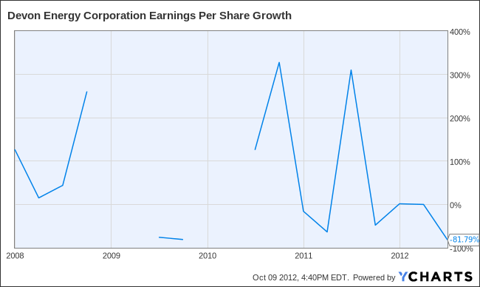 Although it did deliver earnings per share of $5.95 and a dividend yield of 1.28%, Devon is still paying off for investors, even if its earnings per share won't be going up anytime. The question is, is this company a value investment or not? Perhaps, it is generating a lot of cash or rather a free cash flow of $111 million on June 30th. Devon is also sitting on a lot of cash and that cash is increasing. As of June 30, the company was sitting on $7.05 billion in cash and ST investments, an amount that increased substantially in the last couple of years, as you can see from the chart. In contrast, Anadarko Petroleum (NYSE:APC) had $2.79 billion in the bank in the same period.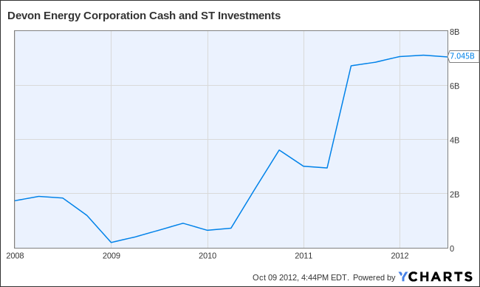 If that wasn't enough, Devon's spending on capital expenditures has been going down. It's less than half of what it was in 2009, so if you're looking for an energy company that is not spending all its cash on mindless growth, Devon is a good bet. Devon might just be a value buy because of all that cash it's sitting on.
Other People's Cash
Devon is expanding, but it's expanding in a shrewd way, and more importantly, letting somebody else pay for that expansion. Devon has entered into a $1.4 billion joint venture with Sumitomo to drill 40 wells in Cline Shale and Midland-Wolf Shale. The good thing about this agreement is that Sumitomo will pay most of the money.
Devon made a similar deal with the Chinese Sinopec International Petroleum Exploration and Production in April. In that deal, Sinopec gave Devon $900 million in cash and agreed to cover 80% of Devon's development costs for 1.2 million acres in the Tuscaloosa Marine Shale, Niobrara, Mississippian Shale, Ohio Utica Shale, and the Michigan Basin.
Gas Demand May Increase Overseas
This puts Devon in an excellent position to take advantage of the growing demand for liquefied natural gas overseas. The biggest demand is in Japan, where LNG prices are now $17 per million British Thermal Units (MMBTU), compared with $3 for the same amount of natural gas in the United States. Demand for LNG elsewhere is also increasing; British imports of LNG increased by 35% in 2011. Prices for natural gas in Europe are also higher than in North America; LNG currently fetches around $9 for one million MMBTU in Europe.
The demand for liquefied natural gas is increasing because it is burned in power plants. The Japanese have shut down most of their nuclear power plants and switched to natural gas. Similar antinuclear sentiment is growing in Europe, where Germany plans to shut down its nuclear plants by 2022. Germany is Europe's largest market for electricity, and they will need something to run their electric trains with besides windmills.
This puts Devon in a good position to grow without spending a lot of money. It can sit on its cash and use other people's money to expand its gas business at a time when natural gas demand might be increasing overseas. Devon is a value buy in energy because of one old fashioned asset, a big stash of cash. More importantly, the company has shrewd management that knows how to get others to pay for expansion.
Disclosure: I have no positions in any stocks mentioned, and no plans to initiate any positions within the next 72 hours. I wrote this article myself, and it expresses my own opinions. I am not receiving compensation for it (other than from Seeking Alpha). I have no business relationship with any company whose stock is mentioned in this article.