Introduction
With CEO Jeff Immelt projecting a positive outlook for General Electric (NYSE:GE) last month, the company is going against the market trend by reporting better than expected margins despite a weak global economy. While dim forecasts continue to dampen the outlook for other companies, GE's large and diverse product base has allowed it to increase projected growth for this year by at least 10%. It is interesting to examine how GE has managed to achieve this while its competitors continue to struggle.
Company Profile
Having more than a century of business history, General Electric has made its mark on the world largely by relying on its innovative business model. In 2012, the company was ranked as the world's 8th most powerful brand and the 10th largest in market value. GE's products range from aircraft engines and industrial products to household appliances, while its services include medical imaging, water processing, power generation, and business and consumer financing. Unlike prior CEO Jack Welch's history of buying larger companies, under Immelt's leadership, GE is acquiring relatively small companies worth $1 billion to $3 billion. The former CEO was criticized for having an inflated portfolio and overpaying for acquisitions. Additionally, GE raised $462 million by selling a 7.6% stake in Thailand's Bank of Ayudhya.
Tracking Financials
While the company may not be providing huge returns to its investors as in the past, it is surely on the road to recovery and is becoming more stable after the financial meltdown. According to data from Morningstar, the company reported revenue of $36.5 billion in Q2 2012, which is only a marginal improvement over the results of Q2 2011. However, the company pledged to improve its margins in Q3 2012. GE believes these efforts to be pivotal in determining the stock's fate. An EPS of $0.29 was offered in Q2 2012, while for the same period in 2011, EPS was $0.35. Cash flow improved by more than 100% in Q2 2012, as net cash provided by operations stood at $14.2 billion compared to $6.4 billion for Q2 2011. The ttm net cash from operations is $32.4 billion.
As of October 11, 2012, GE has a price-to-earnings ratio of 18.1 compared to the industry average of 16.7. Its 52-week range is from $14.68 to $23.18. However, the ttm ROE of 9.8 is far below the industry average. The company's debt/equity is also unfavorable at 1.9, compared to industry average of 0.8. The company needs to be extremely prudent in managing its financials, as its debt is almost twice the level of its equity. GE's beta of 1.59 illustrates how the company's products are entirely demand-dependent, and that changes in global demand are likely to greatly affect this company.
Stock Performance
General Electric's most commonly associated peers are Siemens (SI), United Technologies Corp (NYSE:UTX), and Koninklijke Philips Electronics (NYSE:PHG). While these companies rarely compete directly, their product base, global reach and industry expertise are in line with each other.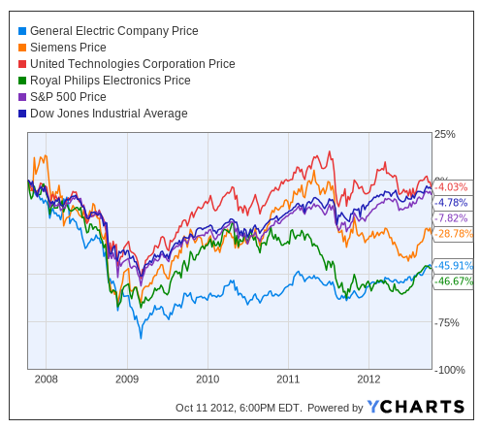 Click to enlarge
Compared to the S&P 500 and the Dow Jones Industrial Average, GE has been lagging since the start of 2009. While the electronics giant was able to survive the financial storm, it certainly did not thrive during the crisis. Since then, the stock has continued to struggle, performing below the market average. Until recently, GE was lagging behind all of its competitors. However, the company has shown signs of improvement, with a steep rise that pushed the stock price above that of PHG.
GE currently provides a $0.17 quarterly dividend and a dividend yield of 3.2%. If the company can sustain this yield percentage going forward, GE can become an investor favorite as the company continues its journey on the road to recovery.
What Does the Future Hold?
The company has been investing in healthcare, oil, and gas equipment. GE's mining business is expected to reach $5 billion in sales within the next few years as it bases itself in Australia, where its recent acquisition Industrea Ltd is located. The company's immense focus on mining has opened up two huge new markets: China and Australia, both countries which are heavily involved in iron ore and coal extraction. Furthermore, signing a $1 billion contract to provide offshore equipment to Brazil's state-run oil company, Petrobras, increases GE's presence in the industry. The world's largest turbine manufacturer has also launched a breakthrough natural gas turbine 'FlexEfficiency 60', utilizing the potential of gas-fired power plants as it prepares orders for Saudi Arabia, Japan and the U.S.
GE is also refinancing $5 billion of debt, in spite of the $100 billion in cash expected to be available over the next four years, showing confidence in its ability to invest at attractive returns, regardless of the borrowing costs. This allows the company to use its cash for dividends, stock buybacks and acquisitions. While Immelt seeks to pare down debt at GE's finance arm, the offering may boost outstanding bonds of the parent company by 22% to $11 billion next year.
GE managed to repay Warren Buffett's loan, and investors can now expect dividends in line with the company's growth. The share buyback program is also expected to kick into gear. Global demand for GE's products is anticipated to stem primarily from the U.S. and China, as uncertainty looms over Europe's debt crisis. Following cost-cutting plans being initiated by numerous conglomerates across the world, GE aims to cut costs by $1 billion in 2013 and an additional $1.3 billion in 2014. According to Reuters' data, the company currently has 10.56 billion outstanding shares and plans to reduce this amount to fewer than 10 billion.
Make or Break for Investors
Out of four Wall Street analysts evaluating GE, two indicate a "Buy" rating whereas the other two recommend a "Hold." Thus, Wall Street has quite diverse opinions to the company's future, making it more difficult for investors to make sensible investment decisions.
The discounted earnings plus equity model, developed by EFS Investment Partners and applied to both General Electric and EFS, suggests the following: At a price of about $22, GE stock is slightly undervalued. EFS's fair stock price valuation indicates that currently undervalued GE stock has at least 5% upside potential to reach its fair value.
In recent years, General Electric has not experienced the highs of Jack Welch's time, due in part to the financial crisis. However, as numbers and sales start to increase, perhaps Jeff Immelt's philosophy of small acquisitions and exploring new pastures is finally settling into GE's fabric.
Bottom Line
With a dividend yield over the 3% mark, GE seems an attractive "BUY" option for investors as the company lowers its debt and to looks to reward its investors.
Disclosure: I have no positions in any stocks mentioned, and no plans to initiate any positions within the next 72 hours. I wrote this article myself, and it expresses my own opinions. I am not receiving compensation for it (other than from Seeking Alpha). I have no business relationship with any company whose stock is mentioned in this article.